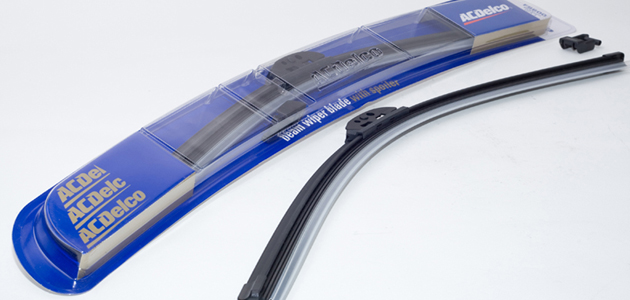 The ACDelco wiper range has been developed to cover many of today's leading and popular vehicle applications and it remains a product group that is constantly being updated and refreshed to maintain its relevance. Most recently, ACDelco has added new flat blade part numbers for two of Vauxhall's most popular models, the Insignia and Astra MKVI. The new products join a product range that takes in 36 Universal, 19 flat and four rear wiper blades suitable for applications across the A – Z spectrum of today's vehicle parc.
The flat blade wipers come boxed with a range of connectors, enabling them to be fitted to eight different arm types.  Highly visible, the flat blades come housed in bold and vibrant packaging to help bolster awareness of the ACDelco brand. Alongside the universal blades – available in 24", 26" and 28" – are a number of universal spoilers, not to mention bespoke 24" and 26" derivatives. The workshop or trade packs of ten cover universal blades only.
ACDelco's four-part number range of universal rear wiper blades has served to significantly strengthen the overall depth and appeal of its UK and pan-European wiping product range. Covering 88 references, each rear wiper blade – 11", 12", 14" and 16" in length – comes supplied with four connectors making them compatible with the main five rear wiper arm types. This feature means that customers can provide comprehensive vehicle coverage by stocking a rationalised range of parts.