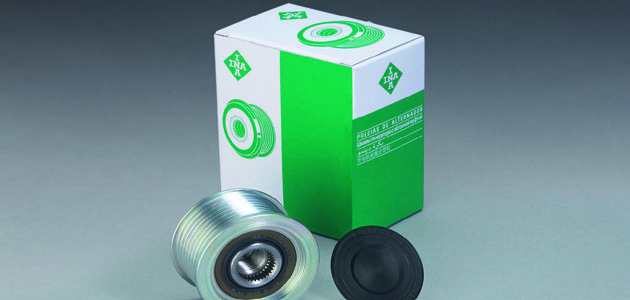 New original equipment (OE) INA tensioner parts for light commercial vehicles (LCVs) have been released into the UK and Irish automotive aftermarket.
The new part numbers, from Schaeffler Automotive Aftermarket (UK) , include timing belt kits for models that include the Fiat/General Motors/Renault Ducato, Daily 2.8JTD, Movano and Master II 2.8JTD, 2.8DTi and 2.8TDi, 1999-, and a kit and set for the Citroen/Fiat/Iveco/General Motors/Renault Relay 2.8HDi, Ducato 2.5D, 2.8 JTD, Daily II 2.5D, 2.8D, Arena, Movano 2.5D, Boxer 2.5DT, 2.8HDi, Trafic 2.5D and Master 2.5D, 1994-.
There's also a Front End Auxiliary Drive (FEAD) belt idler pulley for some Ford Transits and also for the Citroen Dispatch and Peugeot Expert 2.0 16v 2000-, and a v-belt tensioner for the Iveco Daily III 3.0 Diesel, 2006-.
Schaeffler Automotive Aftermarket (UK) says that auxiliary belt tensioners are notorious for being ignored and vehicle manufacturers give little or no advice about replacing them apart from merely suggesting "check the condition" on recommended service intervals.
INA engineers suggest reminding customers that the FEAD tensioners and pulleys that maintain the belt tension driving all of the safety critical components, such as belt driven PAS or brake vacuum pumps, will have done the same mileage as the timing belt tensioners and pulleys which are now routinely changed as a kit. They may also been subjected to worse conditions than the timing belt system, as they are usually exposed and not covered.
Probably the most obvious reason not to ignore the FEAD is that in most vehicle applications you have to remove the FEAD belt and tensioner to replace the timing belt, so renewing it will incur a minimum cost to the vehicle owner.  The failure of any component on the FEAD system could also lead to complete and sometimes catastrophic engine failure if the FEAD belt wraps around the crank pulley and enters the timing system.
Malcolm Short, Schaeffler Automotive Aftermarket (UK) Technical Services Manager, said: "There is a significant profit opportunity in replacing FEAD tensioners, idler pulleys and OAPs, and INA is the largest OE supplier of FEAD components with more than 800 references, including many for LCV applications."