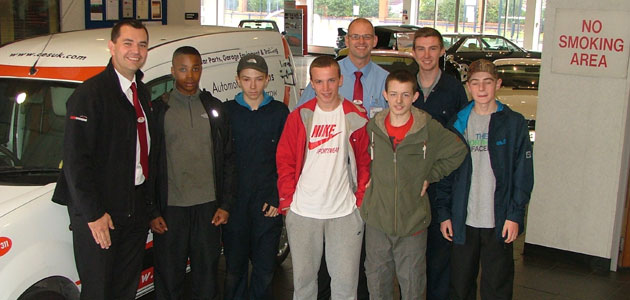 A classic car restoration training scheme which uses Ferraris and Jaguars to help young people into employment has a fast-track to work experience opportunities thanks to The Parts Alliance.
CES UK, a leading motor factor and car parts distributor and member of The Parts Alliance's Western Alliance, uses its network of contacts among independent garages to find suitable placements for students from Basetech Automotive Training Services in Liverpool. In the past two years its support has helped 159 young people into work.
Basetech helps teenagers aged 14 to 18, who may be struggling to reach their potential, to gain skills for future employment in the motor industry. It operates like a real garage using classic sports cars such as Ferraris, Alfa Romeos and Jaguars, plus hot rods and motorbikes to inspire and engage the trainees.
Peter Little, Business Development Manager who covers Liverpool for CES UK, said: "Some of the young people have had a difficult background and this scheme can make a real difference in improving their prospects.
"We were keen to support the initiative in a practical way. We meet the trainees and their parents face to face to learn something about them and we help to find suitable work experience placements among the 250 garages we supply in our region. It benefits both the garages and the trainees, who may subsequently be taken on as apprentices."
CES UK also donated one of its vans to Basetech to give the trainees a diesel vehicle to work on. The Renault Kangoo, which had come to the end of its operational life, has been taken apart and put back together many times since.
Steve McCann, Managing Director for the Western Alliance, has become an official patron of the scheme too.
Basetech was founded by Bob Croxton, who turned his own life around after serving time in prison for drug offences. He said: "I wanted to give young people a better chance of making the right choices through this training scheme. CES UK appreciates what we are trying to do and has been outstanding; we really appreciate their support."
Trainees progress to a certain level before they take up the ten week placements. If it suits both parties the trainees will go on to a two-and-a-half year apprenticeship programme at the garage.