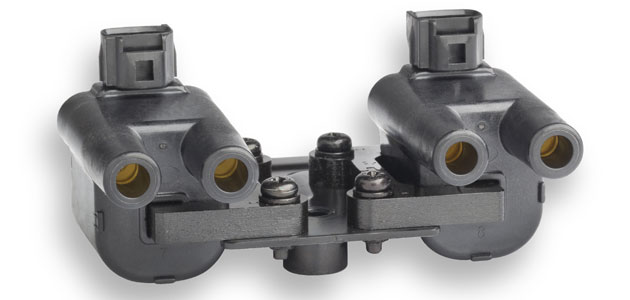 DENSO Aftermarket UK & Ireland has significantly expanded its range of OE-quality Ignition Coils, as part of its flourishing Engine Management Systems (EMS) programme.
There are now 18 part numbers in the Ignition Coil range, covering 46 OE references and more than eight million vehicles.
 
Models now covered include:
Chevrolet Lacetti, Matiz & Nubira,
Daewoo Matiz & Tico (95-00),
Hyundai Accent (05-10) Accent (94-00), Accent (99-05), Coupe (01-09), Elantra (00-06), Getz, Grandeur (01-05), i30 CW, Matrix, TerraCan, Tucson & XG
Kia Cee'd, Cerato (04-), Opirus, Picanto, Pro Cee'd, Sorento (02-), Sportage (04-).
 
DENSO Ignition Coils are designed to withstand extreme temperatures, resist oil and provide a water tight seal to achieve consistent, high energy output.
 
The range includes four types of coils: the Coil on Plug (COP) for dual spark in a distributor-less system, Ignition Coil Block, the Distributor Coil and the Stick Coil, which, when introduced, was the car industry's first compact stick type ignition coil.
 
Small and lightweight, with an innovative compact driving circuit integrated into the top, they are easy to install.  The cylindrical ignition coil, for instance, can be fitted directly into the plug hole, saving previously 'dead' space. 
 
As with all DENSO products, reliability and performance have been the central focus when developing the range. The coil's advanced design ensures a reliable high temperature, suppresses noise and eliminates phantom misfires. Their magnetic efficiency also generates a high voltage faster, thereby saving energy.
 
Full details of DENSO's Ignition Coil range is available together with Mass Air Flow Sensors, Exhaust Gas Recirculation Valves, Fuel Pumps, and for the first time, Exhaust Gas Temperature Sensors in the latest DENSO Engine Management Systems Catalogue.
 
Highlights in this latest catalogue include new Fuel Pump part references suitable for the Chevrolet Lacetti and Kia Picanto and for the first time, the new range of Exhaust Gas Temperature Sensors (EGTS). 11 part numbers are currently available covering all BMW diesel cars.