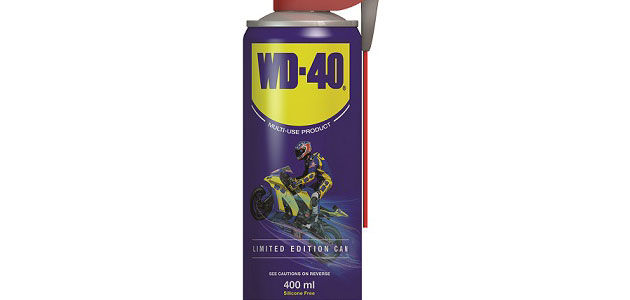 WD-40 Company is excited to announce the launch of a limited edition can for its Multi-Use Product. The can has been created to celebrate and support the ongoing partnership with Team WD-40 and its ongoing British Superbike Championship campaign. The exclusive new WD-40 is now on sale in stores across the UK and will be available until the end of October.
To mark the launch, WD-40 has announced a competition to win a VIP trip to the final round of the British Superbike Championship, October 17-19th, at Brands Hatch. The lucky winners will win a chance to spend the final round of the year as guests of the team to experience all of the excitement that the last weekend of British Superbike Championship has to offer. The competition will be hosted on the official UK WD-40 Facebook page, where further information about the prize and full terms and conditions are available.
The limited edition can's all action images are a tribute to the late Team WD-40 rider Tommy Aquino, whilst also featuring current Team WD-40 rider Tarran Mackenzie on the reverse.
David Whittome, Head of Marketing for WD-40 Company, said: "Our relationship with Team WD-40 has seen us develop and launch the WD-40 Specialist Motorbike range, which was formulated based upon the support and feedback from the team mechanics to ensure best in class performance. This range has been developed to help riders maintain their motorbikes all year round, as well as helping to improve performance. However, our WD-40 Multi-Use Product still remains a key tool for motorcyclists to clean and protect their machines."
A limited run of cans will be produced so this really is an exclusive opportunity to support the team during the rest of the season with a memorable keepsake for enthusiasts.
For more information regarding the complete WD-40 Specialist Motorbike range visit: www.wd40specialistmotorbike.co.uk/
To enter the Team WD-40 VIP ticket competition visit: www.facebook.com/OriginalWD40.UK