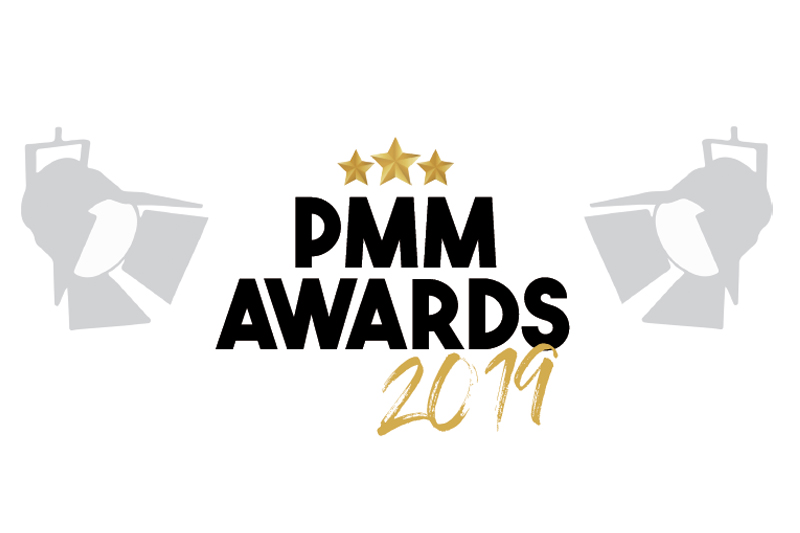 ---
PMM recognises the products and services that have made waves in the garage industry this year.
---
MEYLE – Meyle-HD Control Arm Kits
To improve vehicle stability and driving comfort, Meyle has refined its control arms this year, which has enabled the company to present its Meyle-HD control arm kits. The control arm within makes what is usually complex repair work easier for garages; thanks to a continuously variable adjustable ball joint and exact position indication. The control arm can be used for three different wheel camber settings, thus replacing three different OE parts. This saves garages time, storage space, logistics and transport costs; instead of six references, only two control arms are required for the repair of Range Rover IV and Range Rover Sport.
The ball joint and the reinforced bushings can be replaced individually, making the control arm kit another sustainable repair solution. Garages can also win over their customers with a four year guarantee on Meyle-HD parts. In addition to the Meyle-HD control arm kit for Land Rover, the company is also offering its control arm kits for BMW and MINI.
For more information, click here.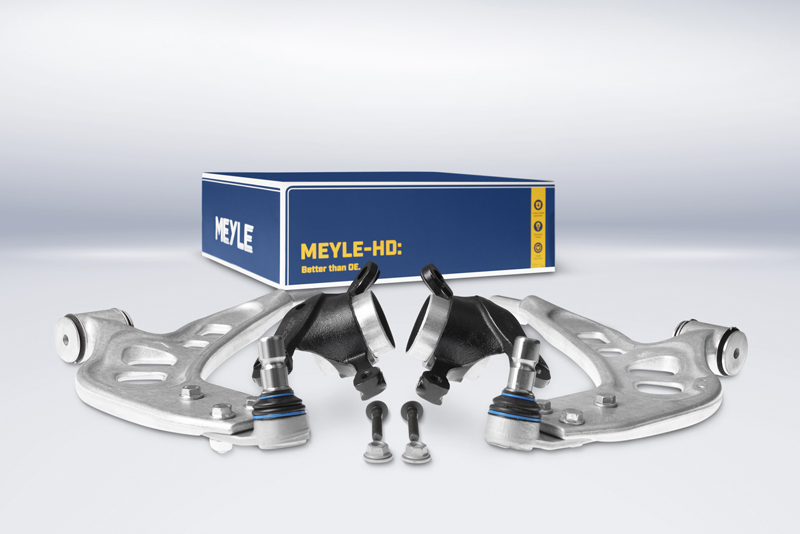 ROTRONICS – Robis Battery Management Platform
To help independent workshops drive a more cohesive and proactive approach to battery sales and maintenance opportunities, Rotronics has developed a management portal named ROBIS. Linking this with Midtronics' CPX900 battery diagnostic testing platform, the comprehensive management reporting system provides instant visibility of how, through proactive testing, all vehicles entering the garage can increase battery sales and customer satisfaction.
Linking this to regional and national statistics, workshops can compare how their performance measures up against the industry, and more importantly, ensure all staff are on-board with the programme.
For more information, click here.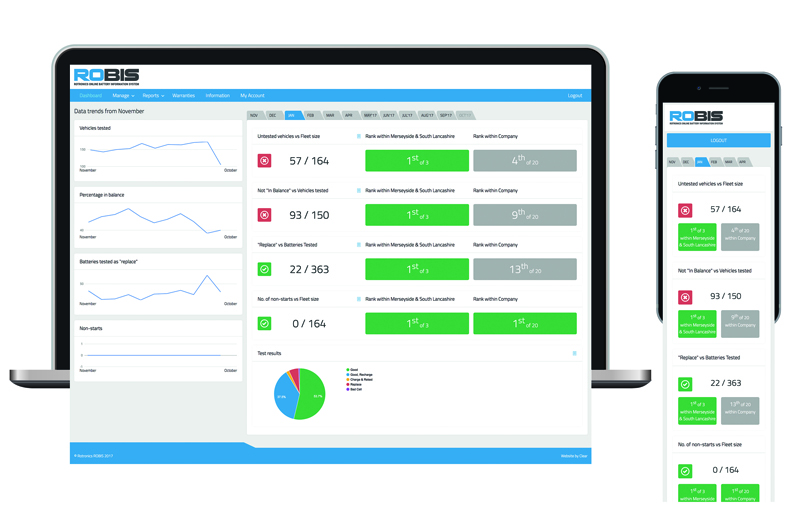 CHICAGO PNEUMATIC -CP7748 ó" Impact Wrench
Chicago Pneumatic unveiled its powerful new ó" impact wrench for vehicle service specialists back in the first half of 2019. Building upon the successful previous model, the CP7748 has been designed to offer operators power, comfort and durability, and is suitable for workshop or roadside assistance tasks, such as tyre changing.
Weighing in at just 4.4lbs (2kg) and delivering 960ft.lbs (1,300Nm) of power in forward and reverse, the CP7748 impact wrench provides a high power-to-weight ratio.
The CP7748 also offers two different settings in the forward position (40% of maximum power and full power) and a full power setting in reverse. The forward/reverse and power control ring system facilitates the use of the CP7748 in tight places, without having to remove the tool to change direction. Furthermore, the system also reduces fatigue on operators' wrists and arms when switching between forward and reverse or adjusting the power.
For more information, click here.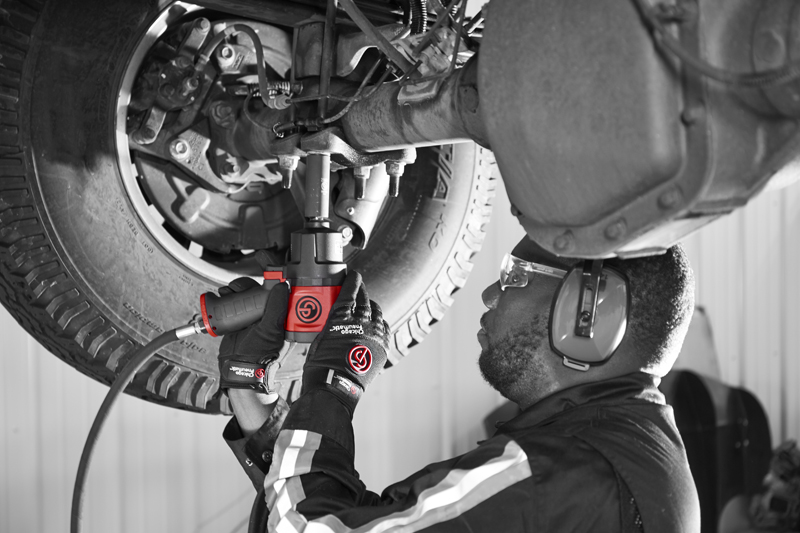 SCHAEFFLER – REPXPERT Training Events
PMM was invited to take part in the water pump and thermal management course at Schaeffler's Minworth office back in the summer. The course was delivered by Schaeffler REPXPERT Alistair Mason, who split the day into two sections: the first focussing on the function of a water (coolant) pump, the different varieties out there, its role in circulating coolant and its effects on engine temperature; and the second, investigating the thermal management units and what their role is in the modern vehicle.
The course was a testament to the expertise held by Schaeffler and the company's REXPERTs. It was clear, concise, and filled with vital information. This feeling was clearly shared by those technicians who had attended the official course, as earlier in the year, at one of the INA and FAG events, attending technician Gary Butler-Holmes reported that it was a "10-out-of-10 course".
More recently, Schaeffler announced a new training concept: REPXPERT Academy LIVE. Events are set to take place throughout 2020, so keep an eye out for those!
For more information, click here.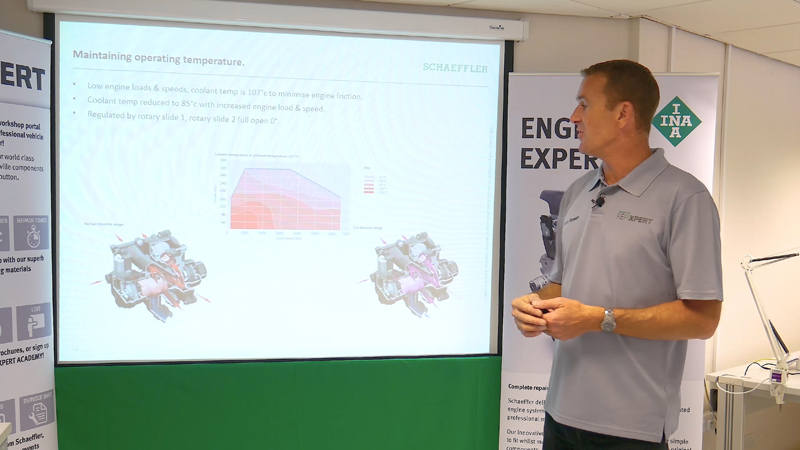 THE DPF DOCTOR – JLM Academy and associated training programme 
PMM regular readers will have seen the coverage afforded to the JLM Academy that opened at the beginning of September. It is the brainchild of Darren Darling, aka The DPF Doctor, who felt that there was a real void of training facilities in the North East. To remedy the situation, he coordinated with JLM Lubricants to open the Academy, and devise a series of courses for technicians that would target those with a thirst for knowledge.
One such technician was PMM product tester Tony Powell, who sat in on one of the courses offered at the Academy, Troubleshooting 101, delivered by diagnostics specialist Steve Scott. He reported the following in the November issue: "Regardless of your training or skill level, I simply cannot recommend this event enough. Having spoken with the other attendees, we all felt the same, all of us coming away thinking that the course was worth every penny."
The Academy plays host to a wide range of courses, including diagnostics and JLM product training, with an expert team of trainers: Darren Darling and Callum Lee (from The DPF Doctor network), Steve Scott (Simply Diagnostics), and David Massey (Autoinform).
For more information, click here.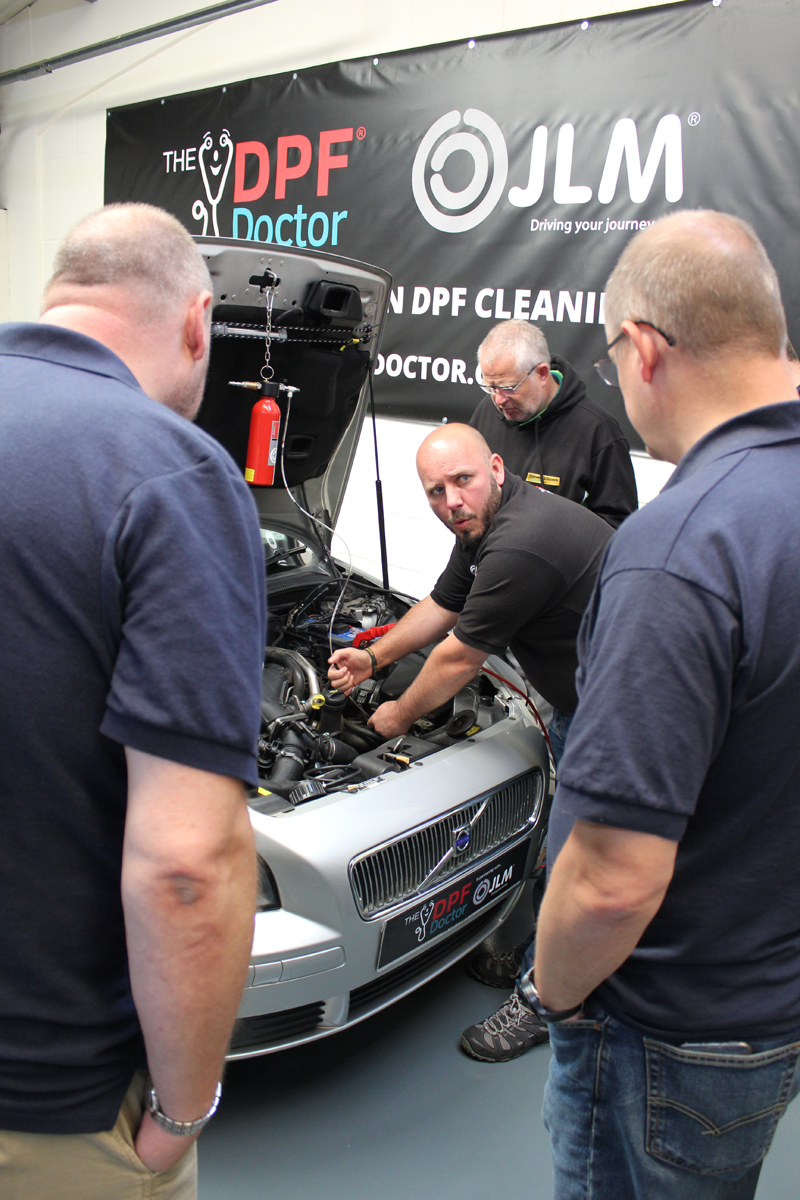 PICO TECHNOLOGY – PicoScope 4823 – 8-channel oscilloscope
2019 saw Pico Technology launch the PicoScope 4823, its first 8-channel oscilloscope for the automotive market. The PicoScope 4823 oscilloscope is ideal for those involved in advanced diagnostics, training or vehicle design. The eight channels allow multiple sensors, actuators and CAN / CAN FD signals to be monitored at the same time at up to 80MS/s. It is ready-configured for automotive probes and includes more than 150 guided tests, plus access to thousands of comparisons in the Pico waveform library, which now supports 8 channels.
The 4823 inputs have common grounds protected by self-resetting fuses; this offers less input protection than the floating input design of the 2 & 4 channel 4225/4425 PicoScopes, but by sharing grounds it makes connecting up its eight channels quicker. The PicoScope 4823 is an oscilloscope for the expert user with complex problems to diagnose, while the 4425 remains the scope of choice for general workshop use. Other specifications are what you would expect from a deep-memory PicoScope, with 12-bit resolution, 20MHz bandwidth, a 256MS buffer memory, and SuperSpeed USB 3.0 interface.
For more information, click here.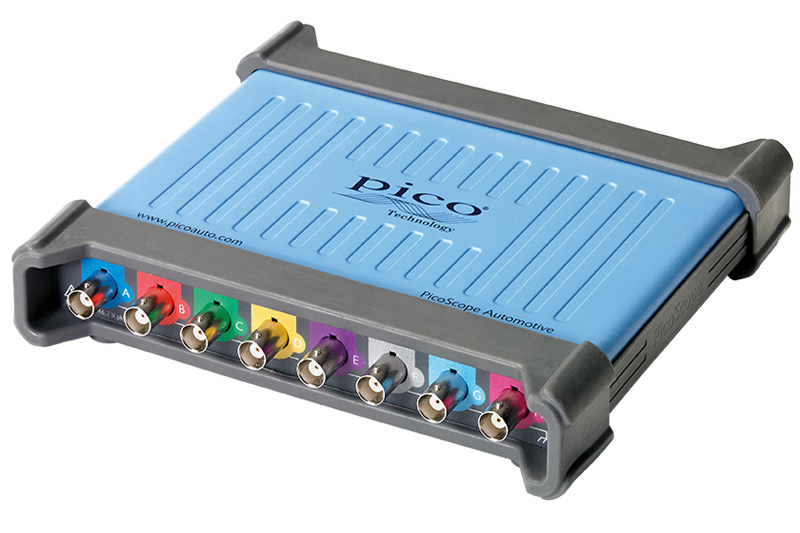 AUTEL – MaxiSYS MS908
The MaxiSYS MS908 has been a top seller in the UK for Autel, and this year its capabilities were optimised further with the release of the MaxiSYS MS908Pro with the advanced J2534 pass through device included in the package. The J2534 offers expanded programming capabilities via the manufacturer cloud. The product also has further programming options directly within the tool software itself, without the need to use manufacturer OEM software in some cases. The software on the MS908Pro and Autel's MaxiSYS Elite are the same. The difference is that the MaxiSYS Elite has more powerful hardware. The MaxiSYS continues to be very powerful, with a 15 second boot up and is built on the multi-tasking Android operating system.
The MaxiSYS Pro with J2534 has extra programming functionality included in the tool's software and also allows you to subscribe to your manufacturer clouds and download software specifically for a vehicle.
For more information, click here.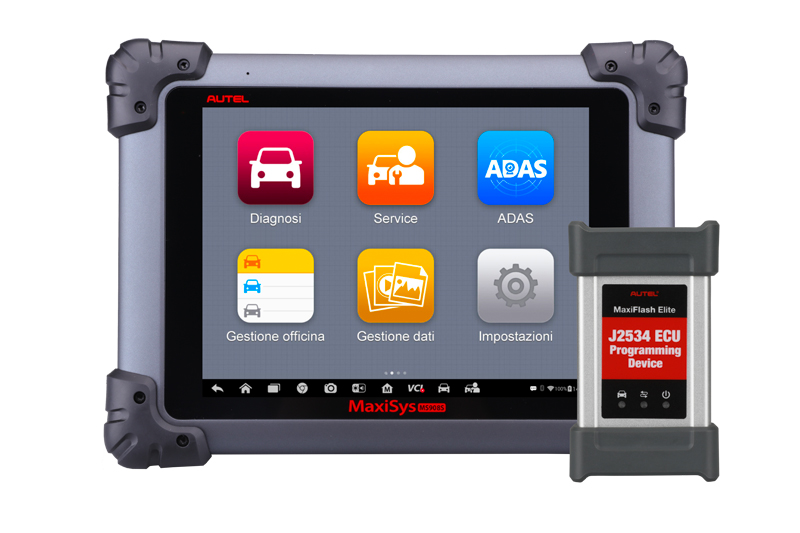 RING AUTOMOTIVE – MAGflex Inspection Lamp range
Throughout 2019, Ring Automotive has been extending its MAGflex lighting range. Getting proper illumination is always going to be a challenge in the workshop. But with good lighting, you can identify the problem faster, get the job done more easily and get the vehicle back on the road sooner – improving customer satisfaction and getting more vehicles through the garage in any given day.
The MAGflex Inspection Lamps are all flexible in order to get illumination in the right place, and all can be used hands-free, which means that they can be secured to provide super bright light without needing to be held in place. The range now consists of the MAGflex Utility Lamp, MAGflex Slim, MAGflex Pivot, MAGflex Twist, MAGFlex Under Bonnet and the MAGflex Lamp.
For more information, click here.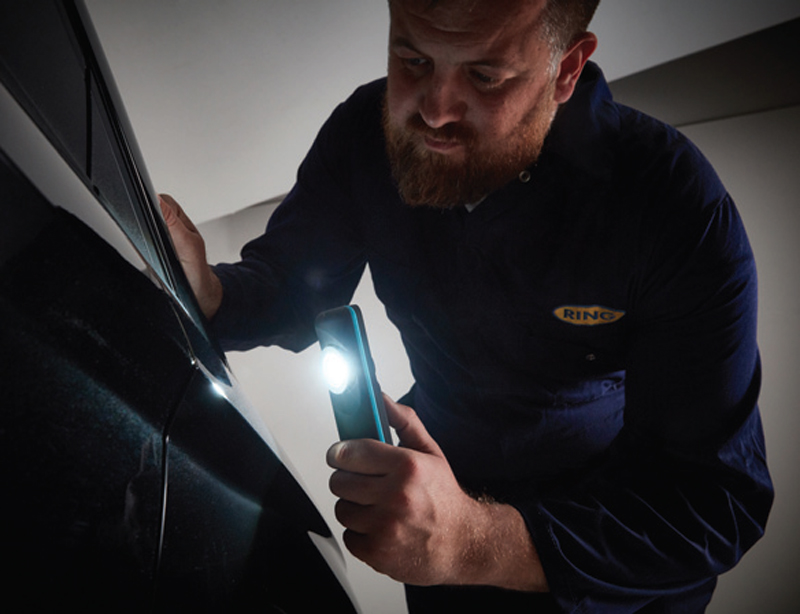 ECOBAT – One Box Battery Management Solution
Ecobat (EBT) developed One Box, a solution that consolidates all the equipment needed to test and install start-stop batteries, after recognising the confusion amongst garages on how to approach the new battery technology.
With the One Box package, and a little training to ensure technicians get the very best from the equipment, garages can be more sure of the fitting procedures for these batteries.
The components brought together in the One Box bundle include a battery analyser to accurately assess the condition of the existing battery, a NOCO charger and a OBD lead to support the vehicle's ECU/data storage during the replacement process and a battery validation tool to ensure the new AGM/EFB battery is correctly assimilated into the vehicle's battery management system. The package can be also be supported with signage and point-of-sale material, to allow garages to fully promote their start-stop replacement capability to motorists.
For more information, click here.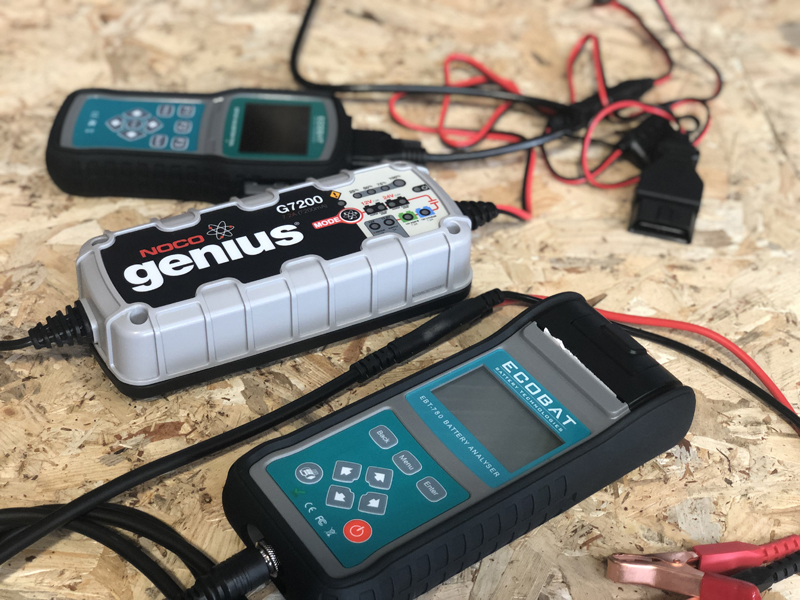 WD-40 – WD-40 Flexible
WD-40's Flexible product allows technicians to target very specific areas, with the metal flexible straw providing an even more convenient delivery system, holding whatever shape it is bent into to allow application in incredibly tight, intricate spaces such as around wiring and behind panels. In addition, with the help of Sprays2Ways technology, technicians still have the option to flip down the straw and apply a wide spray to areas needing maximum coverage.
Features and benefits
Long metal straw (185mm) that can be bent and flexed to reach difficult target areas
Flexible straw will hold the shape it is moulded to, so you can still spray one-handed
Allows you to work around obstacles such as pipework, panelling and large components
Taller, thinner 400ml cans allows for longer straw – almost 1/3 longer that of the Smart Straw
Spray2Ways valve still allows for wide application; just flick the straw down and spray
The Flexible is a WD-40 multi-use product, so you can use it for:
Displacing moisture, preventing rust and corrosion
Penetrating seizing parts and lubricating equipment for smoother operation
Removing oil, grease and grime with ease
Drying out electrical systems and improving electrical connections in damp environments
For more information, click here.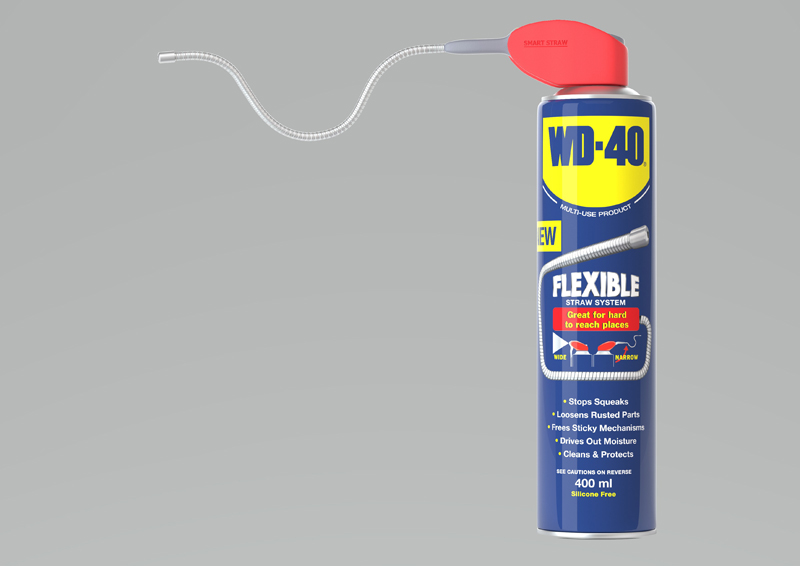 MEWA – Industrial Wipes Service
2019 saw MEWA, a leader in textile management, launch its full-service industrial wipes solution in England to showcase the benefits of its subscription service in practice.
Developed as the superior alternative to traditional, disposable cleaning cloths, the company's proven model eliminates the problems of hazards and waste in environments where the cleaning of oils, coatings, greases and solvents is critical. Garages will be able to see how adopting a managed rental approach to cleaning textiles means the complex, costly and time-consuming disposal of dirty cloths need no longer be a problem.
MEWA delivers the bespoke service comprising the provision of an agreed quantity of its robust, high performance wipes, plus scheduled collections of used materials, advanced washing (using environmentally sound techniques) and return of cleaning cloths following comprehensive quality control processes.
For more information, click here.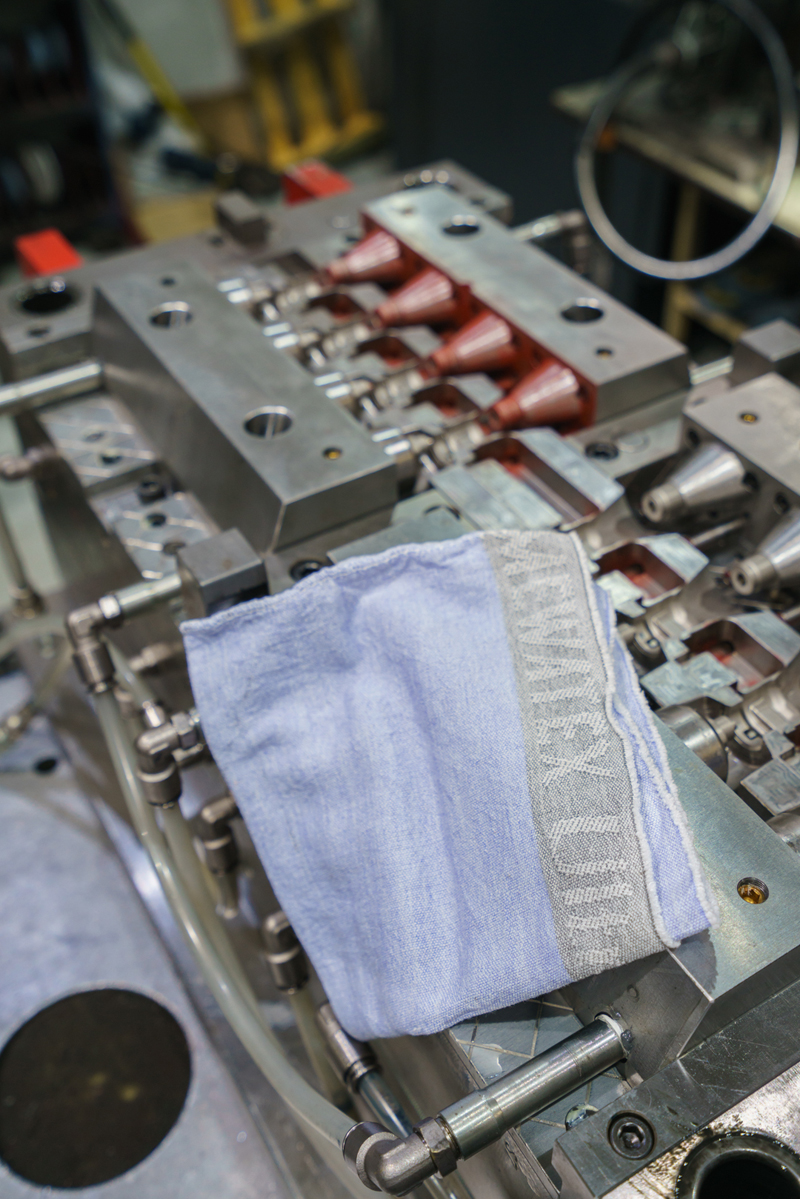 CLARIOS – Varta Partner Portal
With battery testing becoming more difficult for garages and battery service time increasing drastically, technicians are looking for support from their suppliers. For this reason, PMM would like to mention Clarios' VARTA Partner Portal. The company aims to prepare workshops for new situations, where battery replacement becomes overly complicated. To this end, the VARTA Partner Portal offers a convenient, accessible online service that gives every technician the ability to change a battery as quickly and as accurately as possible. With this tool, garages can save valuable time and costs.
Access to the VARTA Partner Portal is available via all internetenabled devices. After a quick, one-off registration, each technician has free and unlimited access to step-by-step instructions, including photos, the right part number, and battery location, so that the correct battery is installed in the quickest time possible.
For more information, click here.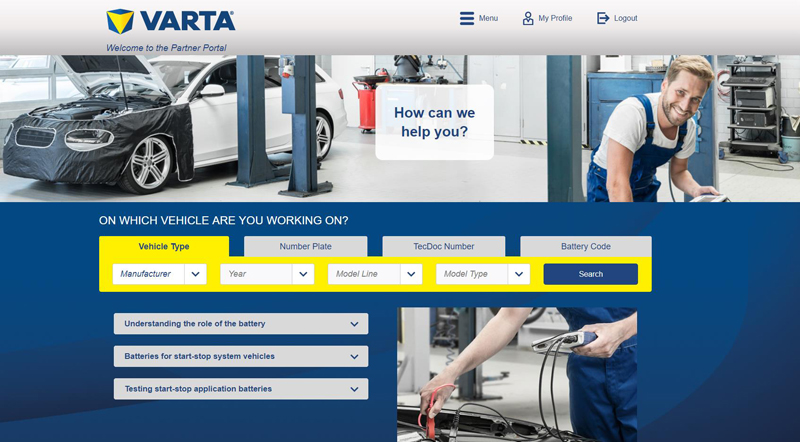 GS YUASA – GS Yuasa Academy
Featuring both Yuasa and GS battery brands, GS Yuasa Academy is said to be the first system of its kind for comprehensive online battery training. Aimed at improving customer service, reducing warranty returns, and maximising battery business potential, it provides over 20 certified courses tailored to different job roles. Training content is delivered in dynamic video format and courses feature downloadable support material. GS Yuasa have identified individualised learning programmes, tailored to specific job roles within the industry. Each course module only takes a few minutes to complete and users can leave the site and return to pick up where they left off at any time.
With engaging presenters and clear graphics to aid learning, GS Yuasa Academy also explains GS Yuasa's product ranges – including their key features and benefits, manufacturing processes, information on labelling specification and what sets these ranges apart from competitors.
For more information, click here.