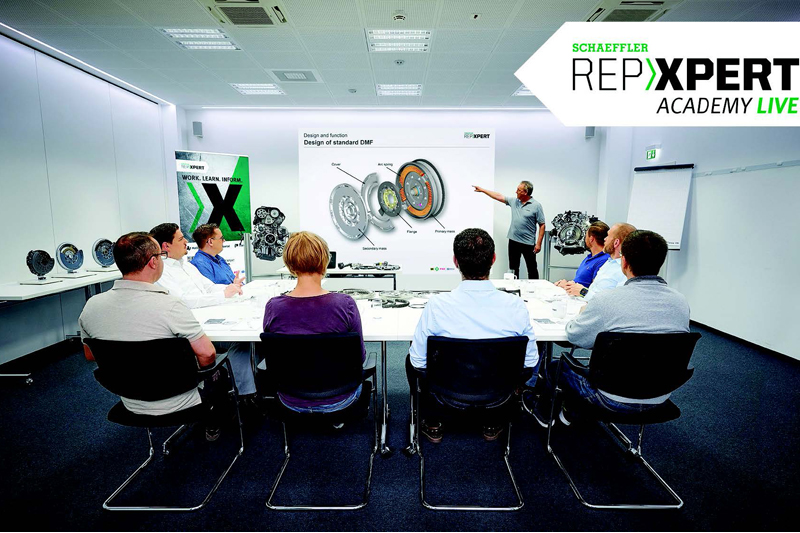 ---
Schaeffler launches Repxpert Academy LIVE training events.
---
Schaeffler is launching a new training concept called REPXPERT Academy LIVE, a series of regional events taking place at venues around the UK, designed to help workshop technicians and owners improve their technical and business skills.
The first event will take place at Lincoln College on Saturday 16th November 2019. All attendees are welcome to attend from 9am, with group sessions starting at 10am until around 3pm. Complimentary lunch and refreshments are included.
REPXPERT Academy LIVE is the perfect platform for technicians and garage owners to enhance their knowledge of the latest products, tools, hints and tips from Schaeffler, including LuK clutch and transmission systems, INA engine parts, belt/chain drives and cooling systems, FAG wheel bearings, as well as new technologies, such as Schaeffler hybridisation and electrification systems.
Visitors will also have the chance to interact with specially-selected guest speakers at each event, including experts from the Institute of the Motor Industry (IMI), as well as tool and garage system suppliers.
Several instructional and interactive group sessions will be held in both workshop and lecture room environments, incorporating demonstrations, hands-on participation, theory and engagement – with each attendee having the opportunity to experience everything on offer during the day.
Schaeffler's Managing Director, Nigel Morgan, said, "Everyone involved is keen to welcome technicians and garage owners for our first ever REPXPERT Academy LIVE event, and we expect the classrooms to be full and our REPXPERTs busy talking to visitors about new vehicle and component technology, as well as the latest best practice hints, tips and techniques.
"To prove our commitment to this venture, we are thrilled to have committed to hosting four more events in 2020 – with dates and locations to be announced soon."
---
Repxpert Acdemy live training dates:
Saturday 16th November 2019- Lincoln College
January 2020- Basingstoke
April 2020- Blackpool
October 2020- Swansea
November 2020- Southend
The dates listed on this page are subject to change so for up-to-date information, click
here
.