---
PMM takes a look at the products and services that have been making waves this year.
---
BOSCH- Bosch Diagnostic Technician Programme
Regular readers of PMM will be familiar with Bosch's training programme, as Darren Cotton has been attending the full schedule of courses this year and documenting his experience for the magazine. Darren has spoken very highly of his visits to the Uxbridge training centre, and believes the sessions are hugely beneficial to anyone looking to up their diagnostic game.
"The course was delivered in a very professional manner and at a good pace. The trainer answered any questions given by the delegates and made sure they understood." 
Darren Cotton, PMM product tester
The programme comprises one-day and two-day course modules covering various automotive topics. It's suitable for technicians with some prior diagnostic experience and is ideal for those who wish to develop into vehicle system specialists. The programme is approved by the IMI, under the Quality Assured Programmes scheme, as a nationally recognised Level 3 accreditation.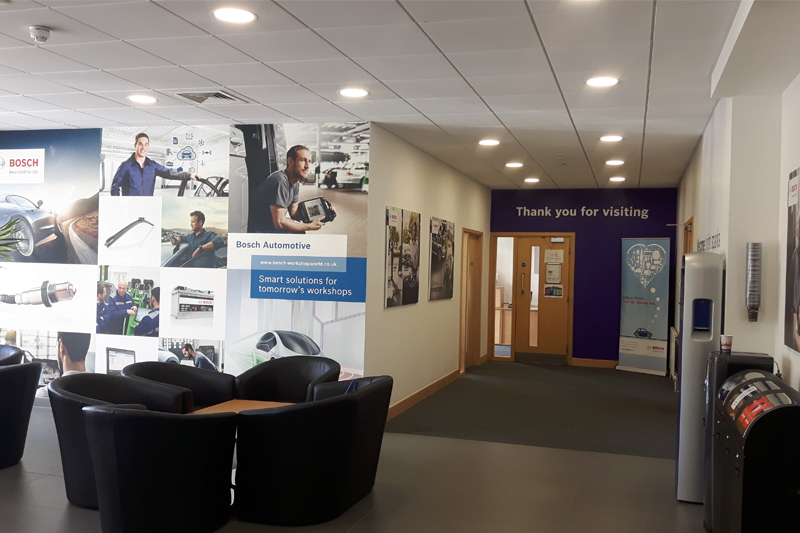 EXIDE – Start-Stop EFB and AGM Batteries
Exide was reportedly the first company to design a battery that meets the needs of start-stop vehicles. Since its introduction in 2004, the battery manufacturer's Start-Stop AGM has been continually developed to the point where it offers four times the cycling performance of a conventional battery and vastly improved charge acceptance and power. The battery was invented as part of Exide's OE business, and has been fully leveraged by many of the world's leading vehicle manufacturers (VMs).
The company's Start-Stop EFB was another creation of its OE business, dating back to 2008. Designed for small to mid-sized cars, it offers the electrical performance demanded by the latest start-stop vehicles, along with high charge acceptance, advanced safety features, and three times the cycling performance of a standard battery, among other benefits.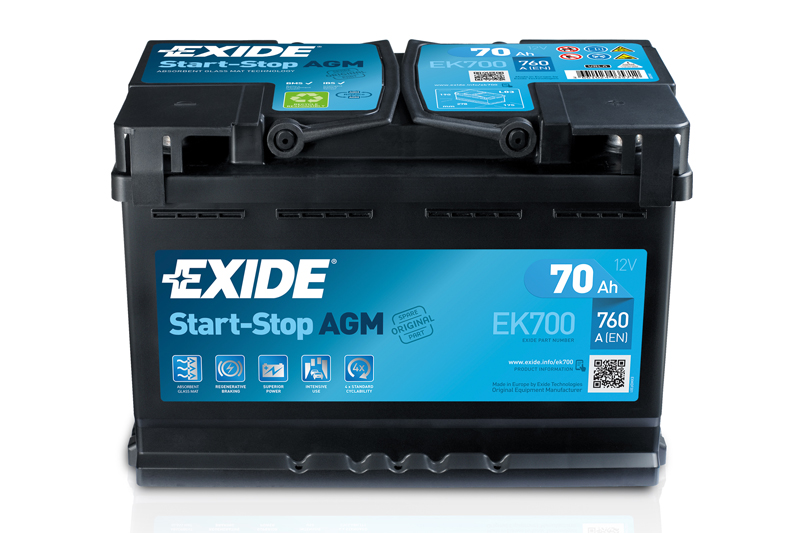 CTEK – PRO25 Professional Charger
The PRO25S is a versatile and highly efficient 25A battery charger and power supply, designed with the needs of the automotive professional in mind. Combining power and advanced technology with safety, portability and flexibility to work with any 12V vehicle battery, including Lithium-Ion (LiFePO4), the PRO25S is the perfect solution to professional battery charging.
Advanced technology will ensure that a safe, fast charge is delivered to exactly meet the needs of the individual battery. The PRO25S has a dedicated lead-acid battery reconditioning programme to restore battery life and recondition flat batteries. SUPPLY mode will support the battery during diagnostic or fault finding work. It has low voltage and current ripple, so it's safe for the battery and the vehicle's delicate electronic systems.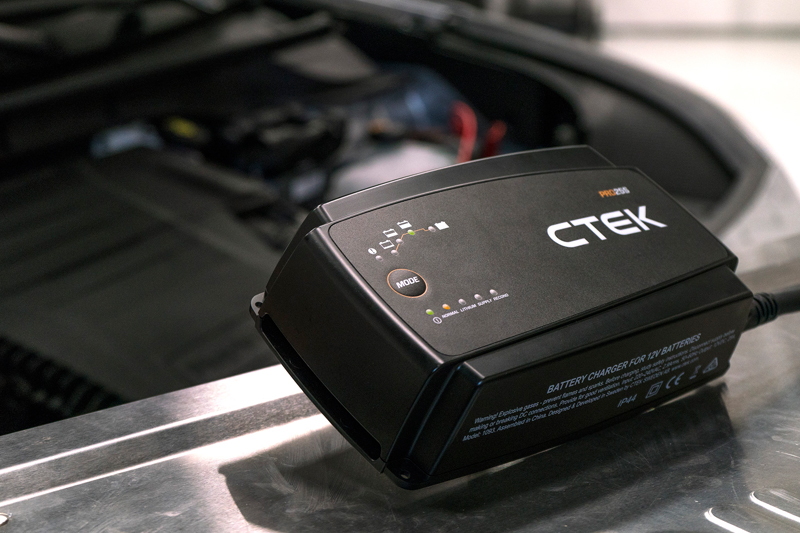 THE GARAGE INSPECTOR – Business Training Days
Andy Savva will be very familiar to PMM's readers. Andy has seen it all and done it all in the repair trade, having run a series of successful garages before selling up and using the knowledge he gained to help other garages owners run their businesses. Andy has spent the last few years travelling up and down the country analysing garage businesses and offering support and guidance on everything from marketing to financial planning.
"Andy's passion comes out in his teaching skills. He is very engaging, authentic amd professional, and takes his time to ensure each and every delegate understands."
Tina Drayson, CCM
This year, Andy re-branded as 'The Garage Inspector' and launched his business training days, which essentially brings together all of his knowledge and training into formalised training. The sessions are divided into the following topics: Marketing Essentials, Financial Understanding for the Garage Business, and Customer Excellence. Andy will be running these courses next year as well, so don't miss out.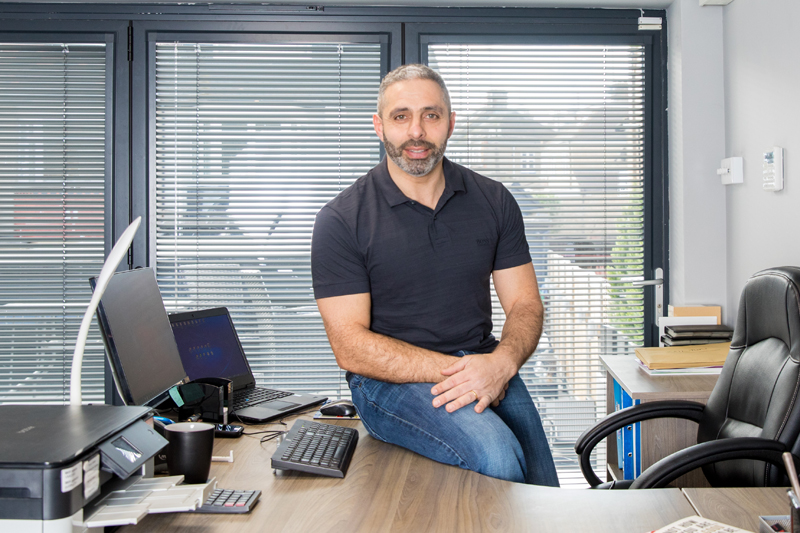 SHAFTEC – Remanufactured Electric Power Steering Range
For transmission supplier, Shaftec, 2018 has reportedly seen the demand for new-to-range steering parts in favour of electric over traditional types, at a ratio of 2:1. Having invested heavily in its new Midlands-based facility in 2015, the company says it has been reaping the rewards of investing in machinery to speed up the EPS remanufacturing process.
Before you can successfully fit a replacement non-VM specific aftermarket Electric Power Steering (EPS) rack, the original fault codes which rendered this part obsolete in the first place will have to be cleared from the vehicle's memory, and this is where Shaftec comes in. The memory on all remanufactured EPS racks supplied by the company is completely wiped (virginalised). This means that the part can be plugged in and, in the vast majority of cases, will automatically learn all the relevant details from the car it is fitted to.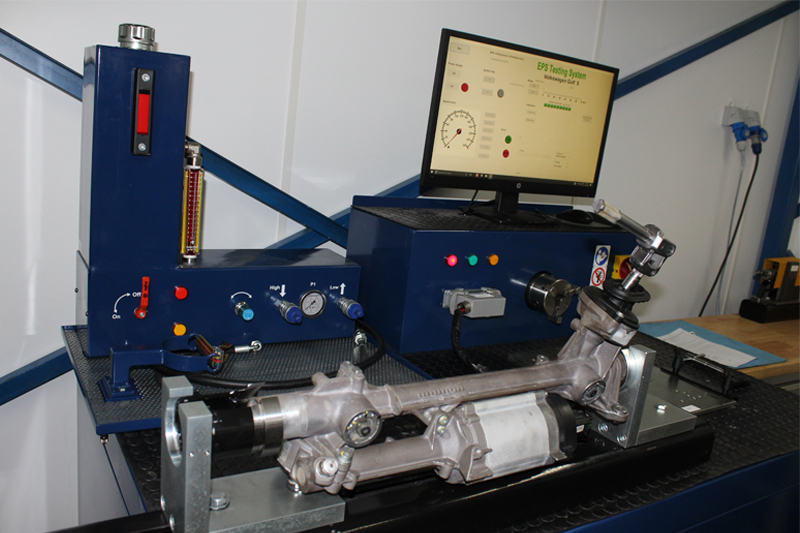 TECHMAN – Garage Management System
Finding solutions to the operational issues within garage businesses was the catalyst that led the founders of TechMan down the path of developing the TechMan Garage Management System. The company developed TechMan from the perspective of a growing, successful garage business, unlike many other Garage Management Systems available, which have been designed by technology companies that have identified an 'opportunity' in the market and developed software to fill the gap.
There is a common misconception that Garage Management Systems (GMS) are just fancy invoicing systems. While invoicing is certainly a capability, TechMan is actually more of a complete Business Intelligence Platform and can really help a garage business grow. The company believes that any forward-thinking garage business owner without a GMS in place is missing an opportunity to make a more profitable business and an easier life for themselves.
FLIR SYSTEMS – TG16 Thermal Camera
When PMM product tester, John Hall, tested FLIR's TG16 Thermal Camera in March, he remarked that "it is soon going to become a must-have tool". Why? Well, the product has the facility to view the component you're looking at on a clear and easy to see 2" colour screen and has a 25 degree field of view, allowing more accurate detail from a greater distance. It is ideal for most garage and automotive applications as it is not only durable – it can be dropped from a 2m height – but is also very easy to use.
"It is soon going to become a must-have tool."
John Hall, PMM product tester
When you want to capture what you are looking at, you simply press the trigger and the image is saved to the memory card. The capacity of the card will allow up to 75000 images and these images can then be downloaded via the card or using a USB lead (both of which are supplied with the product supplied) for proof of the diagnosis for the customer. The device is powered by an internal battery capable of some 30 days' use and is fully recharged within six hours.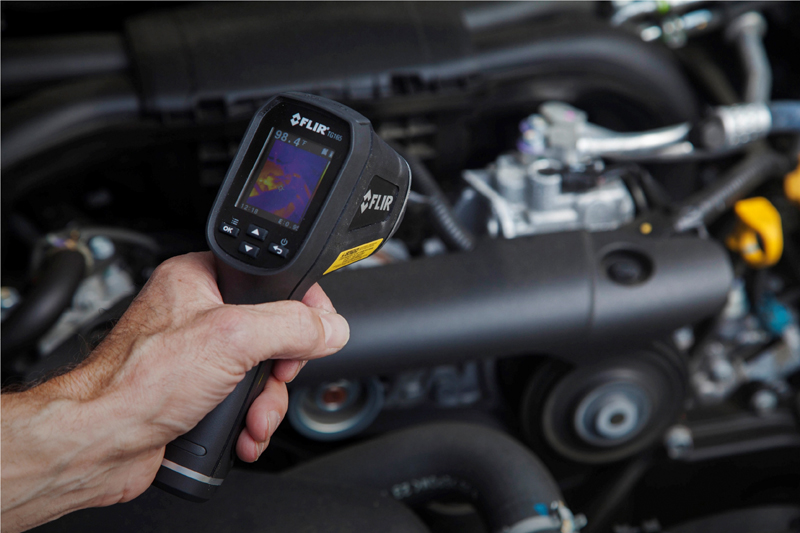 KNIPEX – Specialist Pliers
Knipex has been manufacturing pliers since 1882 and the company claims that it has a set of pliers for just about any job that needs one. The range of specialist pliers for garages is extensive, and PMM took a detailed look earlier in the year.
In the tightest of spaces and at the trickiest of angles, you can get to grips with circlips by using Knipex Circlip pliers. The pliers come with both straight tips or angled tips (at 45 or 90°) which allow for greater visibility and enable circlips to be reached even in tight and typically awkward places.
Then there's the Spring Hose Clamp Pliers, which have been a favourite with PMM readers when they have previously featured. Most conventional pliers can only be used for a specific type of clamp, meaning technicians have to change tools every time a new type of clamp is encountered. The Spring Hose Pliers can grip standard, space saving and spring wire hose clamps, as well as spring band clamps between the diameter range of 0 to 70mm.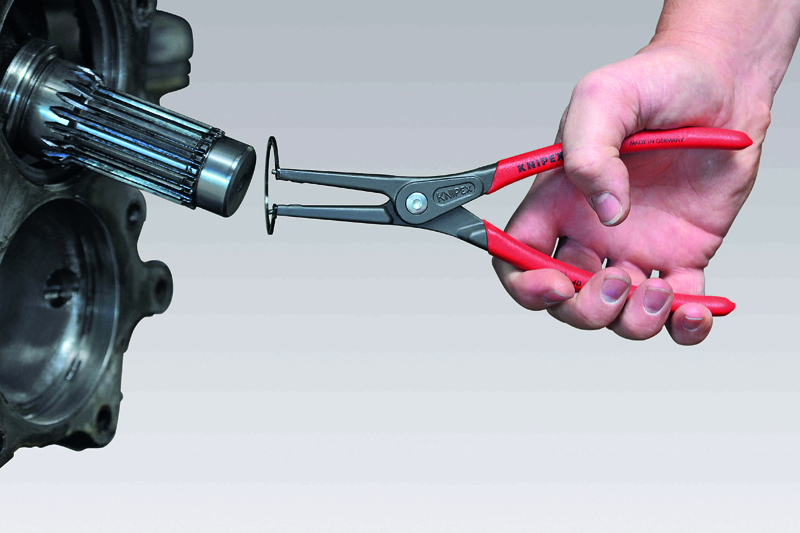 HERTH+BUSS – Testip 94 Part Case Set
Technicians know how time-consuming it can be searching for faults on electrical components like the lambda sensor or camshaft sensor, etc. The comprehensive TesTip set (article number: 95980778) offers a range of practical aids to make searching for faults and measuring in general considerably faster.
This is achieved with the various adapters (holding wires) and polarity testers, for checking Hall sensors or for determining plus or earth-controlled injectors. In addition, the case set has measuring potentiometers for testing temperature sensors, fuel sensors or throttle valve position sensors. A measuring resistor for testing the airbag circuits is also included in the set. The case of course includes all the usual plugs and plug sleeves, along with a measuring bridge which enables access to the circuit without risking damage to the seals.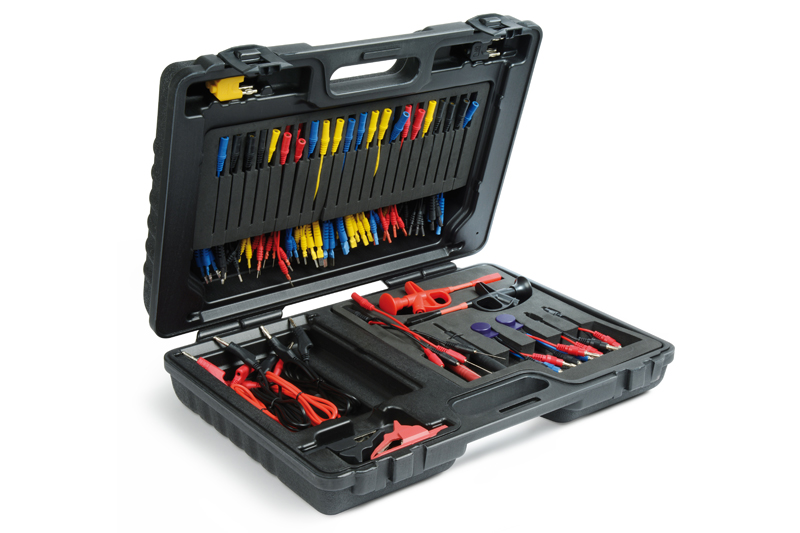 SEALEY – Electric Vehicle Safety Tools and Equipment
Whilst the electrified vehicle market is growing and could be capitalised on by garages, safety is of paramount importance.
From a tool perspective, there is a modest outlay required to be able to work on vehicles with a high voltage battery. Sealey is able to offer a wide range of equipment for this purpose. Any vehicle being worked on should be placed in an exclusion zone to prevent people from entering the area – the RWPKIT post and chain kit is ideal for this.
It is strongly advised that technicians use VDE approved tools as further protection from the risk of electric shock. Sealey can supply a wide range of VDE compliant tools. From a PPE perspective, Sealey HVG1000VL high voltage gloves are required, along with the HVM17K02 insulated electricians floor mat. In case of any unforeseen accidents, the HRP45 High Voltage Rescue Pole is a wise investment.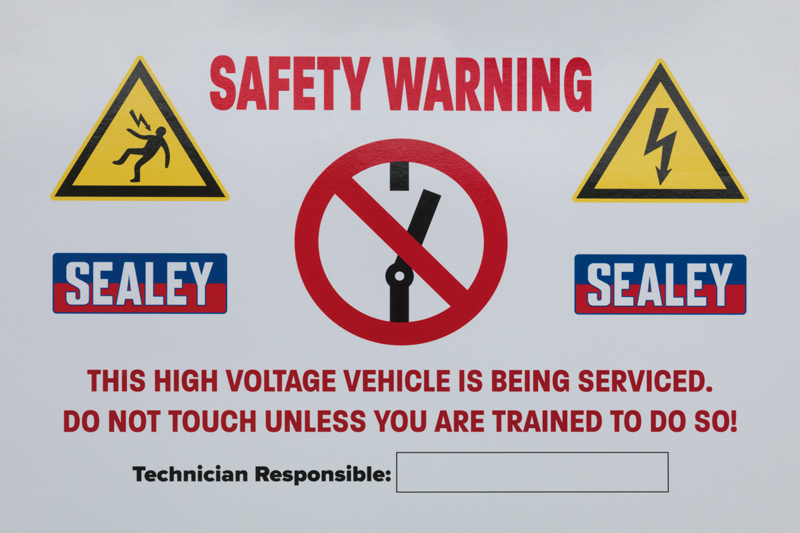 RING AUTOMOTIVE – Workshop Lighting Range
Ring's inspection lamps are made with the garage working environment in mind. They are all extensively tested in the company's on- site, ISO:9001-accredited Quality Assurance facilities, to ensure that they perform to the high standard needed by mechanics.
Ring also spends a lot of time developing products that solve technicians' most common problems, such as getting light into the narrowest spaces in the engine bay. The RIL3800HP MAGflex Slim, for instance, is just 9mm thick, meaning that it can get light into the hardest to reach spots, as well as providing broad illumination for the entire engine bay.
Another tough area to illuminate in the workshop is underneath a ramp. Often the busiest area of the garage, it's essential for technicians to be able to get the illumination they need when working underneath a vehicle. To help, Ring developed the specialist RURL1000 Ramp Lamp – a high powered, cordless LED inspection lamp that is designed to be used with garage ramps.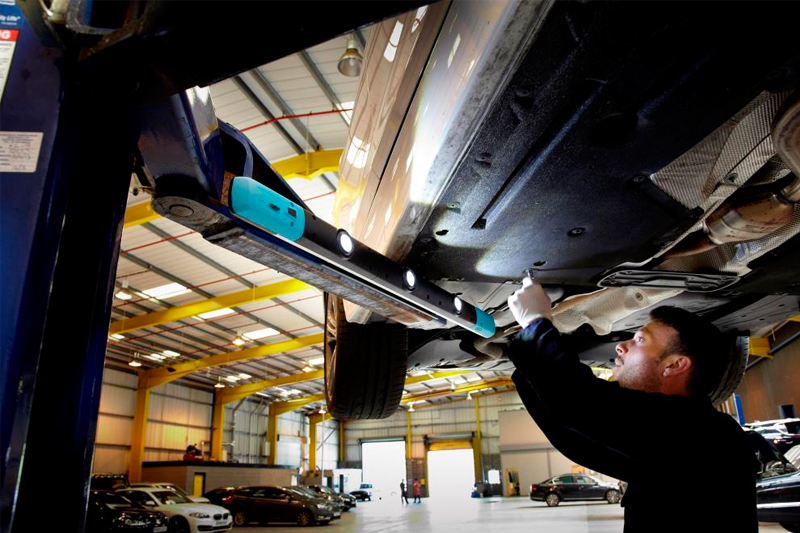 CHICAGO PNEUMATIC – CP8849 1/2″ Cordless Impact Wrench
The CP8849 1⁄2" Cordless Impact wrench from Chicago Pneumatic offers a wealth of features designed to put the operator in full control. It delivers a powerful 1,150+ Nm and boasts four settings in forward (two of which are shut-off options) and one in reverse. According to the company, this powerful and durable tool is ideal for tyre changing and general maintenance.
The tool also has one particularly distinctive feature, according to Chicago Pneumatic: a display at the back of the tool which illuminates the selected mode. So, with a single glance and without having to change position, the operator knows exactly which setting is selected and whether the impact wrench is in forward or reverse.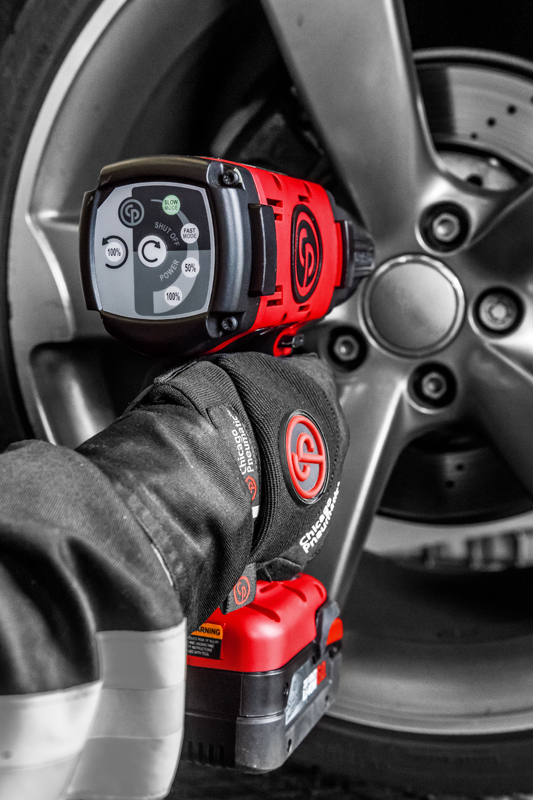 SCHAEFFLER – REPXPERT Portal
The recently refreshed REPXPERT online portal is packed full of invaluable tips and tricks – all at the touch of a button. Covering the renowned LuK, INA, FAG and Ruville brands, the site is quite simply the 'go-to' website for comprehensive technical and training information.
The portal provides detailed video installation guides for all major car manufacturers with in-depth video and non-verbal walkthrough guides. You'll also find the complete and versatile TecDoc product catalogue, plus a comprehensive failure diagnosis section to help identify many common problems, causes and solutions.
Additionally, REPXPERT's team of technical trainers are visiting garages around the country in the company's 'Technical & Customer Support' vehicles to deliver valuable information about Schaeffler products, as well as live demonstrations on how to professionally install them. When you sign up to REPXPERT you'll gain access to news and information about everything Schaeffler related.