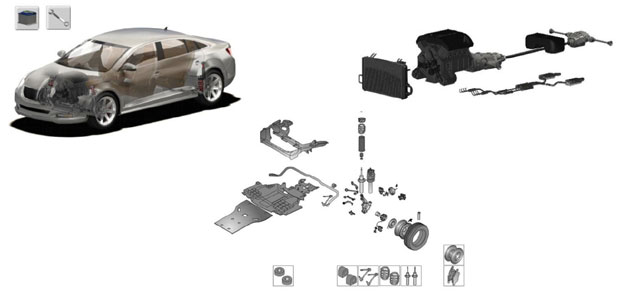 TecAlliance has added a new search function for both spare parts and repair information, through TecDoc, one of Europe's leading parts information data providers and TecRMI, its technical service and repair data resource, with the introduction of TecGRAPHICS.
The new TecGRAPHICS filter option makes it easy to find the required parts or repair information by using the visual elements of the vehicle for the search, instead of the standard text-based search tree.
"This new function provides both the TecDoc and TecRMI systems with a graphical front end search capability that revolutionises the way users can interrogate the data and the required information found," said Shaun Greasley, Commercial Director of TecAlliance UK and Ireland.
"In addition, customers that access TecDoc data via a customised portal from their own website can also integrate TecGRAPHICS and tailor it to display only those parts and information the customer actually has in their product portfolio. This level of catalogue customisation is new in the market and is currently only offered by TecAlliance.
"Normally an integrated graphical search function would display all related spare parts and repair information for the element of the vehicle selected, irrespective of whether the customer deals with the listed supplier or not, which could confuse catalogue users and cause them to place orders for spare parts or technical information that are not available.
"With TecGRAPHICS however, only the parts or information actually available from the customer are shown, which makes the ordering process convenient and transparent and improves customer satisfaction."