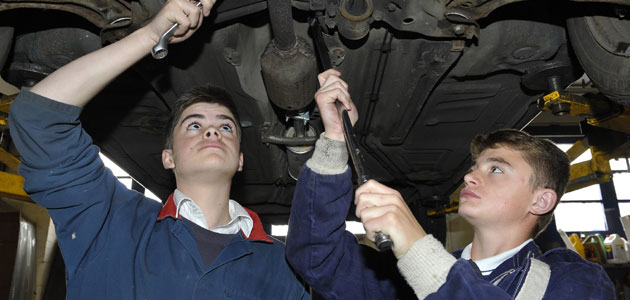 SKIDZ motor project is seeking quality cars to give its vehicle maintenance students a chance to learn the diagnostic skills needed by today's technicians.
The charity gratefully receives donated cars which are used particularly in the NVQ accredited Institute of the Motor Industry (IMI) level 1 and level 2 courses, but also to teach disadvantaged and disaffected young people Primary Skills and Health safety.
But with modern vehicles sporting more technology than ever before, SKIDZ is finding that few donations offer students the chance to acquire much needed diagnostic skills.
SKIDZ CEO Graham Andrews, pictured, said: "We are grateful for any vehicle that is kindly donated to us but unfortunately these are rarely of the standard needed to offer our students opportunities to examine the technology found in newer vehicles and to learn how to operate diagnostic equipment.
"These are key skills in today's industry and very important for our students, so we are appealing to anyone who could offer us a suitable vehicle to please get in touch."
If vehicles can be brought up to a saleable standard by SKIDZ students, Graham says there is the potential for any funds raised to be shared with the donor.
The idea could provide another income for the charity, which is already pursuing a business approach to fund-raising by launching a number plate business with rally driving legend and SKIDZ Patron Paddy Hopkirk and Spanish company Samar't.
Trading as Samar't SKIDZ, the partnership is a way of SKIDZ self-funding its work rather than solely relying on grants and donations from benevolent supporters.
The operation, headed up by Jonathan Tribe, is using the raw materials manufactured by Samar't to supply motor manufacturers, dealerships and fleet firms with everything they need, including the software and technology, to create their own number plates on demand.
Graham said: "In addition to the standard acrylic plates we also produce reflective metal plates, which offer more durability, are more secure and aesthetically better looking. Most importantly, they are no more expensive than acrylic plates. Choose us as your number plates supplier and receive a great service whilst also supporting the next generation of technicians and helping SKIDZ to become self-sustaining. It's a win-win situation for everyone involved."
Since its launch 15 years ago the High Wycombe-based charity has helped more than 8,000 young people in the region earn qualifications that can set them on the path to a life-long career in the motor industry.
It also works with local schools and Amersham and Wycombe College to offer all students an opportunity to access motor mechanics courses and hopes to roll out its framework for supporting young people at risk of 'going off track' across the country.
To find out more about SKIDZ, to donate a vehicle or to make an enquiry about Samar't SKIDZ, call 01494 550008 or visit: www.SKIDZ.org.uk.