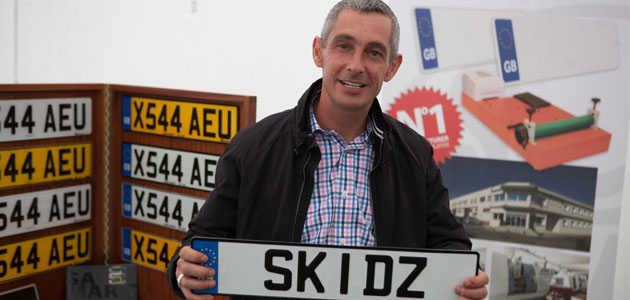 SKIDZ motor project has appointed Jonathan Tribe to head-up the charity's business approach to fund-raising by developing its number plate business with rally driving legend and SKIDZ Patron Paddy Hopkirk and Spanish company Samar't.
The partnership was launched in February as a way of SKIDZ self-funding its work with disadvantaged and disaffected young people, rather than relying on grants and donations from benevolent supporters.
Trading as Samar't SKIDZ, Head of Operations Jonathan will use the raw materials manufactured by Samar't to supply motor manufacturers, dealerships and fleet firms with everything they need, including the software and technology, to create their own number plates on demand.
Jonathan, who comes from a printing and software background, said: "My current focus is to develop professional solution for the motor industry, whether a local garage or mainstream manufacturer that can be delivered at a competitive rate.
"Working with Samar't, which manufactures its own reflective, metal plates and all of the component parts required, provides us with a unique opportunity to make savings and enter the market with a very appealing product.
"There are also altruistic benefits to buying number plates from Samar't SKIDZ of course. Companies that choose us as their supplier will know that they are supporting a new generation of motor industry professionals!"
SKIDZ CEO Graham Andrews said: "The Samar't SKIDZ initiative is the ideal venture for us as it provides a necessary service to the motor industry which, through buying our number plates invests in the technicians of tomorrow via our study programmes, whilst also helping the SKIDZ charity to become self-sustaining."