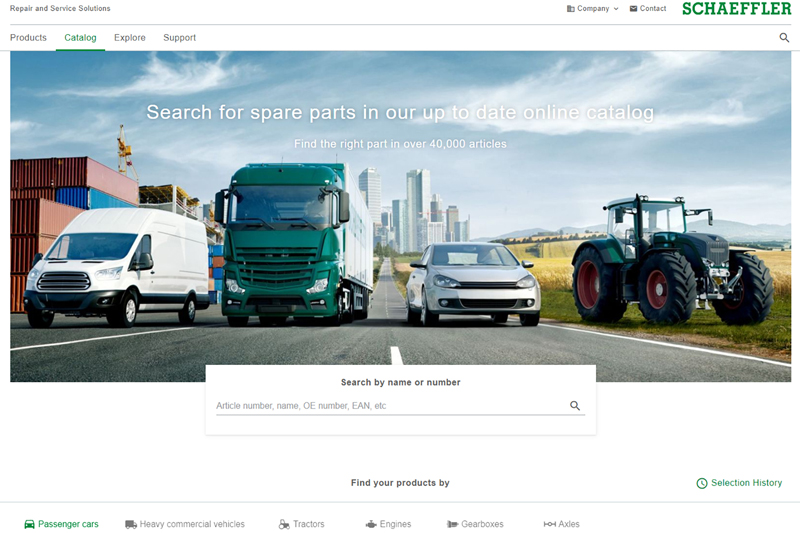 ---
Schaeffler has updated the TecDoc driven online catalogue hosted on its aftermarket website to provide users with more functionality and access to the original equipment (OE) replacement parts they need.
---
Marketing Communications Manager, Jeff Earl, commented: "Providing garages and parts sales staff with an accurate catalogue to help them identify the correct genuine OE quality parts they need is in keeping with Schaeffler's policy of equipping them with not only the product, but the information required to successfully carry out a complete and professional repair.
"We have several improvements to the catalogue which enable users to identify the correct replacement part quickly and reliably using a variety of search methods, such as OE and aftermarket part numbers, plus the ability to find vehicle information via a registration look-up that returns much more detailed application data than the traditional drop-down make and model search.
"Once you have correctly identified the vehicle, Schaeffler's top products for the application are highlighted, followed by the full range in brand order starting with LuK, then INA and finally FAG. Again, in line with Schaeffler's complete repair philosophy, the most comprehensive solutions are always listed first.
"Once the replacement parts are selected, the user can see what is provided inside the box, before checking out any linked repair information, such as product bulletins and technical specifications, all designed to help them complete the repair to the highest possible standard.
"Naturally, the system is constantly updated and operates in real time, providing users with an invaluable tool to help them quickly and easily identify the correct parts for any application.
"Our aftermarket website also provides visitors with an understanding of the many high-tech precision components and systems manufactured by Schaeffler for original fitment around the world, and how we then carry that support through to aftermarket professionals that undertake vehicle repair and maintenance.
"Visitors will hopefully find the improved site informative, intuitive, and optimised to work effectively on any device, and in addition to the catalogue, products and service support that Schaeffler provides, they can also find links to Schaeffler's corporate site, which contains a wealth of company information, such as the latest news on technological innovation and motorsport."
---
Alongside the aftermarket site, but aimed squarely at professional vehicle technicians, is the Schaeffler
REPXPERT workshop portal
which is where mechanics and garage owners can find information on Schaeffler.