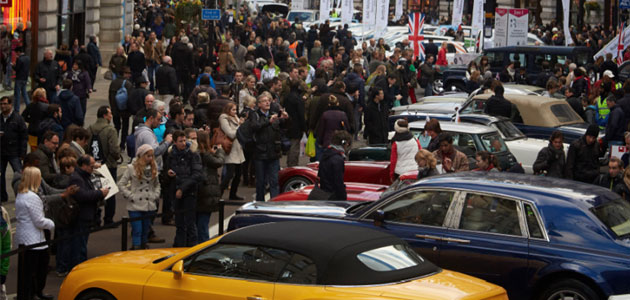 On Saturday November 1st, Regent Street in London will see the return of the annual Regent Street Motor Show, the UK's largest free-to-view motoring extravaganza.
From Piccadilly Circus to Oxford Circus, the capital's world-famous shopping street will be closed to through traffic, making way for hundreds of display cars that will be on show in the middle of the street, including vintage and performance cars, racing cars, family cars and eco cars.
There will also be 100 veteran cars on display, all ready for the annual Bonhams London to Brighton Veteran Car Run, which starts from nearby Hyde Park the next day.
Now in its 10th year, the Regent Street Motor Show attracts a large number of manufacturers keen to display their news products to an audience make up of car fanatics, tourists and shoppers alike. Last year saw a record 400,000 visitors come to the Mile of Style to peruse he huge amount of machinery on display.
This year, visitors can actively engage with the car displays by downloading the new free Regent Street iPhone app. Using beacon technology and Bluetooth, the app sends messages with interesting facts and key stats from the Motor Show cars directly to users' phones. Visitors will be encouraged to take 'selfies' in certain car models or be treated to hidden facts via their mobile, whilst also receiving excellent offers from their favourite brands on Regent Street.
"The Regent Street Motor Show is now recognised as a great day out for the family, whether they are car enthusiasts or just shoppers," said Anne Walker, Director of the Regent Street Association.
"The huge variety of exhibits perfectly complements Regent Street, with an array of vehicles ranging from the horseless carriages to the cars of today all set in one of the world's most prominent shopping streets.
Download the Free Regent Street from the App Store.