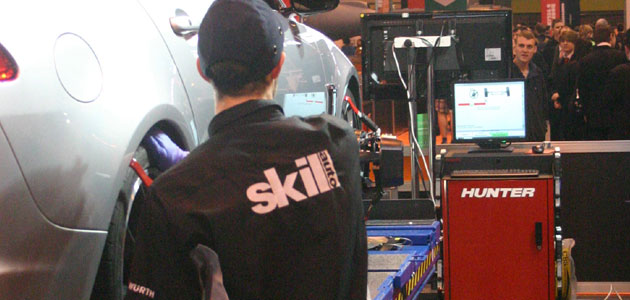 Prospective automotive technicians entering this year's WorldSkillsUK competition in November will be put through their paces using the very latest Hunter HawkEye Elite TD alignment system, after Pro-Align confirmed the firm's support for the competition for the third year running.
As part of the competition, entrants in the automotive technology category will be required to conduct a wheel alignment measurement under the watchful eye of competition judges and Pro-Align's Head Trainer Barry Sumner.
"We're delighted to show our support once again for WorldSkillsUK through the provision of one of our most advanced wheel alignment systems," comments Paul Beaurain, Managing Director, Pro-Align. "It's essential that our industry continues to invest in the next generation of technicians, equipping them with indispensable skills that are gained using the same equipment that they will find in many OE workshops around the country. WorldSkillsUK is an ideal platform for this and we're proud to continue our long-running association."
Pro-Align's support for WorldSkillsUK forms part of the company's wider ambitions to drive up standards of wheel alignment servicing in the UK. The company recently invested in the expansion of its training facility at its Northamptonshire headquarters, which has subsequently secured accreditation as an IMI Awards Approved Centre.
"It's vital for all technicians to ensure that they have the appropriate skills and knowledge required to service modern vehicles properly and wheel alignment is an important element of this mix. We'd like to wish all of the competitors taking part in this year's competition the very best of success," concludes Beaurain.