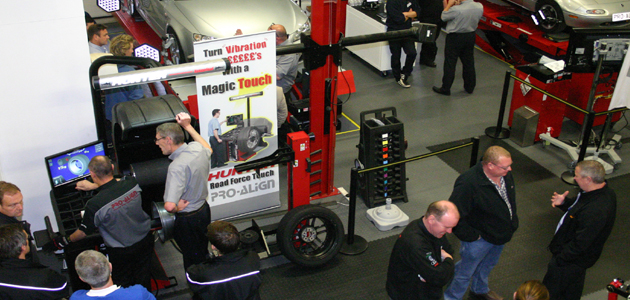 Following the success of its five 'Service Vision' events last year which gave workshops an insight into the latest wheel servicing opportunities available, alignment specialist Pro-Align has announced the date for the first of its 2013 roadshows series.
Pro-Align plans to run a total of seven events across the year with the first taking place at its Midlands-based headquarters in Towcester on Wednesday 24th April. The events will enable workshops to discover one of the industry's best kept secrets; a revolutionary complete wheel servicing solution from Hunter.
"The format of our 'Service Vision' events worked extremely well last year and we received some very positive feedback so it was an easy decision to extend these in 2013," comments Paul Beaurain, Managing Director, Pro-Align. "Once again, the drop-in style events will give workshops a relaxed opportunity to see how these transformational service systems work in a workshop environment."
At the events, attendees will have the chance to experience the speed of the latest Hunter Quick Check system that is helping to make highly profitable speculative alignment checks a reality. Furthermore, technicians will also be able to try the new and unique Hunter Road Force Touch balancer, which has just received approval for use by several major motor manufacturers. It offers workshops a solution to the most challenging wheel vibration and pull issues, that standard balancing alone can't fix and helps deliver ultimate levels of customer service.
To cater for workshops across the whole of the UK, Pro-Align has extended the number of venues being visited during its 2013 roadshow to include Scotland, the North West, Wales, the South West, London and East Anglia.
Anyone wishing to attend one of the 'Service Vision' events must pre-register by calling 01327 323007 or emailing enquiries@pro-align.co.uk