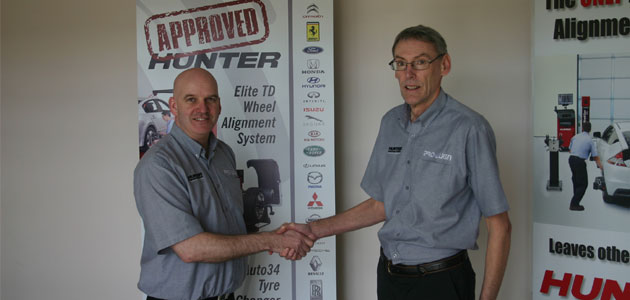 Workshops in Ireland are set to benefit from a newly created team of dedicated service and sales personnel to deliver and fully support the Hunter brand, following the recent expansion of Pro-Align Ireland.
Heading up the team is Miles Ross, whose experience as a Sales Executive for Pro-Align, the wheel alignment specialist and distributor of Hunter equipment in the UK, means he is able to offer his expertise to those businesses who are looking to provide a higher standard of wheel servicing.
In his new role, Miles will be looking to develop further awareness of the Hunter brand, whose complete wheel servicing equipment range includes four-wheel alignment systems, alignment ramps, as well as advanced wheel balancers and tyre changers, all of which are enjoying significant demand from workshops across Europe, North America, Asia and beyond.
Miles said "Hunter has an unrelenting commitment to innovation which is designed to improve customer service levels and enhance workshop productivity and ultimately profitability. I look forward to being able to demonstrate these qualities along with the equipment's powerful capabilities to workshops and technicians across the country so they can see for themselves how a host of business opportunities can be easily unlocked."
The Hunter innovations now available to Irish workshops include its range topping HawkEye Elite TD alignment system, which incorporates a new style of integrated QuickGrip wheel adaptors and QuickComp rolling compensation system which allow alignment checks to be carried out in just 90 seconds, as well as the revolutionary Quick Check drive thru system.
"With 9 out of 10 cars suffering some form of misalignment, there is a huge opportunity for workshops who are properly equipped," concludes Miles. "Our unique combination of a fantastic product range and long term commitment to provide excellent aftersales backup and support means we are ideally placed to help independent garages, tyreshops and dealerships alike to take advantage of this."
Workshops keen to learn more about Hunter's range of wheel servicing equipment or to see them in action can contact Pro-Align on 01327 323007 or enquiries@pro-align.co.uk.