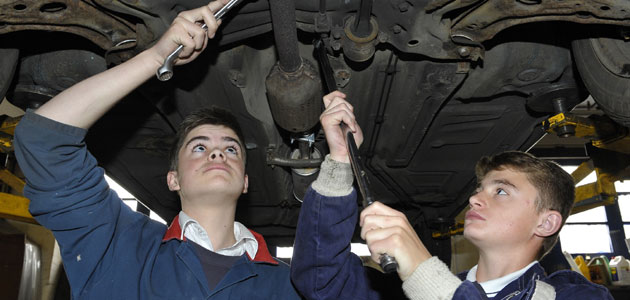 SKIDZ Motor Project is to receive a £15,000 boost after Wycombe District Council approved a grant to support its work with young people.
The charity, based in High Wycombe, Buckinghamshire, runs vehicle maintenance courses for young people of all abilities primarily aged 13 to 19 years old.
Initially launched 16 years ago to combat car crime in the area, SKIDZ has evolved to offer a greater range of courses to more young people, with an emphasis on re-engaging students with further education, training and employment opportunities.
The grant money will go towards providing more courses for more students and in new areas.
Councillor Julia Adey, Cabinet Member for Community at Wycombe District Council, said: "Wycombe District Council is really pleased to be able to support SKIDZ Motor Project with a grant. This project, which has been running in Wycombe for many years, has evolved from a fledgling idea to a great project. Over the years it has helped many young people, not only to gain useful motor skills, but life skills too, which have ultimately helped them gain employment and improve their self-esteem and confidence. We certainly hope this will carry on long into the future."
SKIDZ CEO Graham Andrews said: "We originally approached Wycombe District Council for a £15,000 loan to match another that we had already secured. However, I am very pleased that the panel decided it would be much more beneficial in the long-term to award these funds as a grant instead, thus freeing us from the burden of repayments.
"The council is a valued supporter of our work, as demonstrated by Council Chairman, Councillor Lesley Clarke's attendance at our Awards Evening this summer, and this recent decision to award this much-needed grant.
"The funds will be put to very good use in support of the young people seeking to learn a trade, improve their life skills and secure a more hopeful future."
Since its launch in 1998 SKIDZ has helped more than 8,000 young people in the region to gain vocational skills in motor mechanics.
The charity also works with local schools and Amersham and Wycombe College to offer all students an opportunity to access motor mechanics courses and hopes that with this grant it will be able to support more young people who may be at risk of 'going off track'.
After introducing the Institute of Motor Industries (IMI) Level 1 course last year, SKIDZ is continuing to make more post-16 courses available to students wishing to continue their studies with the introduction of the IMI Level 2 course is September.
To find out more about SKIDZ courses and how to get involved or to make a donation visit: www.SKIDZ.org.uk.