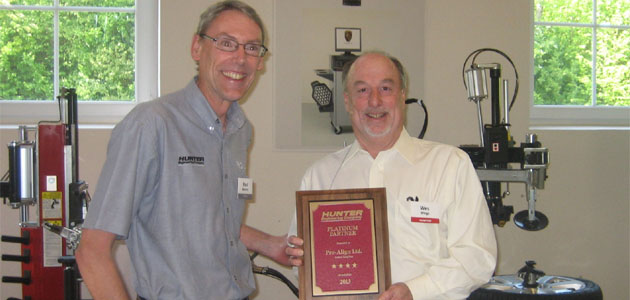 Pro-Align, the distributor of Hunter workshop equipment, has been recognised by the manufacturer for its significant sales and development of brand in the UK.
At the company's recent global distributor meeting, Hunter presented Pro-Align with its four-star 'Platinum Partner' award, placing it as one of the company's most important distributors in the world.
"Hunter continues to deliver a number of unique technological innovations which open up a host of valuable opportunities for workshops," comments Paul Beaurain, Managing Director, Pro-Align. "These highly profitable opportunities are being recognised and embraced by a growing number of workshops and we are delighted to receive this fantastic accolade for our efforts in helping the advancement of the Hunter brand."
While Hunter is best known for its advanced wheel alignment systems, through Pro-Align it also offers a number of other innovative workshop systems, including leverless tyre changers and balancers capable of eradicating the most difficult wheel vibration issues. The company has also recently launched another innovative system, Quick Check Lane, which gives workshops the chance to identify many other service opportunities including brakes, tyres and batteries.
"Hunter has always tried to do things differently in order to deliver the very best solution for both workshops and consumers," adds Beaurain. "We'd like to take this opportunity to pass on our thanks to our UK customers who have had faith in our service and the Hunter brand which is now widely recognised as the industry benchmark."