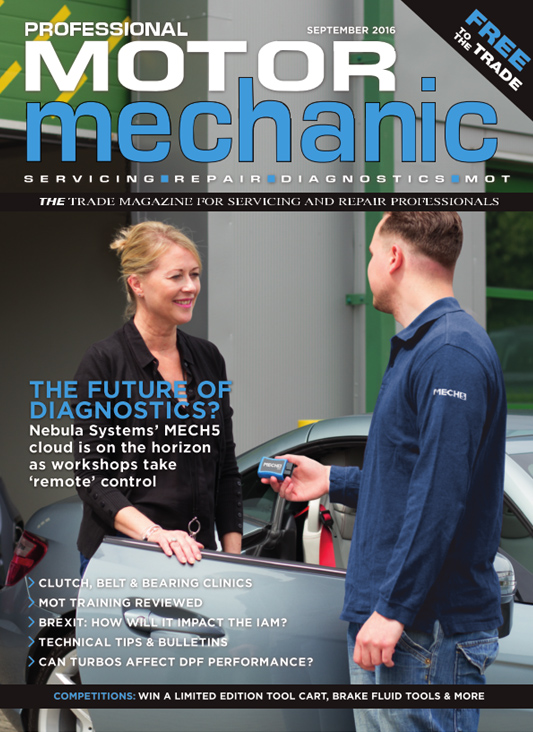 Photo Credit To Nebula
The September 2016 issue of Professional Motor Mechanic Magazine has hit the streets.
PMM September includes all the latest news, technical hints and repair advice, as well as the newest tools and products from the best suppliers. Also, there are plenty of goodies and prizes to be won!
Highlights and features this month include:
– Clutch Clinic: How to replace the clutch on a VW Golf.
 – Belt Clinic: What causes early pump failure.
 – Tech Tips: Nissen look at how to keep your A/C condenser in mint condition and Induction Innovations look at safely removing corroded nuts. 
 – Vehicle Troubleshooter: KTS diagnostics made 'ESI'. Part ten in the series from Robert Bosch talks about the maintenance and equipment tabs.
– Business: Andy Savva explains why adjusting your marketing focus can help to unearth the 'diamonds' in your database. 
– Brakes & Clutches: Why a reduction in copper can deliver top performance results. 
– Engine and Turbos: Why a faulty turbo can lead to DPF damage.
– Batteries & Ignition: What is driving the developments in battery technology?
– Filters: We look at one company's extensive warranty process. 
PLUS: You can WIN a limited edition Monster tool cart, one of three brake fluid testers and loads of other workshop freebies.
The magazine is FREE and available from most local factor stockists, so don't forget to ask for your copy!
If you're having problems getting your hands on your copy of PMM September, click here to find a stockist near you.