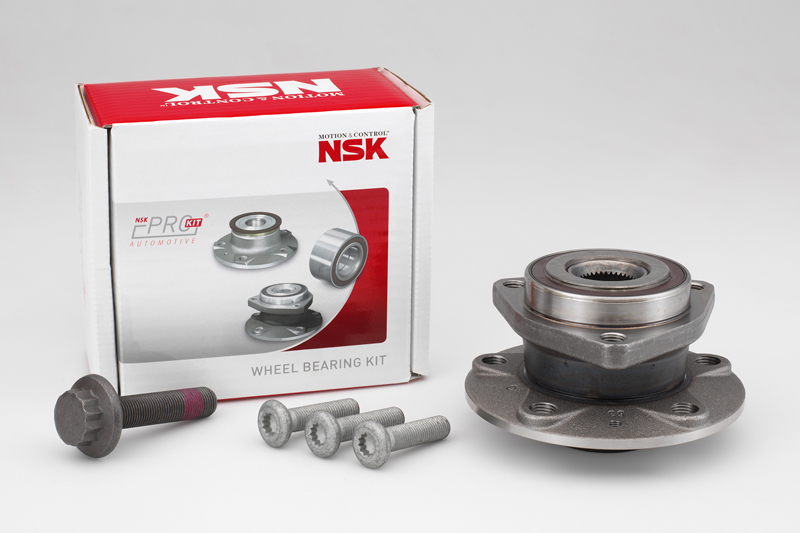 ---
NSK to showcase independent automotive aftermarket solutions at Equip Auto 2017.
---
NSK has announced that the company is to make its debut appearance at the Equip Auto 2017 exhibition in Paris later this year (17-21 October). Present on booth 1 C 085 in pavilion 1, visitors to the show will find an informative display that supports NSK's strategic decision from last year to enter the Independent Automotive Aftermarket (IAM). Based on the company's position of strength as an OEM and first tier supplier, NSK's IAM approach is to ensure that partners and garage owners become more profitable, efficient and effective.
Taking the spotlight at Equip Auto will be NSK's ProKIT, a new range of products focusing on wheel hub bearings that have been developed specifically for the IAM. Offered as a single box solution, ProKIT includes only 100% genuine NSK products, such as bearings, seals and nuts, as tested and approved by OE car manufacturers.
To help garages and distributors, a QR-code is featured on the packaging, which provides details of the product's manufacturing history and its typical applications. NSK also leverages the European TecDoc database and has made available a full online catalogue that is accessible via the company's website dedicated to the Independent Automotive Aftermarket.
With NSK bearing solutions already available for more than 70 million cars in circulation across Europe, garage owners and wholesalers can easily discover which product corresponds to which vehicle.
NSK achieves almost 75% of its turnover from the automotive sector and is among the market leaders in OE.
Any visitors to Equip Auto wishing to find out more about this or any other part of NSK's offer for the IAM, are invited to engage with the company's expert and friendly team at the show.
To receive free entry tickets to the 2017 show, interested visitors can send an email to ellersiek-l@nsk.com