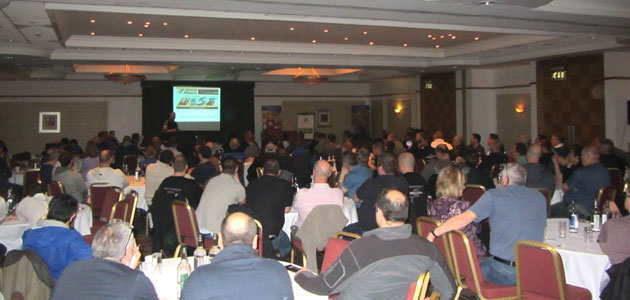 Randstad Ltd has held its largest ever TerraClean conference, signalling the brand's continued growth in the UK and the launch of new machines, Service Centre network status and TerraClean Awards 2014.
More than 150 independent garages, dealerships and mobile mechanics attended the event at the Holiday Inn, Newcastle upon Tyne, which provided operators with a great networking opportunity along with the ability to view new machines, designed to add new revenue to their business.
The event began on Friday 14 March, when 60 mechanics attended a TerraClean machine training event at fellow operator A1 MOT Centre Ltd. Hosted by Gary Wood of the Diesel Doctor, training was provided on the EGR Cleaning Tool, S-Tool, Power Steering Machine, Coolant Exchange Machine and Automatic Transmission Flush machines.
At the conference the next day, Randstad announced the rollout of the TerraClean Service Centre network, which ensures a consistent level of exceptional customer service throughout the growing network.
This was followed by presentations on Diesel Power Tuning (DPT) and the new TerraClean website, which will allow operators to successfully manage motorist enquiries and accounts and access key information such as downloads and merchandise.
Also announced were the TerraClean awards 2014, which looks set to be the largest awards event of the automotive calendar, with the top prize being a holiday for two people to Canada.
Finally, a new rewards scheme was also unveiled providing Service Centres with an opportunity to earn points on purchases from all Randstad products, which comprise an extensive range of consumables, wiper blades and lighting products.
Phillip Dowd, Randstad sales director, said: "This was our biggest and undoubtedly best conference yet. The TerraClean network is one of the most progressive garage networks in the UK, always looking at how it can add value to the customer service experience. The brand is just over two years old in the UK and with the new service centre status now in place, we are able to manage this growing network ensuring it continues to offer the highest levels of customer service."