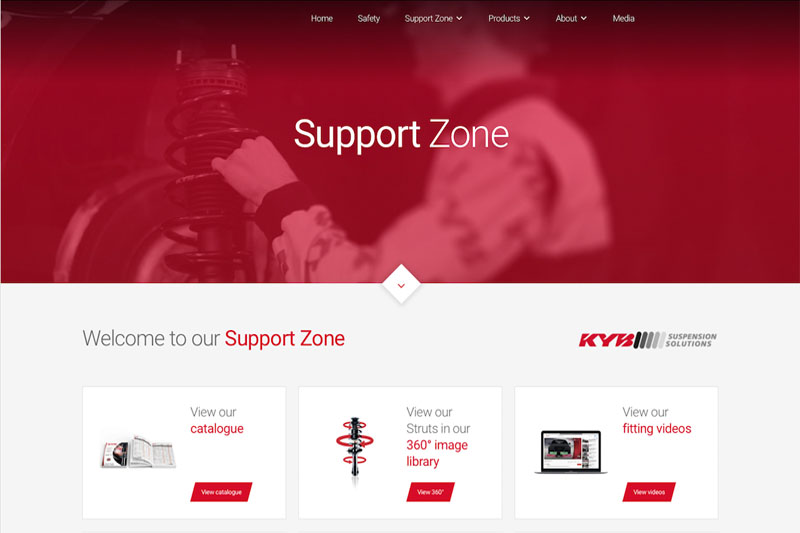 ---
KYB Europe has updated its website with a refreshed image and additional technical and training content.
---
Available in 22 languages, the website focuses on its Support Zone, which offers a selection of tools to help both technicians and retailers to identify and sell replacement suspension components. The 'KYB Training' area contains an introductory overview to KYB's Suspension Solutions training, which was delivered to over 7,000 Aftermarket professionals by KYB technical trainers pre-pandemic in 2019. There is also a request form to sign up for more detailed online training delivered by one of KYB's trainers and the ability to sign up for the monthly KYB newsletter.
KYB has also launched a series of digital packs, which are a selection of pre-designed and written social media posts about the safety critical nature of suspension and about KYB products. Parts distributors and workshops can use these on their own social media channels to educate their followers on suspension safety and promote why they stock or fit the KYB brand. To download these packs contact your local KYB office, sales representative or contact the marketing team via news@kyb-europe.com.
Research by Hubspot found that 72% of customers would rather learn about a product or service from watching a video. The Covid19 pandemic has given automotive professionals the opportunity to benefit more from online learning, as it takes less time from their busy working day than attending a face-to-face training. KYB's videos can, therefore, be accessed via the refreshed website and plans are in place to add more in the coming months.
Jordan Day, KYB Europe Marketing Manager, explained: "This is the perfect opportunity to be able to speak to more technicians about suspension components and their critical role in vehicle safety, including how to identify when they need to be replaced, how to sell them and how to replace them in the most efficient way. We have a strong team of technical trainers and we are excited to be able to share their expertise with a wider audience online."
---