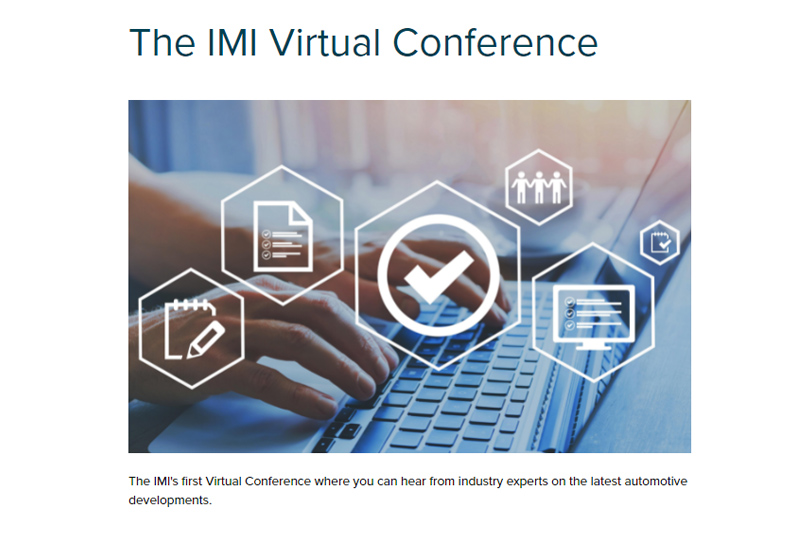 ---
The Institute of the Motor Industry (IMI) has announced it will host its first-ever virtual conference on 23rd September 2021.
---
Designed to provide automotive professionals with content for their continued professional development, the event will feature guest speakers and technical experts over two hours. And as Steve Nash, CEO of the IMI confirmed, the conference aims to provide businesses and individuals with the positive opportunity to interact and network with colleagues and peers.
He explained: "There has been little opportunity, until recently, for people working in the automotive sector, to share ideas and debate the actions needed to future-proof their careers and businesses. In our role as the sector's professional body we, therefore, felt it was important to give IMI members and non-members alike the chance to meet in an interactive afternoon of sessions.
"With a number of guest speakers and technical experts we will look at the challenges the sector now faces – from the massive technical advances to the skills gaps that are currently undermining success – and the role the IMI can play in tackling these. The event is free to attend so really there is no excuse not to register and get involved on the day. However, in order to facilitate the best possible interaction, spaces are limited. Anyone interested should, therefore, register as soon as possible."
Guest speakers will include Arran Simms, Chief Engineer Data, Fleet and Business Opportunities at Jaguar Land Rover who will be joining the second session looking at the challenges of new technology. Andy Turbefield, Head of Quality at Halfords and Jodie Williams, Head of Diversity and Inclusion at Sytner Group, will be joined by Steve Nash and Professor Jim Saker, President of the IMI, to discuss how the sector can get on the road to 2030.
The Conference will comprise five key sessions:
Introduction & Overview
Overview of how the IMI is delivering on its vision and mission 
The future of automotive
Exploration of the mobility sector and how it will drive further change
Independent & original equipment manufacturer response to the shifting landscape 
Attracting & retaining talent
Anticipating future skills gaps
How automotive employers can compete and win the battle for talent 
Management & Leadership
Understanding the importance of having skilled managers and leaders
How professional registration drives confidence in the sector 
The road to 2030 – Changes in Automotive (panel discussion)
Discussing some of the biggest challenges facing the sector and the importance of developing a workforce that can thrive in an uncertain and continually changing environment
---