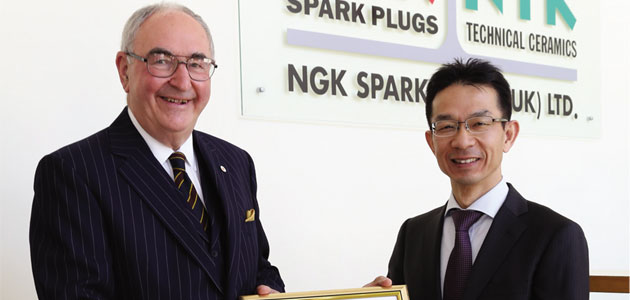 NGK has paid a unique global accolade to a man who more than anyone was responsible for building the company's reputation in the UK.
The manufacturer of original equipment (OE) spark plugs, glow plugs and NTK Lambda sensors has honoured Jim Hughes who worked to establish the NGK brand in the UK automotive aftermarket over three decades.
Jim (79) has been presented with a certificate and a trophy marking his long-standing service to the company.
The citation on the certificate – signed by Shinichi Odo, President and Chief Executive Officer, NGK Spark Plug Co. Ltd – reads: 'We would like to express our heartfelt thanks to you being actively engaged in the sales activity and making a great contribution to NGK globally. We hereby present this certificate in recognition of your dedication and commitment.'
The certificate, together with a trophy featuring an NGK spark plug for Jaguar as its centre-piece –  one of the company's first OE successes – marks the esteem Jim is held in within the company.