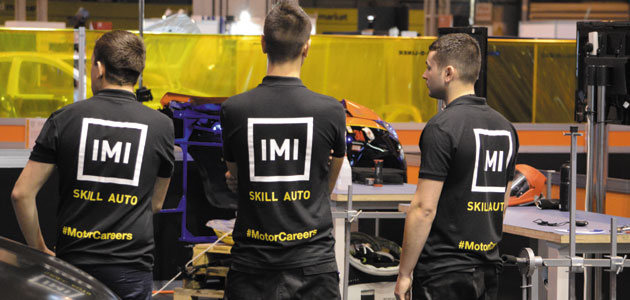 The hunt for the UK's best young automotive apprentices is set to commence today, with the opening of online registrations for the 2015 IMI Skill Auto competition.
 Young people will compete in the fields of Autobody, Autorefinishing and Autotech for a place at the Skill Auto final, which takes place at the Skills Show in November. An online test will decide who reaches the live heats. Over 75,000 young people visited the Skills Show at the NEC last year, where 18 automotive competitors competed in their chosen fields alongside apprentices from hundreds of different professions.
Dates for the Skill Auto live heats have already been confirmed with the competitions returning to three prestigious host venues:
13th – 15th May Autorefinishing, 3M, Atherstone
3rd – 5th June Autobody, Eyebox, Coventry
15th – 19th June Autotech, Jaguar Land Rover Academy, Warwickshire
Additionally, the 2015 Skill Auto competition will be an integral part of WorldSkills squad selection for the first time. The competition has been adapted to meet the required standards and allow extra finalists to challenge for a place on the WorldSkills UK team, which will go to Abu Dhabi in 2017. 
IMI Competition Manager Davie Massie commented, "2014 was another successful year for one of the motor industry's premier skills competitions. Therefore it's very exciting that our competition is now an integral part of WorldSkills squad selections for the first time. For this reason we have had to realign some of what we do and raise the standard significantly; something we were working towards anyway but certainly doesn't come without its challenges. Ultimately it means the apprentices who take part in the competition will have more to fight for than ever in the highest profile Skill Auto to date."
IMI are asking teaching staff and employers to direct talented apprentices to the online test at www.autocity.org.uk/skillauto. Online entry for the competition closes on the 20th March.