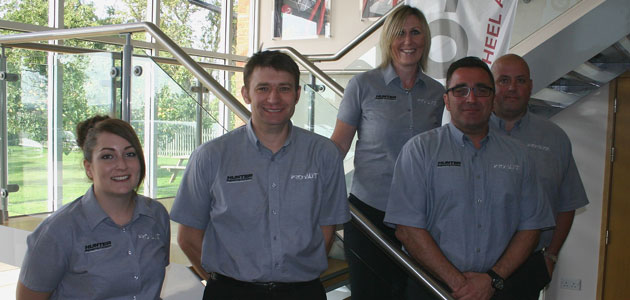 Following unprecedented demand for its workshop equipment, wheel alignment specialist Pro-Align is providing further support to its workshop customers through a number of newly created roles across the business.
Chris Ivory, a former tools and equipment manager with Volkswagen Group UK, has been appointed to the brand new role of Product and OEM Sales and Support Manager. Chris will have responsibility for Pro-Align's developing and growing equipment range, plus working closely with vehicle manufacturers throughout the UK, including at their production, test and quality assurance locations.
Following the company's recent expansion into Ireland, Dublin-based Shane McGinty has been appointed to the new role of Sales and Service Engineer for the region.
Meanwhile to provide further capacity and to extend the level of support offered, other new roles see Jennifer Davy joining sales administration, while Simon Henchman further strengthens the workshop and stores team.
"We're delighted to welcome the latest group of high-calibre recruits to our team," comments Paul Beaurain, Managing Director, Pro-Align. "To carry on providing our workshop customers with the very best equipment and outstanding levels of service it's essential that we continue to develop and expand our teams appropriately. These latest appointments will help us to continue to set new benchmarks for the industry in this area and I wish all of our new starters the very best success and a long and happy career with Pro-Align."
In addition to the new appointments, two of Pro-Align's longest-serving members of staff have received significant promotions designed to develop the business even further.
Chris Coyle has been promoted to the new role of Sales Director and will assume responsibilities for all of the company's sales activities supported by the new sales administration team leader, Emma Hounslow. Meanwhile Colin Avis has been promoted to the new role of Aftersales Director and will ensure that the company continues to provide industry leading levels of customer care and aftersales support.
Commenting on the promotions, Beaurain adds, "Chris and Colin have a wealth of experience, bags of enthusiasm and a shared vision for the future of Pro-Align that I believe will help us move swiftly onto our next phase of growth. I'd like to congratulate both of them on their well-deserved promotions and wish them the very best ongoing success."
Established in 1991, Pro-Align now employs some 45 members of staff across the UK. The company's purpose-built Towcester headquarters has now been extended three times to accommodate its expanding teams and their growing demands, including its IMI approved training centre.