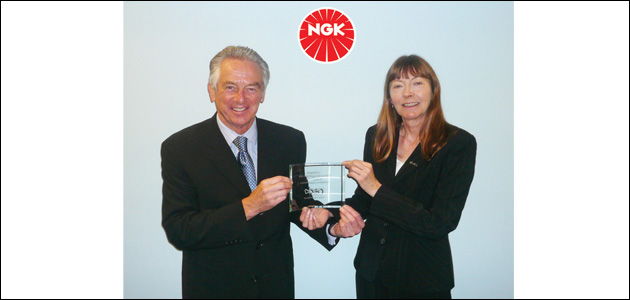 NGK Spark Plugs (UK) has been honoured by BEN, the automotive industry charity, for its fund-raising activities.
The supplier of original equipment spark plugs, glow plugs and NTK Lambda sensors, has received an 'Appreciation Award for Outstanding Support to BEN'.
BEN is the UK's dedicated charity for those who work, or have worked, in the automotive and related industries, as well as their dependants, and the award was presented to NGK after it was nominated by BEN's events team because of the excellent and continued support it receives.
The company has been a long-standing attendee and sponsor of the organisation's golf events and has also collected donations on behalf of BEN at trade and consumer automotive events.
Kelly Neal, Events and Exhibitions Manager, said: "At these events BEN has a stand from which it raises awareness and funds, but we also ask fellow exhibitors to take collecting boxes and ask their visitors to make donations.
"The NGK team always take these boxes and actively ask for donations, in return for the giveaways they offer on the stand, in order to raise as much as possible. The NGK team always prioritise providing this support and on average raise about £1,000 a show for BEN. We are hugely appreciative of this level of committed, proactive support and it makes a real difference in enabling the work we do to support those, in our industries, who are in need."
The award was presented to Brian Childs, Deputy Managing Director, NGK Spark Plugs (UK) Ltd, by Valerie Moore, Regional Development Manager, BEN.
Brian said: "Everyone here at NGK Spark Plugs (UK) Ltd is delighted to receive this accolade. BEN does a fantastic job in helping people involved in the motor industry and their families who, for no fault of their own, have fallen on hard times and we are only too pleased to help them in any way we can."