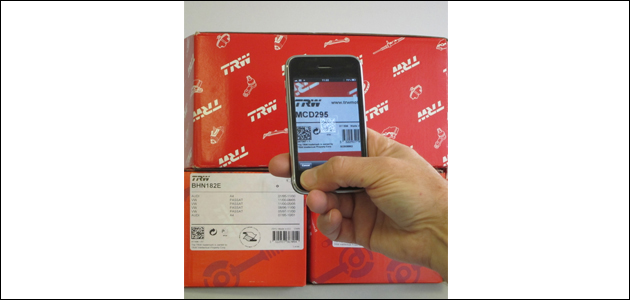 TRW Automotive Aftermarket recently announced that almost 85% of the products they supplied in 2011 now carry a unique two-dimensional (2D) matrix code on product box labels; which is great progress in their industry fight against product counterfeiting.
Via a simple act of scanning the labels, this process allows for part traceability and accountability; ensuring TRW's customers can have complete confidence of the OE quality part inside the sealed box.
Each 2D product label is unique and contains both a batch and serial number. This means that via the label, the box can be traced back to the person who printed the label and the time and place it was printed. All labels adhere to the current legislation regarding purchasing data.
The codes on the labels are scanned with a PC and scanner connected to the Internet, or via a mobile phone. When scanned, if the code matches information held in the central clearing hub 'TecIdentify', hosted by TecCom – it is genuine. If not, a warning is given.
Soeren Kristensen, TRW's Global Marketing Services Manager, explained: "Addressing the issue of counterfeit products is a key area of focus for TRW. We want to ensure that products supplied in the TRW brand are the reliable, high quality parts that our customers, installers and drivers expect. Our dedicated team has ensured that millions of our products have been supplied with a 2D code to ensure product traceability.
"In an increasingly complex global market place, it is more important than ever that those involved in the distribution and fitment of automotive parts are able to ensure that the consumer is protected from rogue products."
TRW and other leading industry names, initiated this process in 2008 to tackle parts counterfeiting; in line with the code of practice of the Manufacturers Against Product Piracy (MAPP) and accordance with the recommendations of CLEPA.