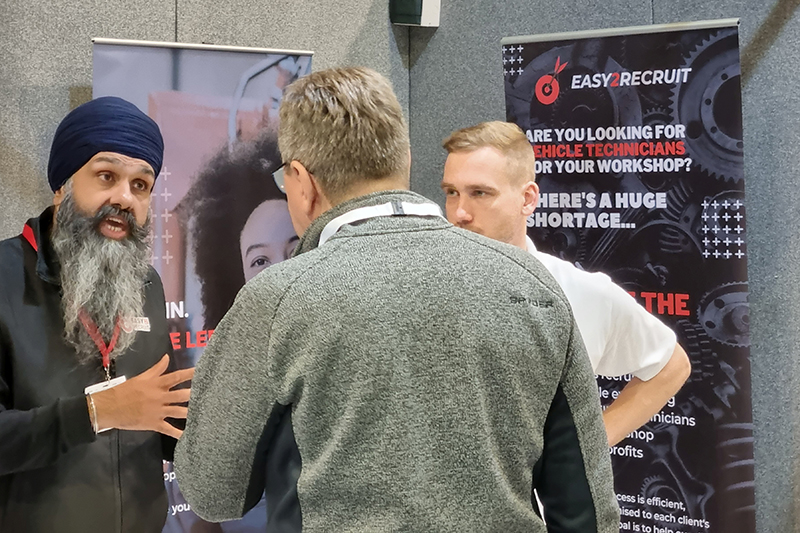 ---
Easy2Recruit has announced it is working through extensive enquiries after drawing a large level of interest at successive trade shows last week, which included Mechanex featuring PMM Live.
---
Starting on Monday, the team first travelled down to Surrey's Sandown Park for the two-day Mechanex show. Then after leaving late on Wednesday 8th November, they were back on duty in Birmingham straight away, preparing for Automotive Management LIVE which took place on 9th November at the NEC.
The events were a double-debut for Easy2Recruit, who have been working hard to cover interest from the automotive aftermarket, after only launching its concept in June at Automechanika Birmingham.
Ambi Singh, CEO of Easy2Recruit, said: "We want to thank everyone who visited our stands at Mechanex Sandown and Automotive Management Live in Birmingham last week. We've honestly been overwhelmed with a multitude of enquiries and it was great meeting so many garage owners and managers."
Easy2Recruit aims to work right across the automotive aftermarket to help address the common challenge of finding skilled talent to fill vacancies. Its solution is based around making it as easy as possible for UK businesses to benefit from overseas recruitment.
Ambi continued: "At this point we're just looking to talk to people and introduce the solution we offer. We want to offer an alternative – a light at the end of the tunnel – for hiring staff."
Easy2Recruit's process means it can guide and advise garages looking to hire from abroad for the first time as much or as they little as they need, all without any obligation or 'hard sell'. The business can manage the recruitment and immigration of dealer-trained technicians who are committed to working hard and being successful.
---