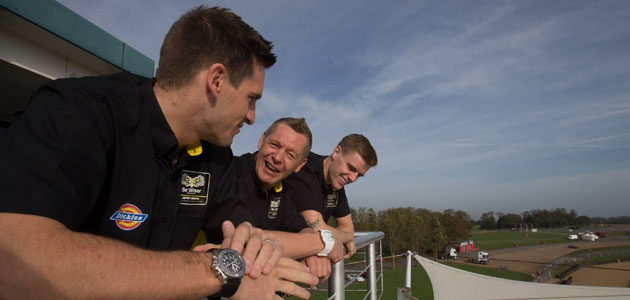 Legendary workwear brand Dickies has announced the new Be Wiser Kawasaki team's line up, with Dickies' ambassador Chris Walker and young sensation Danny Buchan to ride for the new British Superbike outfit.
Dickies, who were recently revealed as the new team's sole associate sponsor, are delighted to be a part of the new project, and are confident that the combination of youth and experience will give the team a solid foundation in their debut season in the MCE British Superbike Championship.
Chris Walker signs up to the new team on the back of an impressive 6th place finish in this season's Championship, having made the all-important Showdown. His new team mate, Danny Buchan, will ride for the new Be Wiser Kawasaki team after a convincing win in the Superstock 1000 category, where the Essex rider thrilled throughout the season, winning nine of the 12 rounds to convincingly take the Championship.
Chris said: "I have worked closely with Dickies for the past few years and the famous brand has been getting more and more noticeable throughout the MCE BSB Championship year on year and 2015 will be very exciting for both myself and the Dickies brand."
Maurice Morton, Sales and Marketing Director at Dickies, said: "It's an exciting time for Dickies and its involvement in British Superbikes. We are delighted to have secured a deal as the associate sponsor of the new team and the rider line-up highlights the team's intentions going into the big league. We cannot wait for Chris and Danny to ride on the new team bikes and look forward to what will be a thrilling Championship in 2015."
The team, owned by Alan Greig, has also announced the appointment of 2011 British Superbike champion Tommy Hill as it's Team Manager.
Hill said: "This has been a massively exciting project and especially to be involved with two great riders. We have been really busy getting everything in place as we have started from scratch but we are already in a good position. I am confident and happy as I wanted to be in the position of having two riders who are capable of results and providing a platform for them.
"I think Danny deserves a shot in the Superbike Championship as he is a real talent and I am overwhelmed that we have been able to give him a great package in our team to challenge at the sharp end and Chris has a huge amount of experience."
Dickies 2015 MCE BSB investment now means that the Dickies mobile showroom along with UK Worker of the Year (UKWOTY) will be present at all race meetings next season, both for UK WOTY entries and to sell team clothing for the new Be Wiser Kawasaki Team.
Dickies already supplies all Racesafe marshals with their famous 'orange army' safety wear, and are also the providers of safety clothing to the MCE BSB medical team, timekeepers and media with safety clothing. Dickies also supply the British Eurosport TV production team with branded clothing.