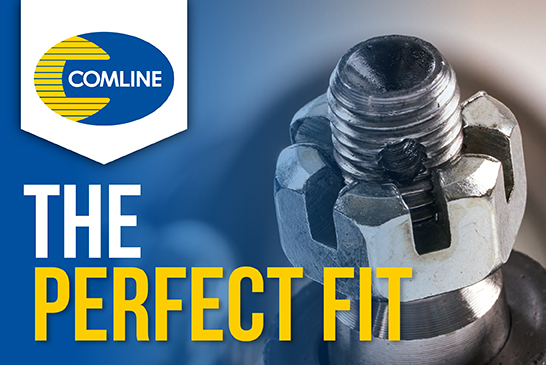 ---
Comline has revealed details of its latest steering & suspension references as it pledges to grow the portfolio by more than a third throughout 2021.
---
In July, Comline introduced control arms for the Audi A3 (2003-2013) and TT (2008-2014), SEAT Altea (2004-2009), Altea XL (2006-2009), Škoda Octavia (2008-2013) and Superb (2009-2010), Volkswagen Caddy (2008-2015), Eos (2009-2015), Golf (2009-2012), Golf Plus (2009-2013), Jetta (2008-2010), Scirocco (2009-2017) and Touran (2009-2010).
In terms of stabiliser links, Comline will now offer an option for the Chevrolet Trax (2012-onwards), Opel Mokka (2013-onwards) and Mokka X (2012-onwards), as well as the Vauxhall Mokka X (2012-onwards).
It will also provide a suspension bush for a Škoda Superb (2009-2015) and Yeti (2009-2017), and Volkswagen Caddy (2004-2015) and Jetta (2010-onwards), in addition to a tie rod end for a Hyundai i10 (2013-onwards).
A variety of tie rod axle joints and stabiliser mountings will also be available to access immediately, with details of every part number added to Comline's portfolio available from technicians' nearest Comline distributer.
Comline Augmented Reality also provides users with a first-hand look at the features of its steering & suspension products. Within selected renders, users will notice 'hotspots', which, when clicked on, will provide information for the respective part.
Comline Auto Parts Managing Director, Ishan Kamdar, has shared a video which demonstrates how the technology works, which can be found here.
---
To learn more about Comline's evolving steering & suspension range, click
here
.