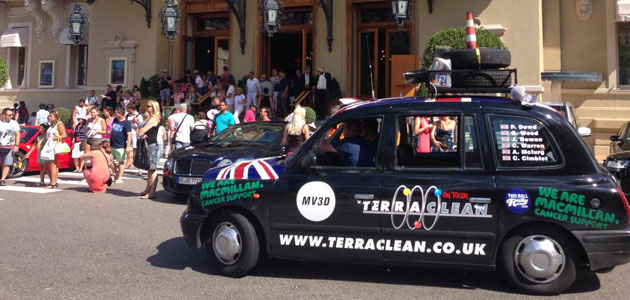 The TerraClean on Tour team are celebrating after winning the 1200-mile 'Two Ball Rally' and raising an impressive £5,000 for Macmillan Cancer Support at the same time.
The technicians can normally be found using TerraClean's unique decarbonisation technology to successfully improve the emissions, fuel economy and performance of a range of vehicles. But between 14-18 August they took turns behind the wheel of an ex-London taxi in a bid to win the Two Ball Rally.
The 'TerraClean on Tour' team included Phillip Dowd and Chris Simblet of Randstad, Chris Warren of Tuna Garage, John Bowen of JB Motor Repairs, Gary Wood of the Diesel Doctor and Andy McClurg of Clurgy Services Ltd.
The Two Ball Rally is an epic European road trip that gives teams only four days to drive 1,200 miles from the UK to the Mediterranean city of Nice. The TerraClean team successfully negotiated a challenging route through northern France, Belgium, Luxembourg, Germany, Austria, Switzerland, Italy, Monte Carlo and southern France where they were crowned rally winners in Nice.
"It was one hell of a journey and experience driving 1200 miles in an old Hackney Cab that had 500,000 miles on the clock, a failed head gasket and had to be refilled with water every 50 miles," explained Randstad's Phillip Dowd.
"But we kept battling on and 'Maggie' – the nickname we gave to our taxi – got us to the finish and all the way home again. It was a remarkable feat and we're all thrilled that we were able to raise such a healthy amount for Macmillan.
"The TerraClean network of technicians and customers really bought into this fundraising initiative and we're hugely grateful for all their help and support. Winning the Two Ball Rally was a proud moment and a genuine team effort."
As well as driving 1,200 miles, the Two Ball Rally requires teams to complete a number of special tasks on their journey.
To win the event, the team had to buy certain souvenirs on the route, get as many local people into their taxi as possible, gate-crash a wedding and hen party, entertain a group of local people and take a picture of 'Maggie' outside Casino Monte Carlo.
The taxi had sponsors from within the automotive industry and outside. The sponsors included: Randstad, NGK, Philips, Launch UK, Impression Communications, The Keel Row, Signs Express, A1 MOT Centre Limited, DPT and Classic-Pro.
"We got some funny looks along the way, but people soon realised the event was a bit of fun and they were more than happy to have a giggle and help," Dowd added. "We met some lovely people along the way and they all donated to our Macmillan pot."
Donations can still be made to the 'TerraClean on Tour' fundraising initiative as the team chases its fundraising target of £5,000. Donations can either be made at www.justgiving.com/terracleanontour or by texting TERA69 and an amount to 70070.