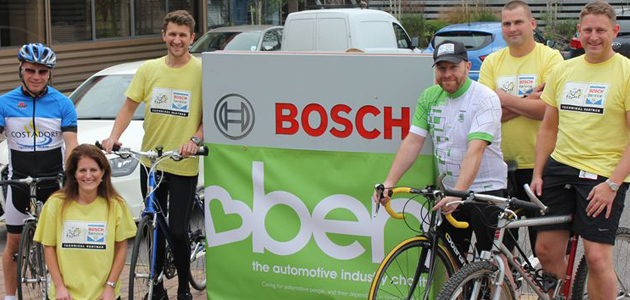 Challenging its members to play their part, Bosch Car Service is using its first national conference to help raise funds for BEN with a cycle relay race and four entries in the famous Bangers 4 BEN event.
The team of eleven riders and four driving teams will take part in the two fund-raising events – travelling from Birmingham to Berkshire and Uxbridge to Turin respectively. Complementing the conference's theme 'Forward Together' the teams are made up of employees from the Bosch UK Automotive Aftermarket division and four Bosch Car Service garages. Aiming to raise over £3,000, the teams behind the challenges are now asking potential sponsors to dig deep and donate.
As part of the ride and drive fundraising, the cycling team will set off early on Sunday 12 October, from the Birmingham Hilton Metropole, following the Bosch Car Service national conference, riding in relay until they reach the new BEN care home, Lynwood Nursing Home, in Berkshire.
Inspired by the Tour de France 2014, for which the Bosch Car Service network was a technical partner, the cyclists will pause for breath and refreshment at some of the Bosch Car Service garages en route.  
The action continues on four wheels, with four Bosch Car Service garages teaming up with Bosch employees, to take part in the Bangers 4 BEN fun drive. The teams will drive from the Bosch Service Training Centre in Uxbridge to Turin, Italy.
However, adding a twist to the normal Bangers 4 BEN route, the teams will make two extra stops in a bid to raise even more funds for BEN. The first will be in Karlsruhe Germany, where they will visit Bosch's Automotive Aftermarket headquarters, the hub of Bosch Aftermarket distribution, to drum up further support. Then, leaving their cars for a day, they will fly back to Birmingham, to collect donations from the full-to-capacity Bosch Car Service national conference before commencing the drive.
The Bosch staff and Bosch Car Service technicians will work together in the weeks leading up to the event, to make the cars road-worthy. They will also work together on the all-important fun fancy dress theme for their banger.
Mark Heard, Marketing Manager for Bosch Automotive Aftermarket, also one of the cyclists, said "We are all looking forward to both the charity events and the national conference, seeing Bosch employees and Bosch Car Service garages working together, having fun together and raising money in one go."
To donate to the Bangers4BEN challenge teams:
Collison Motoring Services in Waterlooville, Hampshire and Ed Kelleher from Bosch www.justgiving.com/RobEdBangers4Ben
Millers Garage in Newbury, Berkshire and Rachel White from Bosch  www.justgiving.com/Glenn-Rachel-Bangers4Ben
Broadoak Motors in Crewkerne, Somerset, with Eddie Lightfoot from Bosch www.justgiving.com/EddieandGeorge/
Autobar Professional Vehicle Services in Chester-le-Street, County Durham, with Gareth Campbell from Bosch  www.justgiving.com/GarethandDavebangers4ben
To donate to the cycling team, please visit: www.justgiving.com/Bikers4BEN-Bosch-challenge or text  CYCL56 £5 to 70070.
Any donations will be greatly appreciated.