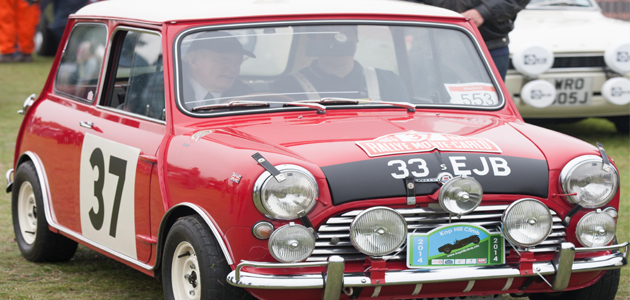 Rallying enthusiasts Rob Waters and Chris Dove helped raise £1,000 for SKIDZ motor project for young people when they successfully bid for the chance to sit alongside rally driving legend Paddy Hopkirk at the Kop Hill Climb event in Buckinghamshire.
Monte Carlo Rally winner Paddy, a Patron of SKIDZ, offered the unique chance to be his navigator for the popular event in a Mini car made famous by his historic Monte Carlo victory 50 years ago.
Chris Dove, a 24 year-old railway engineer from Great Kingshill, Bucks, described the experience as 'brilliant' and says it has fuelled his ambitions to take part in rallies. He said: "I had driven as a passenger once before in a rally car and I want to drive in rallies in the future. It was a great honour to be driven by the great Paddy Hopkirk and to be able to support the charity at the same time."
Kop Hill Climb brought back fond memories for Amersham architect Rob Waters, aged 70, who used to race Minis on circuit tracks during the 1960s and early 1970s. He said:  "Driving alongside Paddy was an exhilarating experience. I had done the Kop Hill Climb before but not in anything as quick as this."
Hugo Williams, aged 6, and his elder brother Charlie, aged 8, from Henley – grandchildren of SKIDZ CEO Graham Andrews – also took part in the hill climb as passengers with Paddy.
Driving a replica of his 33EJB red Mini which triumphed at Monte Carlo in 1964, Paddy sped up the incline at speeds in excess of 80 mph showing the car's remarkable capabilities.
A silent auction for the chance to be driven by Paddy netted £415 while the charity fund was further boosted by the sale of Paddy Hopkirk books and signed photographs, donations and a £100 for Kop Hill's best charity.
SKIDZ used the popular Kop Hill Climb to promote the work of the charity which gives disadvantaged and disaffected young people the chance to learn vehicle maintenance skills.
Since its launch 15 years ago the High Wycombe-based charity has helped more than 8,000 young people in the region earn qualifications that can set them on the path to a life-long career in the motor industry.
It also works with local schools and Amersham and Wycombe College to offer all students an opportunity to access motor mechanics courses and hopes to roll out its framework for supporting young people at risk of 'going off track' across the country.
To find out more about the SKIDZ courses visit: www.SKIDZ.org.uk