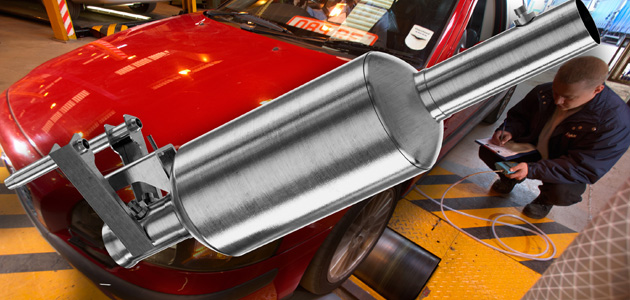 The BBC's Inside Out current affairs show, which aired on 20th October, was based on a sting operation where presenters asked garages to remove the Diesel Particulate Filter (DPF) from a vehicle to avoid it clogging when the vehicle is not used for long journeys.
What it failed to do, however, was point out how to avoid it clogging in the first place and also that, if it does fail, aftermarket replacements are available to manage the cost implications.
Doug Bentley, Head of Product Development at UK aftermarket DPF manufacturer, Klarius, thinks the problem requires better education for drivers.
"There is undoubtedly a higher demand for replacement DPF units as a result of repeat short journeys, we know this because we introduced new replacements for BMW, VW, Fiat, Kia and Nissan models last month due purely to growing market demand.
"The show focused on garages willing to do what customers were asking for, which was to help them avoid the cost of a replacement by removing the DPF or tampering with its internals. It did not, however, take the time to explain how to avoid the problem in the first place. Neither did it differentiate between the cost of an OE replacement (often over £1,000) and a good aftermarket alternative (normally a few hundred pounds)."
Removing or tampering with the DPF is definitely bad practice; it is part of a complex emission control system and its removal should not be encouraged by a vehicle owner, even though from a cost point of view it may initially seem attractive. Drivers need to be aware that in February 2014 the MOT test was updated to include a check for the presence of a DPF if originally fitted to the vehicle from new – so removal will now automatically incur an MOT failure and require costly refitting at short notice, leaving the vehicle unusable until replaced.
In addition to this, if the DPF was removed or tampered with, the vehicle will also be more polluting to the environment, as well as emit plumes of obvious diesel smoke from the exhaust – like pre-DPF cars used to do; whereas, DPF equipped cars emit virtually no black smoke from the exhaust.
For a DPF to work effectively it has to filter the exhaust gas and trap the harmful particles in the hot exhaust stream coming out of the engine, catching soot essentially. Periodically the soot deposits are burned away at high temperature using hot exhaust gas cycles – called regeneration.
In terms of educating owners/drivers about DPF equipped cars, good practice is to regularly use these cars on journeys where high exhaust gas temperatures are reached in order to support passive DPF regeneration (self-cleaning). As a minimum, one longer run every month where the engine is subject to a high work load for ten minutes or more (dual carriageway/motorway is ideal) is usually enough to maintain high enough exhaust temperatures to complete a cleaning cycle in a DPF; meaning it is less likely to clog and fail and replacement doesn't become an issue.
This is something the BBC programme did not properly address, but is definitely a good idea for owners to avoid costly repairs. Basically, DPFs don't like short journeys or stop/start driving, as the required high exhaust gas temperatures are not reached regularly enough. This leads them to clog and fail prematurely – so a periodical run is great to help avoid this issue.
Complications can occur when the unit is a combination Catalyst and DPF. If the DPF fails, also the Catalytic Converter has to be replaced as it's part of a combined unit – so costs can be substantial for the owner. These costs for replacement products can be reduced if the owner opts for a good quality aftermarket version of the unit, from a reputable manufacturer such as Klarius.
The aftermarket product is an equivalent part, designed to meet OE specification and is controlled by EU Type-Approval regulations; this means it is illegal to supply one that has not been independently tested and certified by a government approved laboratory, to ensure it meets the required performance standards – but at a lower cost than the VM's parts.
Responding to the issue highlighted by the program the DfT has announced that all MOT garages will be formally notified that they risk losing the authorisation to perform MOT tests if they offer to remove DPFs. Garages have the opportunity to fit good quality aftermarket parts to repair vehicles with problem DPFs and at the same time help to educate customers about how to use their vehicle in a way that prevents DPF blockages in future.
You can find out more about the BBC's coverage of DPF removals by visiting: http://www.bbc.co.uk/news/uk-england-stoke-staffordshire-29662760