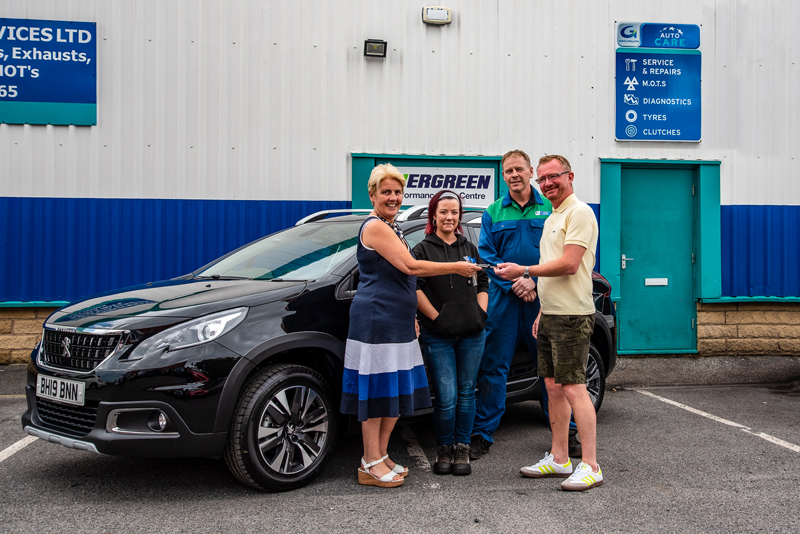 ---
This summer AutoCare has announced it has given away a brand-new Peugeot 2008 Allure as part of its Summer WIN A CAR Giveaway. 
---
55 runner-up prizes were also won which included LG 50" Smart 4K Ultra HD LED TVs, Nintendo Switch Consoles, Sonos One Speakers with Alexa, Dyson Hot & Cool Fan Heaters and Ring Video Doorbells.
The competition was open to UK motorists who visited an AutoCare garage between 1st May and 7th July 2019 for a service, MOT or repair. All they had to do once the work was completed on their car was enter the competition on the AutoCare website.
Justin Thornton was picked from 21,651 entries to win the top prize in AutoCare's Summer WIN A CAR Giveaway. Justin had visited Apex Motor Services in Burnley, for his brake discs and pads replacing and entered the competition online. He said he could hardly believe his luck when Maria McCullough, Garage Network Manager for AutoCare, called him the day after his birthday to give him the good news.
Mick Lindsay, owner of Apex Motor Services in Burnley was said to be pleased a loyal customer of theirs won the car, commenting: "It's great that Justin has won the car, he and his father-in-law have been bringing their cars and vans to us for years."
He continued: "Coincidentally when Maria rang to tell me one of our customers had won, before she could give me the news, I started going on about how great the training through AutoCare is. Tim Stock is fantastic, there isn't a problem he can't solve, you just can't buy the amount of knowledge they have I was also saying. Steve Carter and Ant Taylor's teaching methods are brilliant, I went on and on until Maria eventually broke me off to say, Mick, one of your customers has won the car! I just couldn't believe it, what great news."
"Louise our receptionist tells everyone about the competition when they are collecting their car and hands them a leaflet with their invoice as they leave. We really make the effort to promote the competition to our customers and it's fantastic to see the hard work pay off."
Justin and his wife Amanda along with their two children collected their new car from Apex Motor Services on Thursday 1st August 2019; Maria McCullough, Neil Clark, Garage Networks BDM and John-Paul Wilson, Area Sales Manager (North) for Alliance Automotive, Apex Motor Services' parts suppliers, were also at the garage to hand over the keys.
Justin said: "We still can't believe it, all our friends, family and work colleagues have been telling us not to believe it until we have the keys in our hand. Even right up to the day I didn't believe the car would be mine to keep. When my father-in-law and I collected our vehicles from the garage, we were handed a leaflet and told about the competition, my father-in-law handed the leaflet back and said he wasn't going to enter as most of these competitions are scams. Luckily I entered and I can't believe I have won."
Justin's father-in-law came along with the family to collect the car and claimed that he will be entering the winter competition if his vehicle has to be taken to the garage.
Maria added: "This is one of my favourite parts of the job, being able to offer our garages the opportunity to reward their customers with such brilliant prizes, especially the car, it's amazing to see the excitement from the winners."
Congratulations to all the garages with prize winners…
AJ Automedics Ltd in Durham
Claremont Motor Engineers Ltd in Dartford
Keston Car Care Limited in Keston
Mike Hurst Motor Services in Wallasey
Springhill MOT Station in Glasgow
Sprint Auto Centre Ltd in Belfast
Stallings Lane Motors Ltd in Kingswinford
Station Road Garage (Heacham) Ltd in Kings Lynn
Turner Brothers (Huddersfield) Limited in Holmfirth
Westfield Motors Ltd in Truro
Delamere Motors Ltd in Telford
EK Motors in Littleborough
James Wilson Garage Services in Armagh
Main Motors in Elgin
Martin Motor Engineers Ltd in Southend-on-Sea
MD Autos Chester Le Street in Chester Le Street
Muslin Hall Garage Ltd in Holmfirth
My Garage Emerson Green in Bristol
Paradise Garage in Downham Market
Paramount MOT & Repairs in Blackwood
W Carey Motor Engineers in West Byfleet
Bob Coates Motors in Sheerness
Cars Garage Limited in Bradford
Collon Cars in Derry
GP Motor Repairs in Epsom
Hucknall Lane Service Centre Ltd in Nottingham
Leziate Drove Garage Ltd in Kings Lynn
Meadowfield Autocentre Ltd in Newcastle Upon Tyne
Pitairlie Garage in Dundee
RP Motors in Tewkesbury
S J & B Pritchard Auto Repairs in Kendal
Valley Motor Services in Ammanford
A B Autos in Leeds
Central Autopoint Ltd in Corby
Cropper's Garage Ltd in Liverpool
Donaghey's Garage in County Donegal
Douglas Compton in Bromley
Gorseinon Tyre and Service Centre Ltd in Swansea
J B Auto Solutions in Beccles
JA Services (Ripon) Ltd in Ripon
Prompt Autos Ltd in Newbury
Sherwell Valley Garage in Torquay
Thompson's Motors Ltd in Edinburgh
B C & R Car & Van Centre Ltd in Fakenham
Greys Auto Centre in Blackwood
Hurstbourne Garage in Andover
J B Motors in Newark
Lodge Service Station Ltd in Manchester
Maltby Service Station in Rotherham
Millenium MOT Centre Ltd in Newcastle Upon Tyne
One Stop Car Service Centre (Northern Ireland) in Limavady
Road Runner Service Centre in London
Sidlesham Garage Ltd in Chichester
The Garage (Whitburn) Ltd in Bathgate
The AutoCare Winter Giveaway will run from 1st October to 30 November 2019 and will again be open to any UK motorist visiting an AutoCare garage for a service, MOT or repair, and all prizes will be delivered to the winners before Christmas.
---