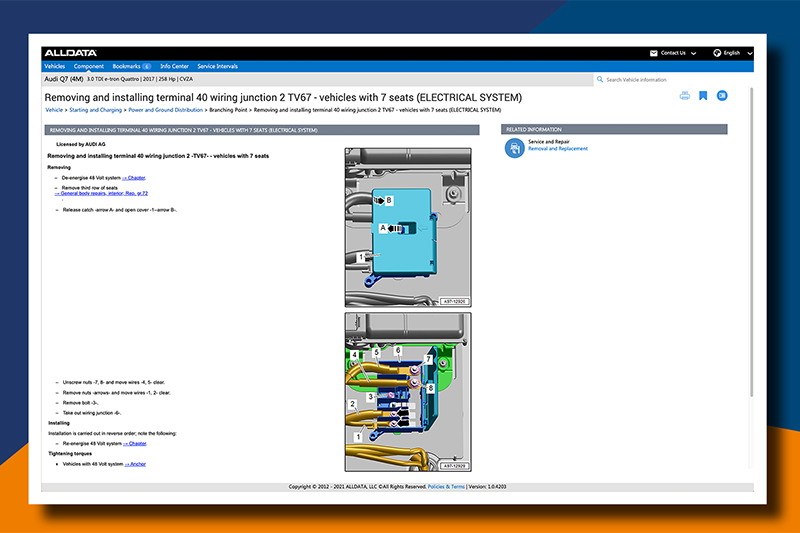 ---
ALLDATA Europe and Schaeffler have partnered to provide REPXPERT members with instant access to original technical repair data
---
REPXPERT, a digital platform and community developed by Schaeffler, is dedicated to supporting automotive professionals with product and technical material; its collaboration with ALLDATA Europe, a provider of genuine OE repair and maintenance information, is, therefore, a perfect fit.
How does the partnership work?
REPXPERT members in the UK can access this resource by clicking on the ALLDATA Repair banner within the REPXPERT web portal. This will transport them to a landing page where they can request a two-week free trial. This period will grant them unrestricted access to original repair and collision information for 33 VMs, all of which have licensing agreements with ALLDATA Europe.
ALLDATA Europe has coverage of over 95% of cars currently on European roads. This equates to ~91,000 unique year, make, model and engine combinations, along with 72 million technical drawings, including electrical connector views. Technical documents include repair procedures, wiring diagrams, Technical Service Bulletins (TSBs), and Diagnostic Trouble Codes (DTCs). This resource is available in English, German, French, Spanish, and Italian.
REPXPERT members that sign-up to a 12-month subscription and commit to an ALLDATA Repair 'power user license' before December 31, 2023, will also be entitled to three unique logins – all for the price of a standard, one-login license. This means a trio of technicians can utilise ALLDATA Repair simultaneously and they will also receive 5,000 REPXPERT bonus points too, as a 'thank you' for their investment.
ALLDATA Europe Managing Director, Karol Englert, said: "The ALLDATA Repair technical repair data will support the REPXPERT members with accurate information just when they need it. The aftermarket technician is generally looking after vehicles from many brands – so a wide-reaching information source is vital for them to be able to service their customers.
"We are thrilled to embark on this journey and partner with a world-class organization, like Schaeffler. Our dedication to delivering original OE data, coupled with Schaeffler's OEM pedigree, ensures this is a perfect match. We believe that together, we will redefine technicians' access and utilization of repair information across Europe."
Head of Schaeffler REPXPERT, Sven-Olev Müller, added: "Particularly against the background of the technological shift we are currently experiencing in the automotive industry, garages are now dealing with increasingly complex repair and maintenance work. The need for well-prepared information and practical tips is high. The aim of REPXPERT's service offer is to provide the most comprehensive coverage possible. ALLDATA's solution complements our existing offering in the UK which is why we happily recommend this additional solution when fitting our Schaeffler repair solutions and other spare parts."
REPXPERT members throughout the rest of Europe will gain access from January 2024.
---
To learn more and discover how ALLDATA Repair works in practice, click
here
. The website also offers the chance to request a free trial or sign-up immediately.