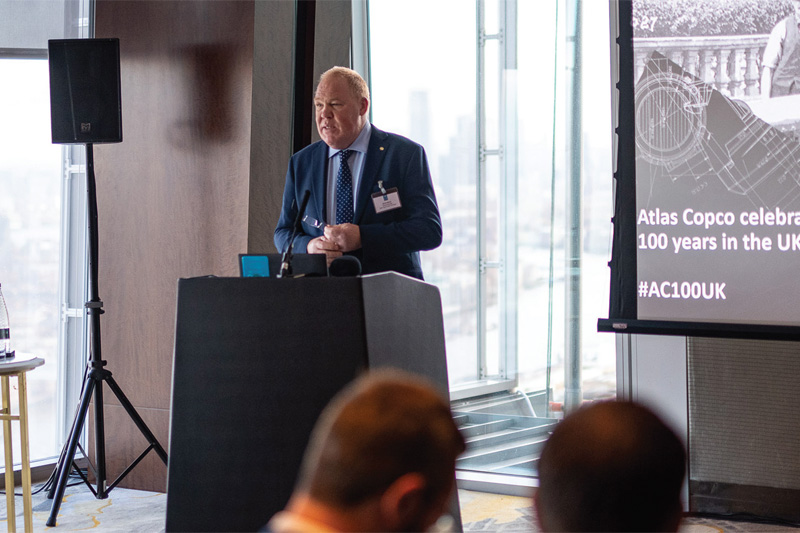 ---
Swedish industrial company, Atlas Copco, recently celebrated 100 years in the UK. To mark this impressive milestone, the company hosted a special event in the capital that was geared at looking ahead to the exciting technology trends heading our way. PMM received the invite.
---
Atlas Copco has marked its century of operations in the UK with a look forward at how industrial technology might evolve over the next 100 years. With the company's equipment deeply rooted in the world of vehicle manufacturing, these predictions may very well have an effect on the wider automotive industry.
The celebrations were held in London's The Shard. With the stunning city panorama as a backdrop, guests were welcomed with the history of how Atlas Copco was first established in the UK via a single sales office selling diesel engines at the end of World War I. Since then, the company has grown to become a large organisation, employing more than 2,500 people at six production centres and multiple sales offices across the country.
During that time, there have been many notable milestones. These have included the launch of the world's first oil-free, rotary screw stationary compressor in 1967; the first compressor with integrated variable speed drive in 1994; and the launch of the VSD+ compressor in 2013. The company has also expanded through high-profile acquisitions, including the purchase of Chicago Pneumatic in 1987.
Now, Atlas Copco is looking forward to the next 100 years of operations in the UK at a time where megatrends such as digitalisation, electrification and artificial intelligence are set to transform the face of modern industry.
"We are proud of our long history in the UK, and the future looks very bright," said Alex Bongaerts, UK Holdings Manager at Atlas Copco. "In our opinion, there has never been a better time to be operating in the industrial sector. Digitally enabled technologies are transforming the way we design, build and operate equipment such as compressors. Indeed, Atlas Copco hopes the next 100 years will be as successful as our first century of operations in the UK."
Guests at the 100 years of operations event heard how Atlas Copco had embarked on a significant process of electrification, with battery and hybrid products expected to reduce its carbon emissions by 50% by 2030.
"One of the major areas of emphasis going forward will be the continued drive towards sustainability, particularly in terms of the electrification of equipment such as mobile compressors and generators, lighting towers, and pumps," said Bongaerts. "Traditionally, much of this type of equipment has been driven by diesel engines, but in urban environments or events such as music festivals, there is a desire for cleaner and quieter performance.
This is resulting in the development of a wide range of battery-powered and hybrid products, which deliver reductions in carbon emissions. The future will require all of our products to be designed with a great deal of environmental consideration in mind."
Atlas Copco described how technologies such as the Internet of Things – driven by the application of sensors, software and connectivity – would give industrial organisations much better visibility of their assets, delivering significant advances in areas such as remote monitoring and predictive maintenance.
The use of artificial intelligence, meanwhile, would allow equipment such as compressors to track and make process improvements autonomously as independent cyber-physical systems. This could ultimately lead to a situation where compressed air systems operate independently in their own right, making autonomous adjustments to pressure and flow to facilitate process improvements. The company also described how connected technologies such as virtual and augmented reality would transform the way that maintenance workers repaired industrial equipment, both in factories and out in the field.
---
For more information online, click
here
.