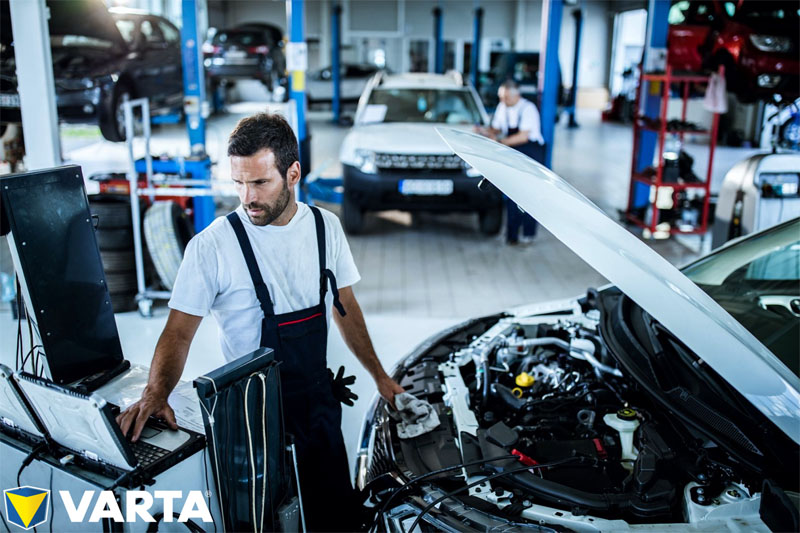 ---
With vehicle usage having been irregular for many drivers since March 2020, Varta is advising it is now more imperative than ever for cars to have their battery tested when entering the workshop.
---
''Lots of cars have been stood unused for many months, and some car owners are now doing far less journeys than pre-pandemic" says Andy Cook, Senior Technical Trainer at Varta. "This means the battery won't have been charged as regularly as it used to be, and in many cases, where the car has been parked for months on end, not at all" continues Andy. When a car battery falls below a certain voltage, internal damage can begin to occur, and a new battery should be installed into the vehicle.
"Varta have been advising technicians to check the battery status for many years, but now really is the time to implement this process into every customer's job list. It's not just about generating revenue for your business, it's also ensuring that the customer has a battery in good working order, which is particularly important over the colder winter months" advises Andy, "it keeps them moving and satisfied".
With over a third of vehicles now having a start-stop system, it's vital that a workshop has an up-to-date tester, that can also accurately test Absorbent Glass Mat (AGM) and Enhanced Flooded Batteries (EFB). If it's an older tester that doesn't have the capabilities to test AGM or EFB batteries, then it's worth upgrading the tester; otherwise the test results will likely be inaccurate.
Andy Cook highlights: "It shouldn't take long to complete a battery test, not much longer than five minutes, but by explaining the results to the customer, you are giving them peace of mind that the battery is operating properly, or advising that it might be time for a replacement. By doing this you're ensuring they have a functioning battery and will be ready for upcoming journeys."
Batteries face greater demands than ever before, as they have to serve increasingly complex and power-hungry car electronics. Whereas digital dashboards, inbuilt screens and parking cameras used to be limited to high-end vehicles, they are now commonplace on even entry-level models, all placing additional strain on the battery.
Andy commented: "Many drivers are also plugging in their mobile devices to charge them whilst on-the-move, again drawing power from the vehicle. This is why it's paramount to ensure the battery is in a condition to support all the comfort and safety features; it's the heart of the car."
The Varta Partner Portal provides assistance to technicians; the online platform uses Original Equipment information to help identify the correct battery for every vehicle, and also includes step-by-step fitting instructions.
---
Want to know more? For more information on the Varta Partner Portal, click
here
.