---
PMM Editor's Viewpoint February 2019.
---
The phrase 'marginal gains' was popularised in the mid-noughties, after Sir David Brailsford took over as Performance Director at British Cycling. These two words later became something of a mantra for 'Team Sky' – the all-conquering cycling team that saw the likes of Sir Bradley Wiggins, Sir Chris Froome and Geraint Thomas achieve the unthinkable and win the Tour de France.
Brailsford's philosophy for success was built on the idea of 'the aggregation of marginal gains' – in other words: improving lots of small things by small percentages, adding up to a huge overall improvement. This concept was not a new one, but it was perhaps the first time it was put to such prolific effect in a sporting context, and the results were almost unbelievable.
When Brailsford took over at British Cycling in 2003, the sport was in the doldrums in the UK, and Great Britain had won only a single gold medal in the Olympic Games since 1908. And yet, at the Beijing games in 2008, a raft of now household names (Sir Chris Hoy, Victoria Pendleton, Sir Bradley Wiggins etc.) dominated in the velodrome to such an extent that the whole world took note. Suddenly, the British were the best cycling nation in the world, and by the time the home games in London came around in 2012, Hoy and co did it again, claiming 12 medals in total, backing up the remarkable haul of 16 in Beijing.
But how did this renaissance come about? What on earth had Brailsford and his team been doing behind the scenes? The answer lies in marginal gains. Everything, absolutely everything in the team's set-up was analysed. Were the athletes eating correctly? Was their equipment as light and aerodynamic as it could be? Could the physios use better massage gels that would lead to faster recovery? They even considered what types of mattresses and pillows would enable each individual rider to have the most restful night's sleep. No stone was left unturned, and these small, incremental – and to some cynics, trivial – changes all amounted to an upturn in the fortunes of British cyclists.
Now, it doesn't take a genius to work out where I'm going with this. The same concept of making small improvements across the board is equally as effective in a business context. In fact, as we welcome Andy Savva back into PMM for 2019, his article on page 30 discusses the origins of this very idea: Kaizen. When translated into English, 'kai' means to 'change continuously' and 'zen' means 'to improve'. Clearly, Brailsford's approach has its roots in Kaizen.
Andy argues that, when applied over time to a garage business, the Kaizen approach can lead to improved productivity, higher levels of efficiency in the workshop, improved staff morale, improved brand image, and lower operating costs. You might not be chasing gold medals, but the rewards are still there to be had.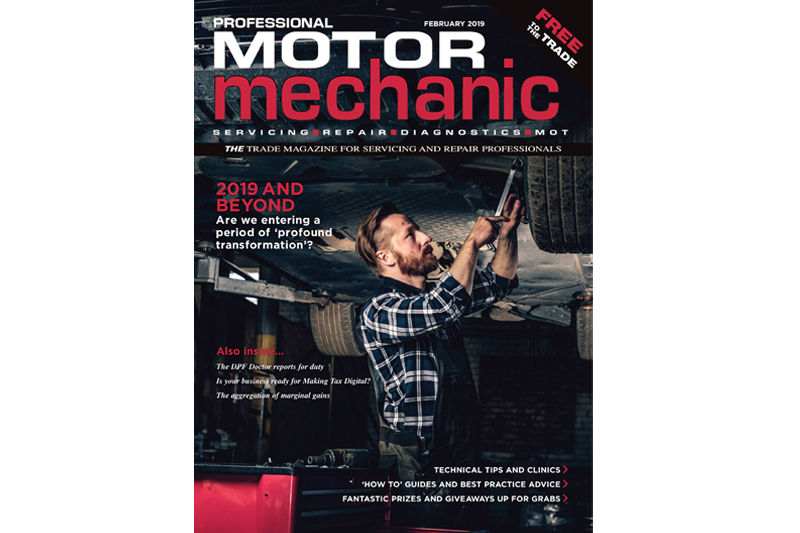 ---
To find out where to pick up a free copy of 
PMM
, 
click here
.