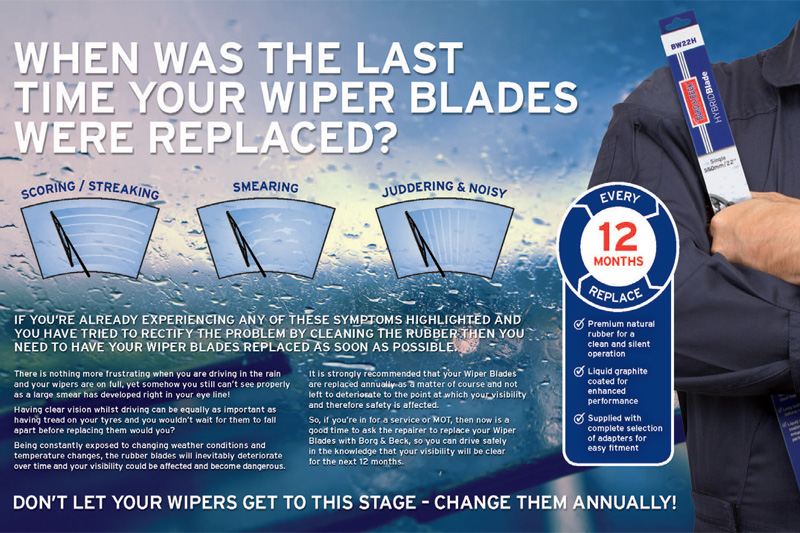 ---
W

ith the winter weather continuing, First Line is urging technicians to promote the importance of appraising and potentially replacing the wiper blades.
---
Being constantly exposed to changing weather conditions and temperatures, First Line is warning that over time the rubber on the blade will inevitably deteriorate, which could affect visibility and potentially become dangerous, not just for the driver, but other road users as well.
The company advises that it is, therefore, best practice to change wipers annually as a matter of course and not leave them to deteriorate to the point where smearing impacts the driver's visibility.
Jon Roughley, Global Marketing Director for First Line, comments: "As they are the driver's main defence against rain to allow them to see clearly, it's vital that they get them checked each winter."
Every Borg & Beck wiper blade is supplied with a complete selection of fitting adaptors to ensure the widest possible vehicle coverage for minimum stock investment.
All the blades are manufactured from 100% natural rubber, with a liquid graphite coating that not only delivers a smooth, streak-free and silent operation, but has the additional benefit of providing excellent longevity.
The conventional blades are available in sizes from 11 to 28 inches, while the spoiler blades, which are mainly fitted on the driver's side and ensure extra contact, and therefore improved visibility, especially at motorway speeds, are available from 18 to 28 inches. Both feature a high strength zinc galvanised steel frame and stainless-steel backing, which means they are robust, while remaining corrosion free.
For superior all-weather performance combined with the most up-to-date aesthetics, the Borg & Beck flat blade features a unique design with a flatter spoiler, which minimises drag but maximises screen-clearing performance.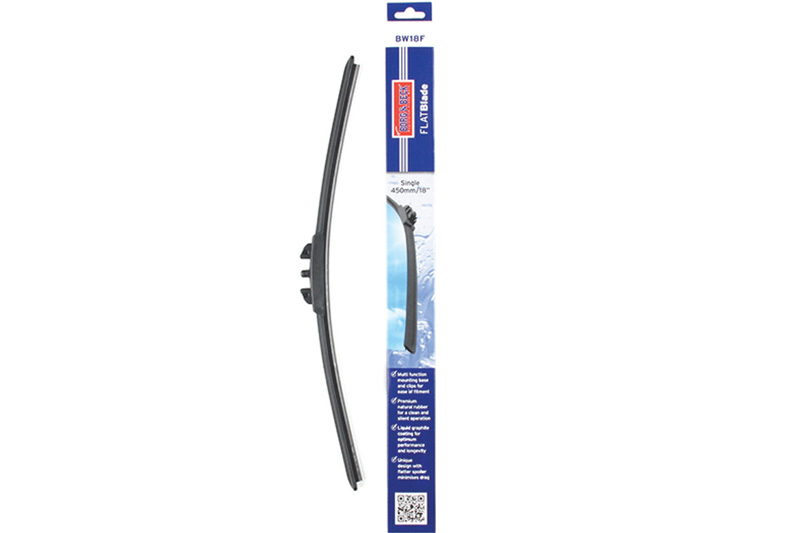 Not only incorporating the liquid graphite coating, these blades also come with a multi functioning mounting base and clips, for easy fitment and are available from 15 to 30 inches.
Also in range are the 16 to 28 inch hybrid blades, which provide drivers with a modern replacement to a conventional blade that combines the aerodynamic properties of the flat blade and the reliable wiping performance of a traditional blade.
Its stylish look comes from an integrated spoiler that runs the whole length of the blade, reducing wind lift at high speed, while providing a constant downforce for an even load distribution across the windscreen.
This design offers a chatter free, smooth wiping action, which prolongs the life of the blade and has become the choice blade for many, whether that's as a direct replacement or to replace the conventional blades that were fitted as standard.
No range is complete without a rear blade offering and the high strength zinc galvanised frame with UV coating and liquid graphite coated blade, combined with multiple mounting clips, means that these blades make the ideal rear wiper replacement and provide the final element in the premium quality Borg & Beck wiper blade range. Sizes range from 8 to 16 inches.
To support garages to encourage drivers to replace their wiper blades, First Line has produced a handy poster, outlining key information on when to replace wiper blades, which is available on request here.
---
Want to know more? For more information, click
here
.