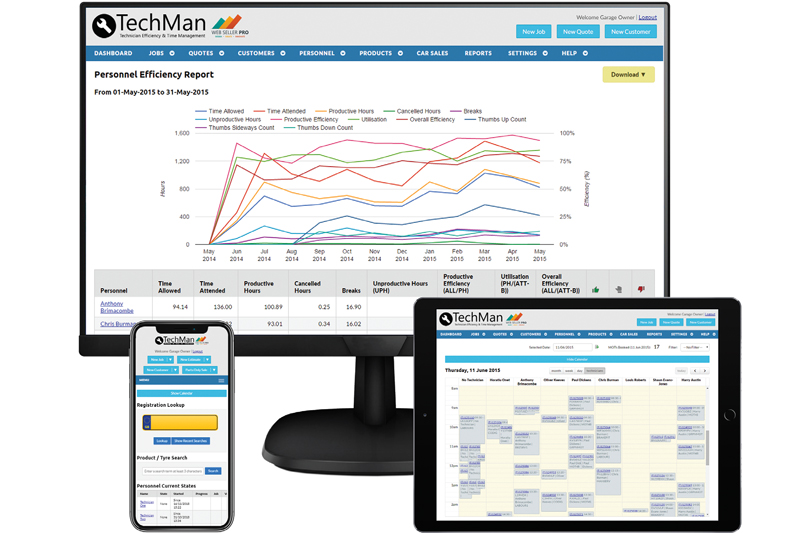 ---
The TechMan garage management system has come a long way since its launch in August 2015, as it has now grown to over 3,000 users across the UK. But, how did it all begin?
---
TechMan was born from the desire of In Town Automotive, a Bosch Car Service Centre in Northampton, to be able to have the clearest view possible of its operations. Owner Terry Dorney and his team built the system from the ground up due to their frustrations from what was available to them on the current market and the need to have a tighter grip on the day-to-day running of the workshop.
What started as an internal project that had not been designed for commercial resale, soon became a disrupter in the marketplace as it had been specifically built with the garage owner in mind. Using In Town Automotive's workshop as a proving ground, the team was able to accurately test for new features, whilst simultaneously inviting prospective new clients to view the software in a live environment. It quickly became a hit with independent workshop owners looking for a new way to run and manage their operations.
Fast forward five-and-a-half years and TechMan continues to disrupt the market by focusing on the needs of workshop owners by pioneering new features and presenting ways to automate and reduce daily admin tasks; in turn, enabling independents to maximise their profits. Many of these ideas are a direct result of listening to its customer base and interacting with its online community.
What can users expect today?
Digital transformation is a huge focus for TechMan. From the use of tablets for job cards and service sheets, to ordering parts and tyres online directly from the garage management system, ensuring that businesses are able to embrace paperless working has featured high on the priorities list. Yet, there is more to it. The system also enables garage owners to track technician efficiency and analyse which jobs are the most profitable. It does this by recording the input of jobs in real time and alerting the owner to work that has overrun.
With over 75% of users now operating a paperless workshop, garages have been able to streamline communications with technicians and their customers by providing images and videos of vehicle defects.
Always building
The platform is always keen to work out where it can add the most value to the end user. Its most recent development is the perfect example.
The start of February saw TechMan users granted seamless access to the full suite E3 technical data from Haynes Pro, giving them repair times, fault diagnostics, technical drawings, service maintenance schedules, torque settings and more.
However, instead of workshop users fighting over single user licenses or wasting valuable time queuing up around an office PC, TechMan has made the data available to every login user through their tablet.
By embracing the digital transformation, independent workshops have greater control when improving overall business efficiency, profitability and competitiveness in the marketplace.
---
To find out more about TechMan's solutions, click
here
.