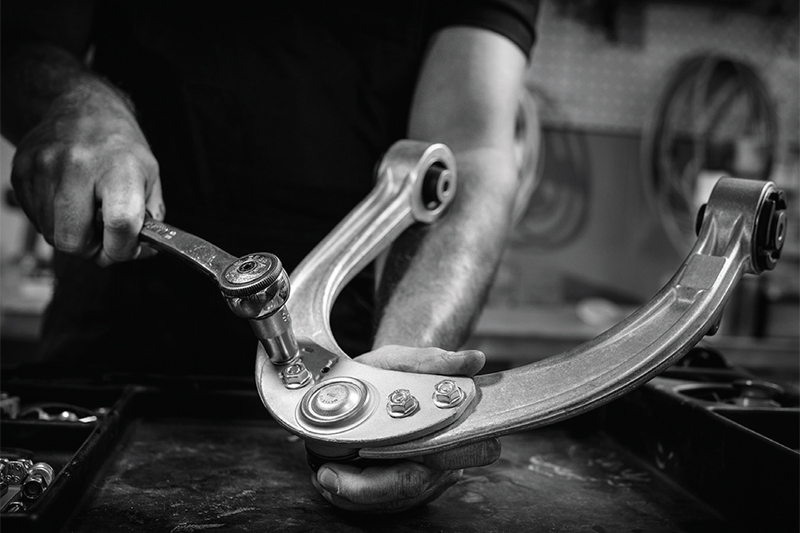 ---
With every new release, modern cars are getting bigger and heavier, which puts steering and suspension components under considerable stress. With this in mind, it's essential to know how to deal with any issues that may arise.
---
Steering and suspension parts are safety critical. Therefore, they must be designed to withstand the increasingly high loads dictated by vehicle manufacturers. Wear is a common cause of damage, and its detrimental effects on the vehicle's road holding ability and safety require immediate action.
Control arms stabilise and take over the alignment of the wheels. If this component is damaged, drivers feel the effect immediately, in the form of unresponsive steering and play, or reduced driving comfort and unpleasant noises during driving. These effects are not only annoying, but can also be dangerous.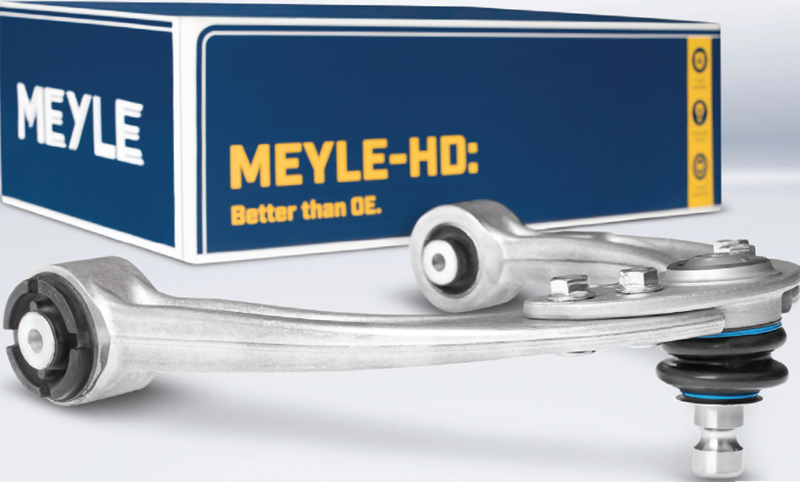 "A defective control arm can lead to, for example, damage to components such as tyres or axle parts, or the tearing or breaking of the control arm, resulting in loss of control of the vehicle. This is a great danger to road traffic and must be repaired immediately", explained Andrew Tress, Sales Manager at Meyle UK.
Meyle-HD control kit: critical information
To improve vehicle stability and driving comfort, and consequently road safety, Meyle has refined its control arms and presents another application of its Meyle-HD control arm kit. The company's control arm makes what is usually complex repair work easier for workshops; thanks to a continuously variable adjustable ball joint and exact position indication. The control arm can be used for three different wheel camber settings, thus replacing three different OE parts. This not only saves garages time, but also storage space, logistics and transport costs; instead of six references, only two control arms are required for the repair of Range Rover IV and Range Rover Sport.
The ball joint and the reinforced bushings can be replaced individually, making the control arm kit another sustainable repair solution. The ball joint is provided with a corrosion coating. With the seal made of wear-resistant rubber, including a shielding ring, the ball joint is a reliable and durable spare part, saving time and money in everyday garage life. Garages can also win over their customers with the four year guarantee on Meyle-HD parts.
In addition to the Meyle-HD control arm kit for Land Rover, the company is also offering its control arm kits for BMW and MINI. On offer is the technically improved aluminum control arm with a replaceable support joint and fastening material. The aluminum construction ensures that the control arms are very well protected against corrosion and are particularly durable. The weight advantage of almost 20% compared to the OE counterpart offers advantages along the entire logistics chain.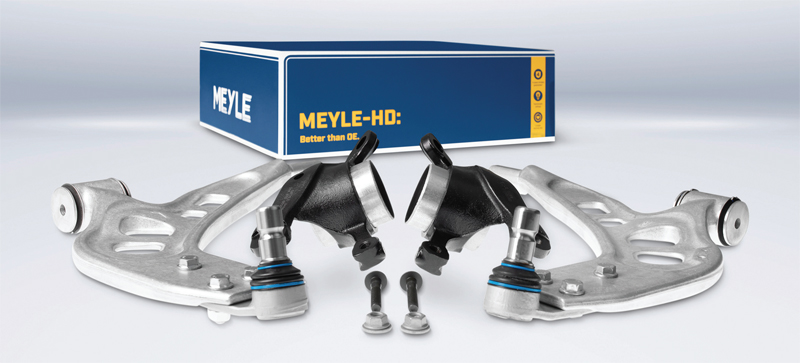 PROBLEM ONE
INNER SLEEVE ON CONTROL ARM MOUNT TORN LOOSE
Many control arm mounts are undersized, causing them to fail prematurely. The rubber-to-metal bond becomes loose as a result of excessive loads.
Meyle's best practice advice: Rely on the company's HD control arm mounts with a profiled sleeve to maximise part durability. The rubber profile is contoured to deliver excellent load-carrying capabilities, and a premium bonding agent provides strong adhesion and protection against under-paint corrosion. Install full-rubber bearings in pre-loaded condition only.
PROBLEM TWO
LEAKING HYDRO MOUNTS
When subjected to excessive power levels, hydro mounts are likely to spring a leak and lose their damping capacity. Variations in the part's stiffness characteristics have a detrimental effect on steering precision.
Meyle's best practice advice: Have the hydro mount checked during every brake service. Rely on durable full-rubber bearings from the Meyle-HD range.
PROBLEM THREE
FISSURED RUBBER MOUNTS
Rubber mounts have a limited load-carrying capacity, and this is defined by a pre-set torsional angle. If the load applied on the rubber mount exceeds this limit, there is an increased risk of the rubber cracking and peeling at the rubber-to-metal bond.
Meyle's best practice advice: Install full-rubber bearings in a preloaded condition only. First, position the vehicle axles to reflect the position of a stationary vehicle on firm ground. Then, torque down the full-rubber bearing completely.
---
For more information on Meyle's range, click
here
.