---
Herth+Buss gives PMM the low-down on the company's Rep-program – a series of smart repair solutions aimed at saving garages time and money.
---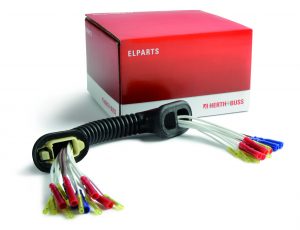 Smart repair solutions do not only offer benefits for the customer, they add considerable value to the garage carrying out the repair. Such advantages are obvious, says Herth+Buss: lower costs, less time required and happier customers. Working closely with its customers, the company says it is always looking for new, useful repair solutions – and the Rep-program provides just that: a variety of sophisticated repair solutions which are already being successfully used by customers.
RepLine – Repair work made easier
The Herth+Buss Elparts range is comprised of the RepLines repair cables (article numbers 51277200–228). This range is particularly useful for workshops that only use a small quantity of crimp connectors in their daily operations. The key benefit is that the crimp connectors and cables are already crimped. This removes an entire work process. The costs of purchasing crimping pliers and a crimping tool insert can also be saved. The user receives the repair cables for the most common male and female crimp connectors in packs of 10 units, thus minimising the expenditure for large packages.
Another advantage that can be seen when comparing these cables with most conventional PVC cables is the use of highly flexible, temperature-resistant silicone. The RepLine cables are now also available in an assortment for the first time, exclusively from Herth+Buss (article number 54277001). Used by Volkswagen, Mercedes-Benz, BMW and Opel, these cables have a length of 300mm and contain 14 different crimp connectors. Also included are the corresponding single conductor seals and shrink-fit crimp connectors, which are available to order from the Elparts product range. The assortment contains stacked foam inserts. One of these has been left empty so that workshops can stock it with any specific items they might require.
RepCab – Cable repair kits for doors, tailgates and boot lids
RepCab (article number 51277), a repair cable set from the Elparts range, can be used to easily repair and replace damaged cables from the original cable set in the area of doors, tailgates and boot lids.
The defective cables are cut out and replaced with the repair cable set, using components such as rubber sleeves and grommets. This provides workshops with a cost-effective product for resolving cable damage, with the main selling points said to be excellent cable quality and quick, easy installation. The components consist of ultraflexible silicone leads and temperature resistant copper cables. Despite these high quality materials and workmanship, they cost considerably less than the original cables, which manufacturers only provide as a complete set. Repair cable sets with preassembled joint connectors and bellow are ready for immediate installation. Due to the high quality of the cables, RepCab has a very long lifespan, according to Herth+Buss.
The company provides the new RepCab repair cable sets for the common German vehicle types, and it also has sets for Italian and Asian vehicle types in the product range. The range of repair kits is constantly being expanded. Detailed information about the respective vehicle types for which the repair cable sets are provided can be found at www.herthundbuss.com/repcab.
RepCon – Repair plug sets
With RepCon (article number 51277), damaged plug connections in the vehicle can be repaired and replaced easily. The required crimp connectors (including the cable which has already been crimped) are already included. Uses for these repair plug sets include plug connections for number plate lights, single ignition coils, injector nozzles, glow plugs, level sensors in xenon headlights or heater fan motors.
---
For more information about the products available in the
Herth+Buss
Rep-program,
click here.