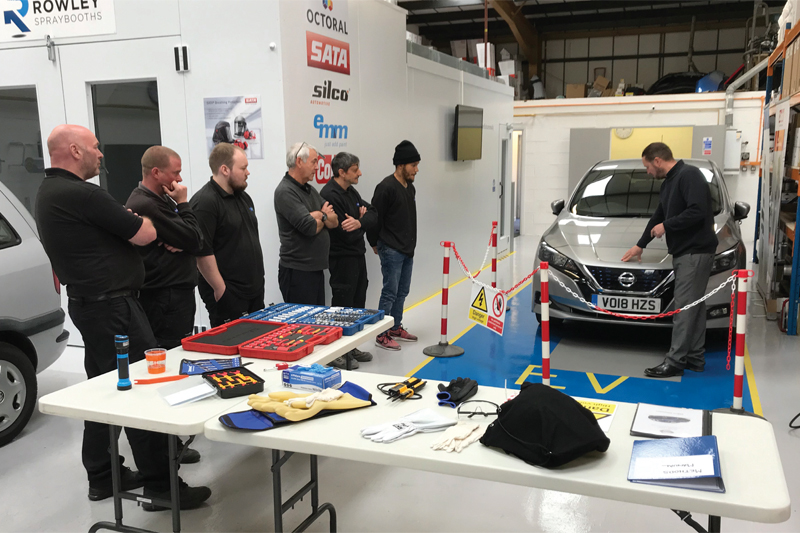 ---
Rob Ward, the man behind the RWC Training Centre, has been in the automotive industry for three decades, from bodyshop apprentice to accredited trainer. In this exclusive interview, PMM asks him about what he's learnt in that time, and where he thinks the sector is headed.
---
PMM: Can you give us a brief overview of your career to date?
Rob Ward (RW): I was fortunate to secure a two-week work experience slot and Saturday job at SC Gordon Ltd, a Rolls Royce and Bentley specialist coach builder in Luton. My love of cars and these high-end motor vehicles in particular, propelled my interest enormously and ignited my career-long desire to learn. I attended college to complete a body and paint apprenticeship, which was followed by eight to nine years of moving between local bodyshops to gain experience.
I then took the bold step into education and coincidently took the position of my old college tutor who had moved to another teaching department within the college. I ran the paint and body apprenticeship courses for 16 to 19-year-olds. Soon after, I gained my adult teaching qualifications, which was a steep learning curve given that I was only in my 20s myself. 20 years on, training and education is still my thing.
PMM: What is your current position?
RW: I own an automotive training company that I started in 2009. Initially, as Rob Ward Consulting, I delivered management consultancy and skills training for bodyshops, but as with many businesses, directions change as different opportunities come along. The business now delivers training for large national automotive organisations as well as small independent garages. In 2018, we opened an IMI Approved training facility, and Rob Ward Consulting became RWC Training Centre.We deliver training and qualifications across the breadth of the motor industry sector with particular attention to the latest vehicle technology.
PMM: What are the main technological changes you've seen in the industry over the years?
RW: Vehicles have changed beyond anything one could have imagined at the time I joined the industry 30 years ago. I can remember when electric windows and headrests were optional extras. My time working on models like the Vauxhall Cavalier or Nova back in the 1990s are still clear in my memory, but even I couldn't have predicted the revolution we are in right now with electric cars and self-driving technology becoming commonplace right before our eyes.
The vehicle manufacturers wait for no one. They invent, design and develop new technology even before the aftermarket has a chance to get to grips with the new tech. ADAS is a good example of this. This clever tech has been in development for years, and yet so many garages are still unaware today of how it works and what needs to be done when these systems require calibration.
PMM: What is the greatest challenge facing the industry right now?
RW: Technology within the motor vehicle is accelerating faster than we can imagine. If we do not continuously educate ourselves, then the motor vehicle will literally leave us behind.
My advice is act fast. Try to stay ahead. Get learning by getting your head into the stuff which you don't really understand. It's what makes us future-ready. Our ethos at RWC is to learn more ourselves and then deliver this to our customers; this is the key to remaining future-ready.
PMM: What about COVID-19? This will surely have a profound effect on the industry.
RW: Because of its global scale and the affect it has had on people's lives and their health, COVID-19 has and will continue to have a considerable impact on the industry. It is incomparable to any previous period in my career. That said, it's not all disheartening news. Some businesses have thrived through this period, and we have all had the opportunity to refocus.
For RWC, it is still early days in term of emerging from lockdown, but the change has helped me set out what I want my business to look like as it grows. I also find myself embracing this rare opportunity to almost start up again. I am really enjoying the challenge of building the business back up, firstly to what it was before lockdown, but mostly to what I think I can make it into.
PMM: If you could change one thing about the industry, what would it be?
RW: I would change the lack of legislation. How can it be OK for anyone to start up a garage business? Fixing and repairing cars with no experience, no licence and no qualification to their name?
Cars are now complex machines and are dangerous if not repaired correctly. The EV revolution is upon us, and all businesses that come into contact with this technology are putting people's lives at risk if they are not trained in its safe handling.
I love this industry enormously, but it will be a better place the day that all those within it are trained and prepared to do their job safely.
---
For more information on the courses available at the RWC Training Centre, click
here
.