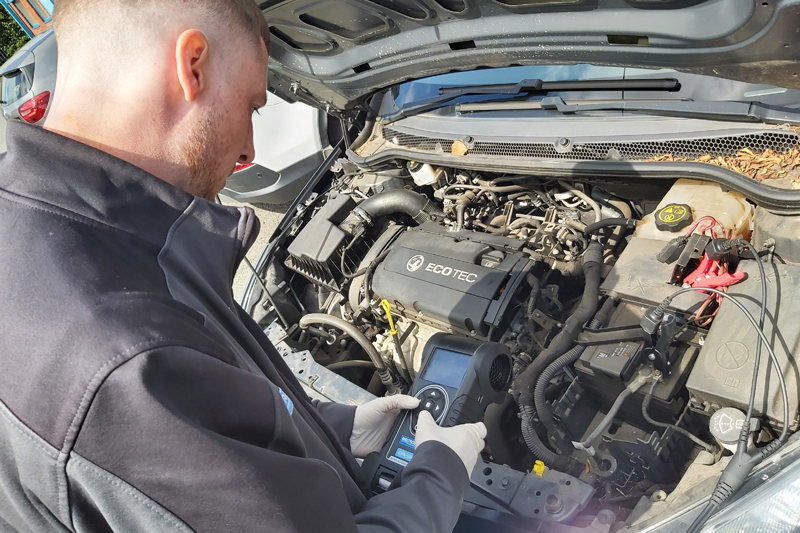 ---
PMM spoke to battery management expert Rotronics earlier this year, to provide readers with the best battery advice available. Now, following a year of motoring upheaval, PMM finds out whether this advice has changed.
---
Nobody needs reminding of the latest round of lockdowns and restrictions, but there is the unfortunate consequence of increased pressure on battery performance. Batteries have gone through the equivalent of three seasons in one, and with a constant hit of issues, those batteries that would have failed in winter will have already failed and may well be on to the next round of trouble.
We have learnt a lot since March, yet the advice from Rotronics remains the same: test and charge the battery of every vehicle that enters your workshop, and replace those batteries that are in an imminent state of failure
Whilst we all feel a little like we are trapped in something equivalent to Groundhog Day, we believe that it is important to repeat the expert battery advice, because economic uncertainty has meant that many of your customers will be more nervous about spending large sums. A UK automotive battery replacement can cost in the region of £150 and AGM batteries can be easily double that amount. It will be important to make sure that you have plenty of battery stock to cope throughout the winter.
Ken Clark, Managing Director at Rotronics, said: "Whilst you have been helping people get their vehicles back on the road, you are also helping them prepare their vehicles for additional off-the-road periods. Getting stranded is not an appealing option with social distancing restrictions in place, and roadside recovery may not be straightforward.
"We want to share some tips again, so that you are able provide excellent customer service, on how to maintain vehicle and battery health."
Situation one
Problem: A customer has been running their vehicle for only a few minutes at a time, and taking short drives, which has caused more deterioration than not driving at all.
Solution: Do a full battery diagnostic check on all vehicles entering the workshop to test the state of battery health. Testing the reserve capacity is equally important because the reserve capacity testing, using a controlled RC (reserve capacity) test, will tell you if the battery has enough power to support the stop-start system. It is not enough to rely on the battery's ability to just start the vehicle.
The latest generation of diagnostic tools measures the reserve capacity and the cranking capacity of the battery. The Midtronics CPX 900 (Conductance Profiling Battery and System Analyser) services modern vehicles and battery technology with reserve capacity problems. The CPX-900 has a new design, which includes a 3.5" colour screen, a new user design interface, and a wireless interface for sending test reports via email, plus the optional built-in printer.
Ken continued: "Once you know what charge the battery requires, make sure that it is charged accordingly. Smart charging is the most reliable diagnostic battery technology, and will help you build customer trust and improve customer satisfaction. CTEK's chargers offer power supply and efficient charging for all lead acid and lithium technologies."
Garage top tips
Ensure that your tester can test EFB and AGM batteries
Check that your equipment is in a serviceable state
When did your tester have a health check? Is it delivering accurate results? Check this annually
Make sure you have enough chargers
Ensure you have the right charging outputs – a minimum of 25A charge output
Check whether your charger can handle lithium charging
Assess whether your charger has a power supply or battery support unit that is enough for diagnostic validation – 25-100A or more
Rotronics recommends the CTEK PRO25 and MXS25 Charger range to complement getting your workshop charging needs in place.
Key features include:
2m or 6m charge cables
25A charge and power supply capabilities
Suitable for all battery technologies (PRO25S & SE now include lithium charging capability)
PMM readers will benefit from preferential pricing, quoting the reader offer reference below
Situation two
Problem: A customer has had to jump start their vehicle. What advice can you give them about battery care at home?
Solution: Encourage them to have a suitable battery charger to hand. Encourage good housekeeping, namely, keeping vehicle lights switched off. With keyless entry, make sure they keep their keys stored away from the car to stop ECUs being activated. If customers have an integrated garage, they need to keep keys out of range of the vehicle.
Ken explained further: "Your customers should really keep their batteries charged at all times. We would strongly advise selecting an intelligent smart charger, so you don't run the risk of overcharging. It's best to buy a charger that is simple to use and suitable for the type of battery you're charging (i.e. AGM or lithium).
"If vehicles have been stationary and not in use for some time, they may fail when they are needed most. A 7A charger used domestically at home can speedily charge even the most deeply discharged batteries.
"We would recommend the CTEK XS7000 charger for customers needing assurance that their vehicle battery remains in top condition whilst being off the road. This charger is fully automatic, simply plug it in."
Tips for dealing with customers
Launch an email campaign to your customers, providing them with some of the tips in this article
Offer free battery inspections to your customers every three months
Provide battery recharge for a nominal fee. This will identify any failing batteries that may need to be replaced proactively before they fail. This also helps you generate revenue
You could also consider supplying your customers with a charger that is suitable for domestic use – Rotronics recommends the CTEK XS 7000 for its simplicity and efficient charging capability
---
For preferential rates (up to 20% off) on battery equipment, please get in touch with Rotronics via email
info@rotronicsbms.com
or call 0121 526 8185 and quote the reference
ROTRONICSPMM2.