---
PMM last visited Shaftec back in 2016, a year after the company started trading from its 42,500 sq ft site in Hockley, Birmingham. Two years on, we returned to this ambitious remanufacturer to get a feel for how the business has progressed, and to find out more about the remanufacturing process itself.
---
"What you'll see today is that we're not just a box shifter. There's a lot more going on here than meets the eye", explains Shaftec Director, Tom Curtis, as he begins the guided tour of the company's impressive – and recently expanded – remanufacturing facility. With a shiny new 8,500 sq ft mezzanine floor towering over the pre-existing workspace, and the addition of extra production lines and modern machinery, it's immediately apparent that the team at Shaftec have not been resting on their laurels.
"In July 2017 we moved our steering rack production to our Birmingham home, so we now have all our product groups housed under one roof for the first time, which is a great position to be in", says Tom.
But there's perhaps an even more notable addition to Shaftec's Birmingham HQ, in the form of a state-of-the-art, 'dust-free' Electric Power Steering (EPS) testing and development area. "This is the future", enthuses Chris Journet, our second tour guide for the day, who more commonly goes by the title of Shaftec National Sales Manager. What's clear is that the company has invested heavily in the personnel, training and machinery required to lead the way on EPS remanufacturing.
"This aspect of the business is still very much in its infancy, but EPS is a growing market and we want to be fully prepared for it", explains Tom. This statement is not without foundation. Whilst approximately 85% of the UK car parc currently features hydraulic steering, more and more modern vehicles are rolling off production lines fitted with the electric variant. "You only have to look at the latest generation of Golfs or some of the more recent Renault models to see that EPS is being adopted by the VMs", asserts Tom.
The remanufacturing process
Introductions concluded, it was time to get down to the nitty gritty of what the remanufacturing process actually entails – after all, it was in pursuit of this knowledge that we had braved the M1 and M6 traffic in rush hour. There are many myths and misconceptions associated with remanufacturing, but it seems that a lot of it can be attributed to ignorance and lack of understanding at all levels of the supply chain – not least among garages. Seeing the remanufacturing process with your own eyes, however, can be…well, eye opening.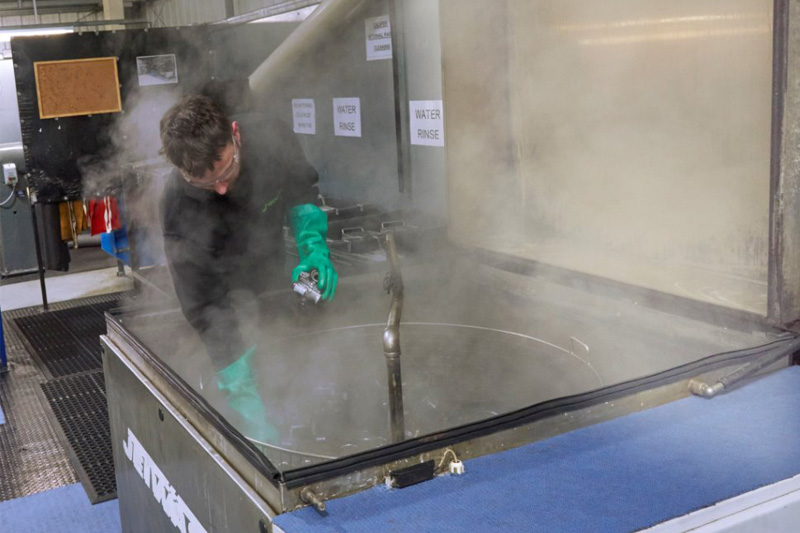 Core
The lifeblood of remanufacturing is 'core'. To all intents and purposes, core is simply old components that have reached the end of their first lifespan. Shaftec collects this core from its motor factor customers, before 'booking it in'. This process involves separating the core into product lines, and attaching an electronically-generated unique label to each specific part. This traceability is a hallmark of the Shaftec ethos, and, wherever possible, the process is controlled electronically, helping to eliminate human error and ensuring complete accuracy.
In order to be deemed fit for remanufacture, all core must fulfil very specific criteria. Tom was quick to confirm that if a component doesn't fulfil Shaftec's stringent requirements, it will be discarded from the process, with no exceptions. Once approved and labelled, the core then goes into stock as 'old core', ready for remanufacture.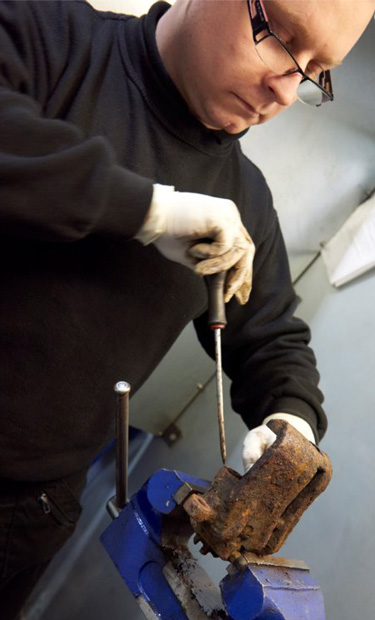 Stripping
Minds out of the gutter, please. This is the stage in the process where products are stripped down into their constituent parts, ready for cleaning.
Cleaning
The cleaning process begins with degreasing, before components move on to 'shot blasting'. Certain parts are then subjected to a final cleaning process called 'soda blasting', if required. "Soda blasting adds an extra dimension to our cleaning process, and really helps to ensure product quality", explains Tom. This three- stage process gets all the rust out of every nook and cranny, and leaves the product looking as good as new. Apparently not content with this already impressive system, Tom sheds some light on the company's plans for further improvement: "We're having a new cleaning machine installed in October, which will speed up the process eight-fold, helping to reduce bottlenecks and improve the flow of products through the process."
Paint spraying
Once they've been cleaned, products are then sprayed with Zinc Phosphate paint, to help ensure longevity and protection.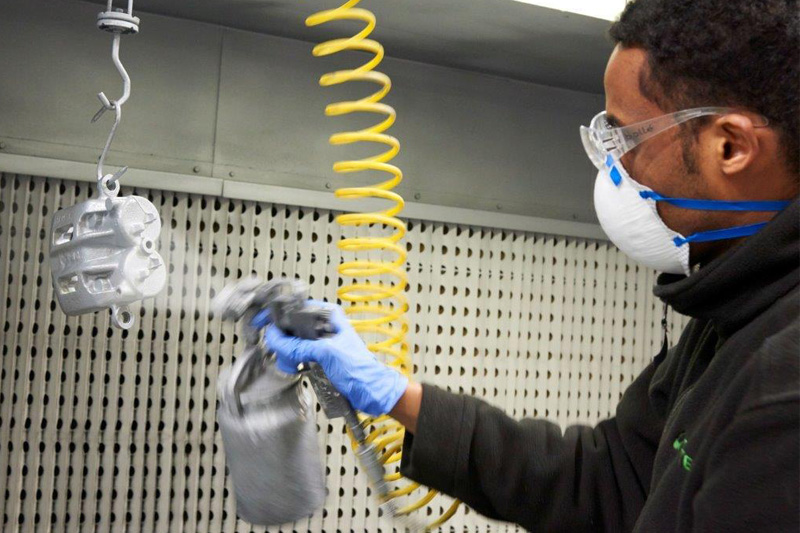 Assembly
The assembly process involves the components being rebuilt by highly skilled and experienced staff. "We've been adding additional work benches and staff in recent times and will continue to do so", explains Tom. "This is all geared towards increasing productivity and reducing bottlenecks at the assembly stage of the process, which can be very technical and time-consuming".
Testing
Once the products have been cleaned and assembled, they might look as good as new, but the important question is whether they operate as good as new. In order to determine the functionality of the remanufactured products, Shaftec puts them through their paces in the testing facility. Steering racks, for example, are subjected to intense pressure testing, in order to recreate the stress they are put under during operation.
"The tolerances are so tight when it comes to something like steering racks, due to the pressure they have to operate under on the road", says Chris. "Because of the safety- critical nature of so many of our products, there are no compromises when it comes to our quality testing. If a product passes first time, it is packaged up; if it doesn't, it goes back through the remanufacturing process before being put to the test again. If it fails a second time, the part is scrapped – it's as simple as that."
Once a product has completed the testing phase successfully, it is marked with an 'S' – again ensuring complete traceability, and making any warranty issues easier to resolve.

Packing
The completed products are then packaged in Shaftec's distinctive green packaging, and are entered into the computer system as 'finished stock'. "We look to keep a couple of months' worth of extra stock at any one time, in order to ensure availability for our customers", says Tom. "We invest a lot of money into high quality packaging, for branding purposes of course, but also to ensure product safety during transit."
Picking and despatch
"Stock is imperative to this business, and availability is the key to success in this industry these days", affirms Tom. "Most remanufactured products are 'distress parts', so we actually do quite a lot of one part orders. But it doesn't matter whether it's a single part order or a whole pallet of mixed products, we have the ability to react quickly to specific requirements". Next-day delivery via UPS is essentially guaranteed, with the only exception being deliveries to the extremities of the UK, such as the Scottish Highlands. It is this availability that puts Shaftec in such a position of strength, according to Tom.
A bright future
Through its commitment to quality, range, cataloguing, availability and technical support, Shaftec is aiming to challenge the stigma that is currently attached to remanufacturing. With lofty ambitions to grow its market share in European markets, while not losing sight of its position in the UK, the company looks to have an exciting few years ahead. "We've found our niche, and now we're just focused on being the best at what we do", concludes Tom. Now there's a philosophy that many a garage could take heed from.
---
To find out more about the range of remanufactured products available from
Shaftec, click here.