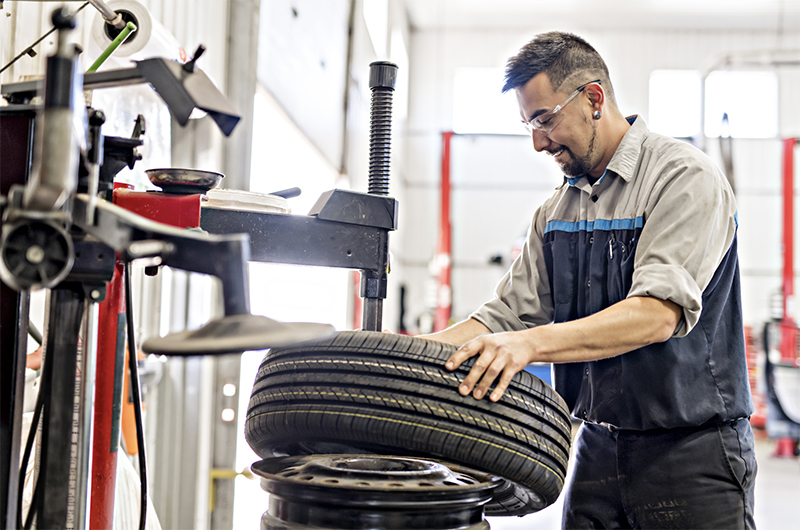 ---
PMM Editor, Kieran Nee, chats to Impression Communications' Hayley Evans about the importance of marketing to the modern workshop.
---
Hello Hayley, could you give our audience an overview of who you are and what your role is?
I'm Hayley Evans, Account Director at Impression Communications. I've been in PR for over 10 years and good majority of that has been in the automotive industry. At Impression, we work with many types of business in the supply chain, including suppliers/manufacturers, distributors/motor factors and independent garages. The business was set up this way from the beginning to ensure we have full vision of what is affecting businesses up and down the supply chain.
I oversee a number of accounts ensuring that, in short, their messages are not just being communicated properly to their intended audiences, but most importantly that they are being understood.
For those of our audience who are unfamiliar with the idea, or perhaps weary of it, could you explain what marketing is and what its aims are?
Marketing is everything you do. From the way you answer the phone, the way you communicate with customers, the way you portray yourself and the way you promote your vision. Everything you do is marketing and potentially leads to an impression on new or potential customers. Social media, magazines, local newspapers and websites are all tools for you to communicate your message, or should I say, story. Because, in the end, marketing is all about storytelling and everyone has a story to tell.
Is marketing something that businesses of all sizes can engage in? Isn't it just for large companies?
Garages in particular will be the first to say they don't need to get involved in any marketing activity because they are busy enough. But, as highlighted above, the fact that they are busy and benefiting from repeat business from word of mouth is the holy grail of marketing. The way you present yourself and your business is all a form of marketing and so the manner that garages deal with customers, if it has a Google presence or website, how easy it is to deal with, the quality of facilities it offers, if it offers a courtesy car service, are all part of its marketing mix. And it's important to get this message across to highlight its commitment to delivering excellent customer service.
The coronavirus pandemic challenged this word-of-mouth relationship and we saw a high number of independent garages embracing social media for an effective way to communicate with customers. It's great to see this continue and see more garages and technicians becoming comfortable with their digitial presence. Couple this with how we conduct ourselves as an industry and business, and the automotive aftermarket is in a good place to win new business and attract new people into our trade.
What types of marketing are available for independent workshops?
The short answer is everything, but in reality, a business has to look at their customer base and where they congregate. Today, it's much more varied, so for an independent garage, there will be an element of customers who receive your messaging via local press, online, or via social media to name but three.
It's important to have the key building blocks in place: Namely a website, Google My Business presence, logo, email database of customers and social media presence.
The latter is a little more tricky for businesses, of all sizes, but a quick tip would be to keep content as authentic as possible, establish a consistent tone of voice, and to be patient with it. There's a reason social media platforms are some of the richest in the world and that's because they attract large amounts of advertising. In the end, it's all about the data. They have access to a huge amount of people, and are charging you to reach your target audience. That's why an effective and well maintained email database of customers comes in handy
Does marketing necessarily cost a lot? What are some cheaper options that work well for smaller workshops?
I think the best form of marketing is the obvious one: manners and a friendly service, and they cost nothing. But in all seriousness, if you adopt the approach that everything you do is marketing and that you are always representing your brand, no matter where you are, then it becomes second nature.
In terms of the tools that amplify your brilliance, websites can vary in cost massively. There are dedicated companies that can help you set up a website and do everything for you or, alternatively you can purchase your own domain name and work with a local provider.
Email marketing is a very cost-effective tool and a well-maintained database of customers can really help you communicate with customers.
If a garage has a minimal budget, I'd argue that the one thing that they need to ensure they have is some form of online presence, and if setting up a website isn't an option, turning to Facebook is always a good bet. It's simple to set up, fairly easy to maintain, although it requires time, and most importantly, it has the best algorithms for reaching local customers.
While the concept of underpriced attention is now more reserved for new platforms like TikTok, I still find Facebook one of the best for cost-effective advertising of your business.
As I said earlier, you have to be patient with social media and gaining an audience won't happen overnight. Make sure you exhaust all avenues in telling your customers that you are on Facebook and ask them to follow you page, or even to give you a review. That's the easy part, we know how hungry a tool social media can be, so take your time, experiment but overall, be authentic.
What are some potential pitfalls when it comes to "overselling" yourself?
Always remember that you're talking to people – think how you would feel if you saw something that your business has put out. To reiterate, it's important to establish a tone of voice for your business.
It's all too easy to get this wrong, as some garages can get caught up in trying to follow trends or get caught up in sharing posts that represent their own sense of humour or personality, rather than considering if it reflect the garage's professional tone of voice.
That being said, there is nothing wrong with sharing 'humourous' posts – everyone loves a bit of 'banter' – but it's important to be mindful that what someone finds funny may be offensive to others, for example.
It goes without saying, but when it comes to offers, don't fall into the trap of offering discounted prices that just aren't sustainable just to draw people in. People are more savvy than ever before, and although everyone loves a bargain, there are far too many businesses who do this and then land the customer with a hefty bill for other services. And you know what that leads to? Bad marketing. Quality should always be key, and good marketing will help get this message across to customers. And what's more, if they've received good service but have paid slightly more for it, they're more likely to spread the word and come back in the future.
I think as long as you get your tone right, you remain as authentic as possible, keep your customers updated with regular information and offers, are responsive as possible, and most importantly, always portray your brand positively, I don't believe you can 'oversell' yourself.
---
Want to know more? For more information, click
here
.