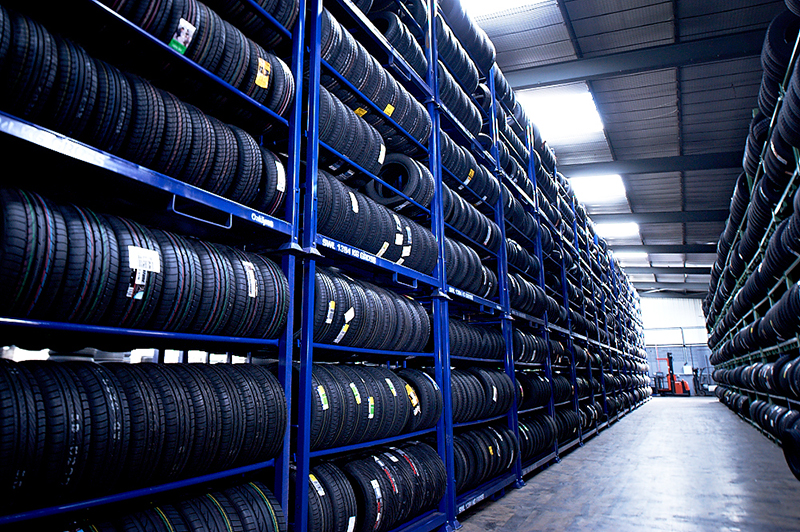 ---
Grouptyre's Commercial Director Paul Hollow outlines the group's offering to PMM editor Kieran Nee.
---
Hi Paul, could you tell our audience about Grouptyre?
Originally formed as a buying group, Grouptyre is made up of 10 independent member wholesalers across the country and has evolved into a force to be reckoned with in the industry over this time. Having recently celebrated its 25th anniversary, Grouptyre has evolved massively since its inception. The company has the strength and buying power of a national organisation, but with expert local knowledge and service levels provided by its 10 members. Collectively the members move a huge number of tyres from their strategically located warehouses to retailers, and these numbers just keep on increasing.
With a huge turnover approaching £450m, collectively the group employs over 1,700 people around the country of which 47 are Business Development Managers and three Regional Sales Managers cover the country. Overall there are 40 local/regional warehouses operated individually by the members housing a massive 1.3m tyres in stock at any one time. A nationwide fleet of over 455 vans make, on average, deliveries to tyre retailers at least twice a day (sometimes more often, with on demand deliveries in many areas).
Will our audience already be familiar with you or with the brands you work with?
Many people in the industry will have heard of the Grouptyre name but may not realise how we work nationally throughout the UK. Your audience will have heard of the local member which services their area if they are a retailer who is active in selling and fitting tyres.
Could you explain the range you have to offer our audience?
Grouptyre offers a wide range of brands covering all sectors of the car, van and 4×4 markets. Of course, we work closely with all the major premium tyre manufacturers, and we are the exclusive distributor for the Firestone brand in the UK. We also stock an extensive range of exclusive margin brand products for our customers, including Ceat, Evergreen, Goodride, iLink, Landsail and Rapid. These brands offer a range of fitments, dealer support packages, competitively priced products, access to exclusive dealer promotions, eye-catching point of sale material and merchandise as part of their customer support.

Do you cover the whole country?
We cover the whole of the UK with most areas receiving a delivery twice a day, and some areas receiving hourly deliveries. The structure of Grouptyre means that we can reach retailers in most areas across the country. Our huge stockholding means that tyres can be moved easily across the country.
What enables the group to offer such quick delivery times?
Our delivery offer is second to none and collectively our members have over 455 delivery vehicles across the UK making deliveries to thousands of customers. The strategic positions of our 40 distribution warehouses across the UK mean that our customers can obtain the tyres they need for their customers in a timely manner. Our highly skilled and experienced sales teams are extremely knowledgeable and trained in all aspects of tyre retailing and really are experts in their own local area. Our sales teams can offer lots of support to retailers, including training and other dealer support tools, such as online purchasing to help them grow their tyre retailing business.
What are some recent developments you've seen in tyre technology that our audience needs to know about?
Tyres are always evolving from a technical point of view as all manufactures race to develop/manufacture tyres that last longer, reduce noise pollution and improve traction. Tyres will continue to evolve and in time will be fully integrated into the engine management systems to improve the overall driving experience and enhance all safety aspects. EV cars will be at the forefront of these technological improvements and will lead the way in tyre, wheel, brake and suspension connectivity.
Should independent workshops be upselling customers to premium brand tyres? What can GroupTyre offer workshop owners to give them the confidence to upsell?
Grouptyre's highly skilled sales force offer tyre training to customers to help them sell effectively to their customers. This training offers everything from how to sell, right through to basic tyre technical training and awareness so really does help the retailer to maximise their profits by selling the right tyre for the right job. Generally newer vehicles looking for replacement tyres are fitted with a like for like original equipment tyre, i.e. premium tyres. The excellent training which we offer our customers allows the retailer to be able to identify the needs of the consumer, not just relying on a specific price point, so each and every customer will have their own needs and circumstances.
Is the group doing anything to improve its sustainability?
Grouptyre are currently in the process of undertaking a sustainability review, whereby we are looking to optimise all business disciplines from: supply chain partners, warehousing and storage, logistics and distribution, and sales and operational activities to ensure that we are minimising our carbon footprint by taking a sustainable approach to all business functions across the group.
Have recent pressures on global supply chains affected the UK tyre market and tyre availability?
The UK market has been affected by pressures in the global supply chains, as in every single consumer product market, however our vast stockholding of tyres, coupled with our unrivalled delivery service and number of distribution points around the country has helped us to ensure that we have been able to service our customers in an efficient way. Where there have been shortages in certain products, we have been able to offer suitable alternatives to ensure that our customers have not suffered as a result of the difficulties globally.
---
Want to know more? For more information, click
here
.