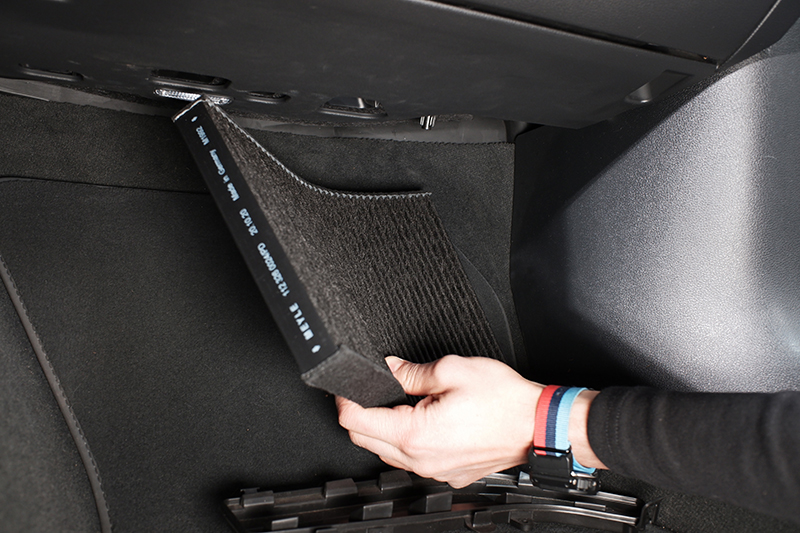 ---
Meyle explains how you can keep your customers' cabin air fresh.
---
Cabin air filters prevent airborne pollutants from entering the passenger compartment. Failure to replace the filters regularly may cause the filter elements to clog. The consequence: insufficiently cleaned air fills the vehicle cabin. Especially now, during pollen season, allergy sufferers can feel an insufficient filter performance by the typical symptoms of runny noses or watery eyes. But no matter whether it's pollen, smog, particles, or nitrogen oxide – cabin air filters can protect the driver from most sorts of airborne intruders. The Hamburg-based manufacturer Meyle knows that and consequently offers a broad range of high-quality filters, that are fit for different driving localities. The latest introduced Meyle-PD cabin air filter even offers permanent NOx fixation even during disposal, as well as protecting the driver from it – a novelty in the market.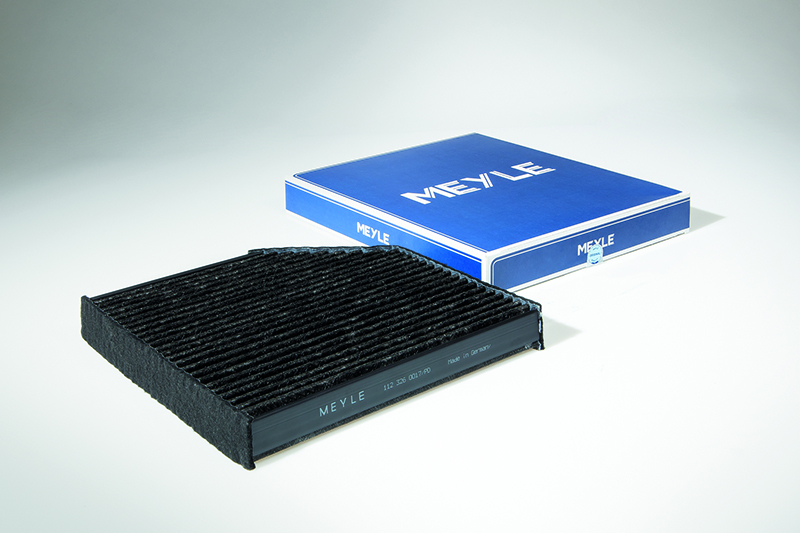 Many car drivers don't know that cabin air filters should be changed regularly. Meyle engineers recommend replacing the cabin air filter every 10,000 miles, at least once, better twice a year. Over time fine dust, soot, pollen and even insects clog the filter, resulting in a gradual loss of function. For the best filter performance, drivers should choose the right product, whereas, depending on location and air pollution, different filters can be considered to be an adequate choice. But what filters are on the market and what is the right choice for your car?
Cabin air filter range
Meyle offers a range of cabin air filters that include biofunctional cabin air filters, active carbon filters and particle filters. Depending on driving habits and the driving environment, the right one can be found amongst the Meyle cabin air filters. Each of the Meyle filters comes with its specific functions:
The Meyle -ORIGINAL particle filter is ideal for country drivers, offering the best protection from pollen and other particles in an environment with little air pollution like smog or NOx
The Meyle -ORIGINAL active carbon filter on the contrary is the right choice for city and short distance drivers, not only protecting from particles like pollen, but adding extra filter performance regarding smog and NOx
The biofunctional Meyle -ORIGINAL cabin air filter counts as allrounder against mould, bacteria and smog and is therefore a good fit for city drivers, especially in colder or more humid regions, where cabin air filters are more prone to get mouldy
The Meyle-PD cabin air filter is the newest upgrade from Meyle and ideal for commuters and professional drivers. It offers the highest protection against NOx and fine dust meanwhile capturing NOx permanently. Being the latest enhancement, this filter also counts as a must have for anyone wanting the best protection from pollution, no matter if professional or regular driver

Performance filters
Meyle has launched nearly 400 cabin air filters to date, including 38 references for the Meyle-PD cabin air filter. Questioning the status quo and constant optimisations are parts of the Meyle DNA. And the Meyle-PD cabin air filter is a result of this urge for optimisation. This filter is suitable for practically every vehicle, comes with an increased filter performance and is unique in the market due to its elaborate filtering technique.
But how does this innovative filter work exactly? Unlike conventional cabin air filters with active carbon, filtered NOx is chemically bound in the Meyle-PD filter material as salt and is never released again, making it safe to dispose of in the workshop. The new cabin air filter thus permanently and sustainably reduces NOx in the environment and directly in the driver's cabin. This makes the new Meyle-PD cabin air filter so unique. Meyle is the only manufacturer in the aftermarket to offer a filter with such an impregnated activated carbon.
The layers of the new Meyle-PD cabin air filter fulfil a wide spectrum of functions:
The cover fleece filters larger particles of dust
The particle medium is outstanding at capturing fine dust
The two impregnated layers of activated carbon chemically bind the NOx
The carrier fleece serves as a basis for the layer of activated carbon and the particle medium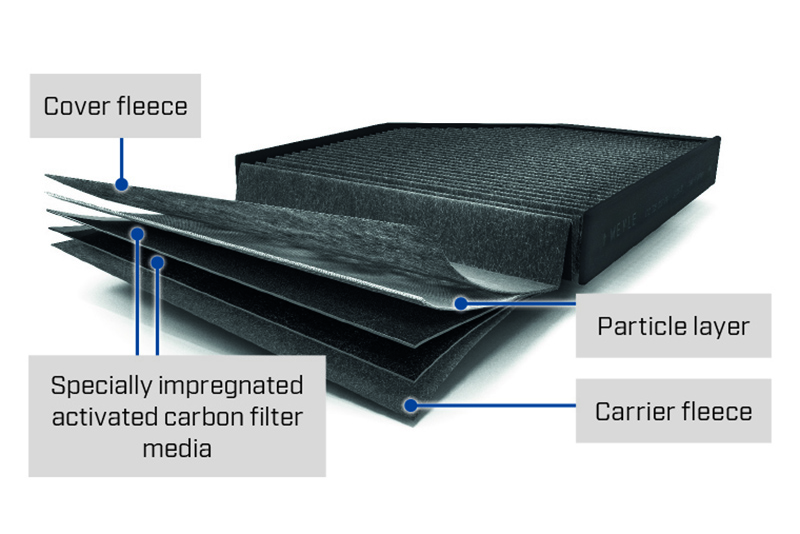 With more than 1,400 filter solutions true to the original, Meyle represents a high-quality expansion of the portfolio for aftermarket customers. This filter category is subject to Meyle's highest commitment to quality: all four product subcategories – oil, air, fuel, and cabin air filters – benefit from consistent supplier auditing and tests in Meyle's in-house quality laboratory in Hamburg. With competitive coverage rates for European markets and European vehicles outside Europe, the Meyle filter category is the first choice for a comprehensive product portfolio.
---
Want to know more? For more information, click
here
.